Dalhousie researchers are providing a unique glimpse into the well-being of children and youth in Nova Scotia in a new report that yields critical insights into their security, development, and physical and mental health through the lens of a child's rights.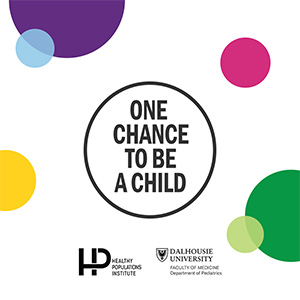 One Chance to be a Child is the work of a multidisciplinary team of service providers, academics and community leaders across Nova Scotia, led by Dalhousie's Department of Pediatrics and the Healthy Populations Institute.
The group used various datasets and consultations with young people to uncover for the first time what is known about the well-being of children and youth in the province, while offering a suite of recommendations that would address areas of concern.
The title of the report reflects the critical nature of childhood, a period that lays the foundations for lifelong health and well-being.
Read the full report: onechancens.ca
"Children have one opportunity to experience childhood, but we have multiple opportunities to honour their dignity and potential in the decisions we make as a society," says one of the report's authors, Dr. Laura Stymiest, a pediatrician and director of advocacy for Children and Youth for Dalhousie's Department of Pediatrics.
"It is essential that children's rights be central in the decision-making process and that public policy be driven by quality data about child and youth well-being. This report highlights areas where we can act now to improve the lives of children, who are the future of our province."
The rights of children

One Chance to Be a Child uses a child-rights lens when it comes to well-being, which generally means having what is needed for a good life and extends beyond living conditions and good physical health to include things like feelings and experiences.
The authors contend that those factors are often not considered when public policy is being drafted.
"The United Nations Convention of the Rights of the Child was ratified by Canada in 1991, but child rights discourse has been missing from decision-making in Nova Scotia. We must ensure that children and youth in the province experience the full breadth of their rights so they can flourish in childhood and beyond," says co-author Dr. Sara Kirk, scientific director of Dalhousie's Healthy Populations Institute and Professor of Health Promotion with the Faculty of Health.
"When children's rights are fully respected, well-being follows."
Based on UNICEF Canada's 2019 report called Where We Stand: The Canadian Index of Child and Youth Well-being, the new report asks six key questions about children and youth well-being in Nova Scotia:
Are we secure?
Are we learning
Are we healthy?
Are we happy?
Are we connected to the environment?
Do we belong and are we protected?
To answer them, the authors assessed the most robust data available and spoke directly to children and young people across the province, which counted 176,000 people under 18 in 2020.
Too many left behind

They found that while many young people in Nova Scotia are doing well, too many are being left behind. For example, one in five children and youth reported low life satisfaction, living in a food-insecure household or feeling unsafe or threatened at school due to bullying in 2018-2019, according to a series of surveys carried out across Nova Scotia.
About one in four children is missing important skills in their first year of school, while the same number of young people are meeting daily physical activity guidelines.
The team was especially concerned about the state of childhood poverty in the province.
In 2019, a staggering one in nine children and youth were estimated to live with families experiencing poverty where children were deprived of their most basic material needs like food, clothing and shelter — a rate among the highest in Canada.
An even greater number of children and youth in Nova Scotia — one in four — lived in families with such low incomes relative to other Canadians that they were likely excluded from a range of opportunities most would consider normal for a good life due to poverty.
"When children are struggling in Nova Scotia, our province is struggling, our future is struggling," said one youth participant.
More needs to be done

While the authors see a number of positive steps being taken to improve the lives of children, such as affordable daycare, universal pre-primary programs and a modest investment in the Nova Scotia Child Benefit, they say much more needs to be done.
"We can and must do better as a caring society. If we want to create a healthier, more equitable future for Nova Scotia, we must really invest in our youngest generation and make sure they have the things they need to be well," says Dr. Andrew Lynk, chair of Pediatrics at Dalhousie University and another of the report's authors.
The report puts forward six key recommendations and 12 actions that address broad issues like racism, discrimination and poverty, but also include specific actions. That includes asking governments to invest in a system to collect and monitor key data about children, to begin using child rights impact assessments when making key decisions and to pass legislation to keep the issue of child poverty reduction on the agenda of future elected governments.
"We have to identify the cause of distress and depression to be able to deal with it; you can't get what you can't identify," said one youth.  
The group is also calling for the establishment of an independent body dedicated to children's rights and well-being in the province – something the current government has signaled it is looking to establish.
It also recently submitted its work to the United Nations Committee on the Rights of the Child for its review of Canada's performance on children's rights.
Read the full report: onechancens.ca