Costume Studies students in Dal's Fountain School of Performing Arts transported attendees at last week's historical dress showcase back to the year 1896.

"Propriety and Protest," held last Wednesday in the Sir James Dunn Theatre, presented a picture of a time in history when women began to wear clothing that went against the standards of the status quo.

Perin Westerhof Nyman, instructor of the historical dress course at Dal, narrated the showcase while the students took the stage in their designs. The final pieces were a culmination of their time in the program learning intricate stitching, sewing, historical dress and costume design.

"Our program covers a variety of costume types and we do lots of work that's aimed at theatre," says Perin. "We do costumes for the Dal productions, and a lot of our students continue into film, but there is also this really strong historical element."
The historical dress showcase is an annual event open to the public that occurs at the end of each winter term. 
Prim and proper? Nah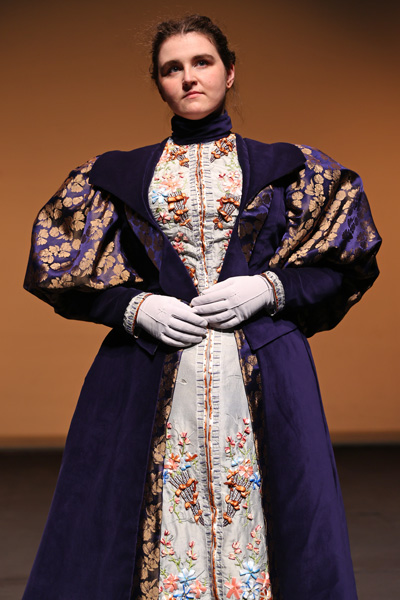 Daphnée St. Jacques recreated an intricately hand-embroidered dress that she found in the Metropolitan Museum of Art in New York City. While communicating with the MET's curators, she embroidered and dyed each flower on the floral panels at the front of the garment to match the original dress as best she could.

"It took me about 120 hours and just half of it was the embroidery," says Daphnée, pictured left in the dress. "Normally you buy silk ribbons and they'd be woven with different colours but because of time and money, I ended up buying polyester ribbons and using alcohol markers to dye each of the ribbons."

Daphnée says her dress fits the theme of propriety and protest.

"We always imagined previous eras as being prim and proper and following these codes. There's always been people who broke these codes and broke these rules," she says. "My personal favourite stuff to do when in this type of gown is to do silly stuff like squat and act as unladylike as I can just because I can."
From women's suffrage to the New Woman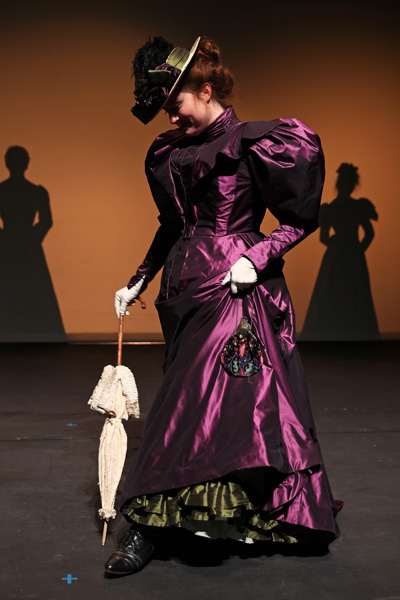 Lilian Gibson, left, made a purple silk taffeta gown that pulled inspiration from the women's suffrage movement. It was based on a formal dress from the Powerhouse Museum in Sydney, Australia. Lilian crafted all the roses on her hat "painstakingly" by hand from the same fabric as the gown.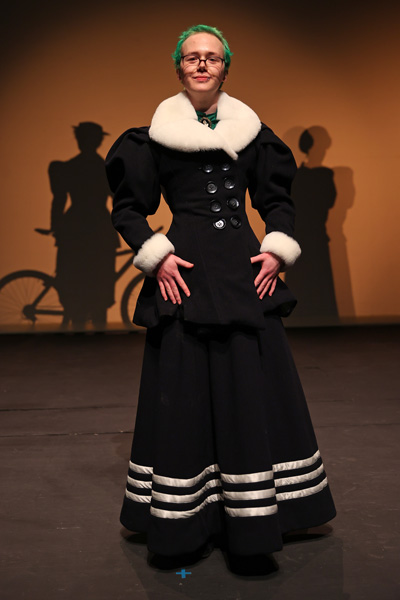 Jordan Chambers, left, created a black and white wool ice skating costume that was based on a design from an 1896 issue of The Delineator, a monthly American women's magazine published out of New York City. This type of garment design meant women could warmly participate on the ice. The horizontal lines of the dress trim were made to double as a support, pulling the hem away from the skates.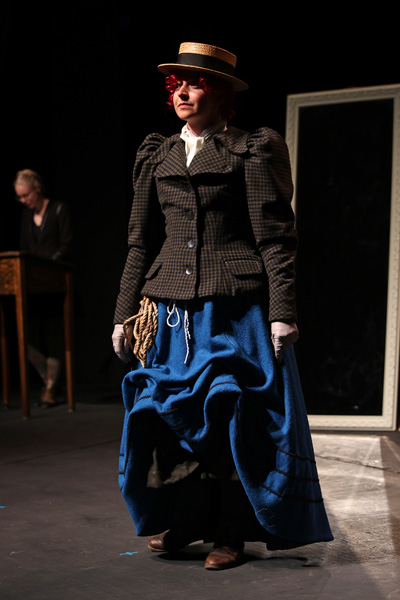 Hannah Plater, left, created a mountaineering outfit to showcase what a Victorian woman might wear for a mountain hike. The outfit would have been considered quite versatile and functional for climbing and hiking. The wool fabric she used would have also kept the wearer dry and warm, even if it should rain while on the trek.


Chiara Power, left,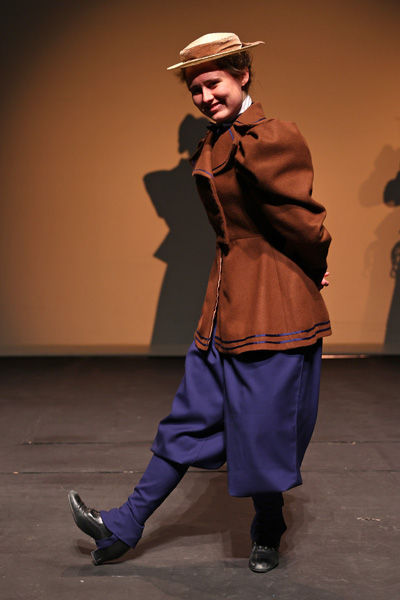 recreated a blue and brown bloomer suit based on a garment from the Kyoto Costume Institute. This is a suit meant for the bicycle. In 1896, it would have been considered risqué for a woman to wear it and according to the showcase, "bloomers were associated with the 'New Woman,' a symbol for social change that elicited both excitement and fear from society."