For the first time since 2019, alumni are gathering in-person for Dal Alumni Days, and the signature event they'll enjoy is Resounding, a celebration of the arts at the newly renovated Dalhousie Arts Centre.

"We wanted to throw a celebration befitting the return of this arts and culture icon in our community, and Resounding: a celebration of the arts promises to be an unforgettable concert event," says Rob Steele, who chaired the fundraising campaign for the performing arts that included revitalizing the Dalhousie Arts Centre.

"Resounding will feature world-class and emerging artists — many with strong ties to Dalhousie as faculty and alumni. We're also proud to have current students perform and share first-hand what this improved Arts Centre means to them."
A resounding line-up
Resounding takes place May 27 at the Rebecca Cohn Auditorium and will feature some of Canada's most exciting performers:
Kiefer Sutherland may be best known for his award-winning role as 24's Jack Bauer, but fans may not know that Sutherland is an accomplished singer-songwriter with three albums. Resounding marks the first time Sutherland will bring his gritty mix of country, rock and blues to the public stage in Halifax.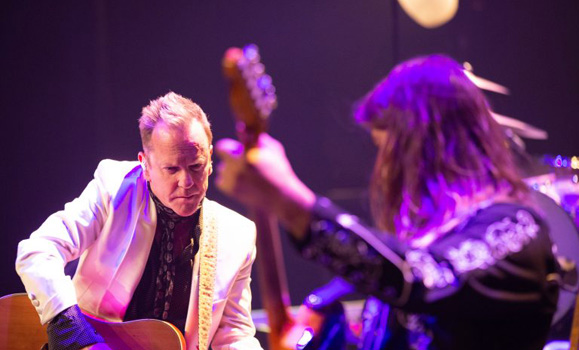 Jeremy Dutcher (BA'12) is a Polaris-prize winning performer, composer, activist and musicologist. An Indigenous artist, he blends distinct musical aesthetics that shape-shift between classical, traditional and pop to form something entirely new.
Indie pop group Hillsburn (shown below), made up of Dal alums Rosanna Burrill (BM'14), Clayton Burrill (JD'11), Jackson Fairfax-Perry (BM'14) and Clare Macdonald (BSc'11), has been busy racking up awards as well as fans.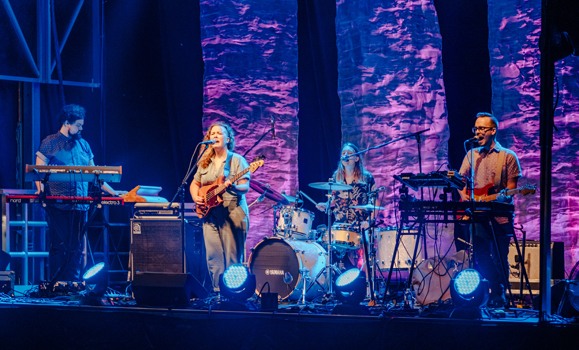 Students from the Fountain School of Performing Arts will also share their talents, and several more fan favourites will be announced as the event approaches.

"We're so thrilled and honoured to be back at the Dalhousie Arts Centre," says Hillsburn lead singer Rosanna Burrill. "We're nostalgic thinking back to our time here and excited knowing how important this place is for students. As performers, we're pumped to be back on this stage helping to kick off this new beginning, but we're also keen as fans of the Halifax arts scene to get back to seeing shows here in the future."
A new era for the Dalhousie Arts Centre

The event celebrates a 42,000 square-feet expansion and significant improvements for the Dalhousie Arts Centre that include:
the brand new, 300-seat Joseph Strug Concert Hall. It boasts acoustic features on par with the top facilities in the world and will attract international performers


new studios that bring the Costume Studies Program into the same building with their performing arts peers


new and improved studio, performance, rehearsal and classroom spaces, giving students more opportunities to stretch, grow, learn and delight audiences


improved air quality, energy savings and greater accessibility, making the space better for all.

"The Arts Centre improvements are nothing short of transformational, bringing us all under one collaborative roof with stunning, modern spaces that will inspire and challenge our students to do their best creative work," says Jérôme Blais, director of the Fountain School of Performing Arts. "I'm so proud of how our students, faculty, and staff have worked tirelessly through the pandemic to transform obstacles into creative online wonders. But we're more than ready to welcome community back to the Dalhousie Arts Centre — Resounding is the event we've been waiting for to celebrate the arts live and in person once again!"

Steele Auto Group is the Presenting Sponsor of the live performance extravaganza. AMJ Campbell, TD Insurance Meloche Monnex, The Berkeley Retirement Residences, Werkliv, Domus Realty, Atlantic Road Paving & Construction, Mariner Partners, MNP, Parkridge Properties Inc., Jost Vineyards, Cox & Palmer, Omega Formwork, Southeast Drywall and Real Estate 360 are also instrumental in bringing the concert to life.

Tickets for Resounding: a celebration of the arts can be purchased through the Dalhousie Arts Centre Box Office beginning at 12 noon on Wednesday, March 9. A portion of each ticket sold will support the Dalhousie Performing Arts Centre campaign.