On a chilly night in late October 2018, more than 1,000 people huddled into the Rebecca Cohn Auditorium to hear African American civil-rights activist and scholar Dr. Angela Davis deliver a talk on the theme of belonging.

Wanda Robson was among them.

Robson, who was 91 at the time, travelled all the way from Cape Breton to be at the event, which doubled as the launch of a Dal lecture series honouring her sister, Viola Desmond — the Canadian civil-rights pioneer who was wrongfully jailed and fined in 1946 after refusing to give up her seat in the white section at the Roseland Theatre in New Glasgow.

Robson was invited to the stage that night as part of an honorary degree ceremony for Dr. Davis, to whom she presented a kente sash (a ceremonial cloth originating from Ghana, commonly used at graduations and other important ceremonial events).

As Robson let go of her mobility walker and embraced Dr. Davis following the placement of the sash, those watching rose to their feet to cheer the moment with a standing ovation.

Robson, who was herself an outspoken advocate and activist for civil rights, passed away earlier this month at 95, but her memory lives on — especially for the many people gathered there on that night.

Dal News reached out to a few of the individuals involved in the event for their recollections of Wanda:
The Honourable Dr. Mayann Francis
Nova Scotia's first African Nova Scotian Lieutenant Governor

"According to Marian Anderson, an American Contralto (1897-1993), 'Everyone has a gift for something, even if it is the gift of being a good friend.'

Wanda Robson became a close friend devoted to equity, justice, and education.  She was a kind, intelligent and caring woman with a lively sense of humour. I always enjoyed speaking with her.

She leaves behind a strong legacy, like her sister Viola Desmond whom I as Lieutenant Governor in 2010 granted posthumously, on the recommendation of the Government, the Royal Prerogative of Mercy, Free Pardon.  

Wanda worked hard to ensure that her sister, who was found guilty in 1946 for sitting in a white-only section in a movie theatre, would be declared innocent.  On April 15, 2010, Wanda witnessed her sister's declaration of innocence.    

Since then, Wanda and Viola have become known throughout Canada and beyond. Wanda and Viola leave behind a legacy that I hope will continue to generate positive change for equity and inclusion."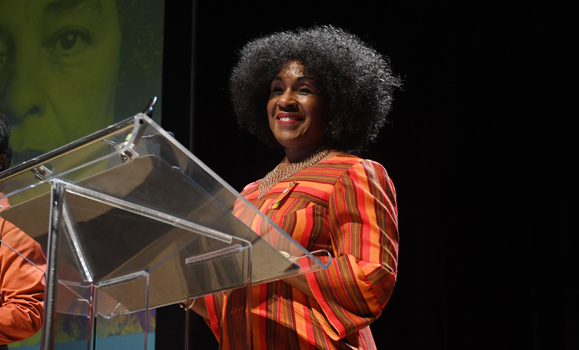 Dr. Francis shown above at the 2018 event.
Dr. Kevin Hewitt
Professor in the Department of Physics and Atmospheric Science and former Chair of Dalhousie Senate

"In our brief encounter, I can remember that Wanda was young at heart, giddy with joy about her sister being recognized, and insistent that she embrace Angela Davis without her walker. I am sad to hear of her passing but, if you believe in an after-life I am sure she will have a wonderful time sharing stories with her dear departed sister."
Dr. Richard Florizone
Former President and Vice-Chancellor of Dalhousie

"It was an honour to meet Wanda. She and Viola are first and foremost a reminder to all of us of the importance of standing up for what is right, and how that leadership can build a better world. For me, Wanda also embodies the joy of human relationships, with her warmth and sense of humour."

Dalhousie continues to honor the brave and fighting sprits of both Viola and Wanda with the Viola Desmond Legacy Lecture Series that addresses persistent social justice concerns. The second ievent n the series was held last January with Indigenous rights champion Michèle Audette. Keep an eye out for future events.