A new scholarship is helping two Dalhousie students focus on their studies and dream big.  

Funded by Halifax-based social media software company Dash Hudson, the award is dedicated to students who identify as members of underrepresented groups and is a collaboration between the company and several Nova Scotian post-secondary institutions.

Dash Hudson was co-founded by Dalhousie alums, Thomas Rankin (MBA'04) and Tomek Niewiarowski (MCS'13). The software developed by Dash Hudson is a social insights platform built for change and has become the engine behind major brands like Condé Nast, Apple, and Estée Lauder — helping inform their strategy, leverage actionable insights, and create meaningful results in the rapidly evolving world of social media and e-commerce.

For Rankin and Niewiarowski, the Dash Hudson Scholarships are an avenue to give back to students in their respective disciplines of business and computer science.

"Our diversity, equity, and inclusion efforts are not confined to our four walls," says Jill Hennigar, vice president of operations at the company. "We are committed to using our resources to help create positive change in the communities where we work and live. This is why we have partnered with local post-secondary institutions, including Dalhousie, to develop the Dash Hudson Scholarship. We hope that the Dash Hudson Scholarship will help students further their education without the strain that finances create for Nova Scotia students. We are thrilled to support these deserving youth with their post-secondary education and excited to continue this partnership into 2022."
Meet the first Dalhousie Dash Hudson Scholarship recipients

Khaylis Sparks, Bachelor of Computer Science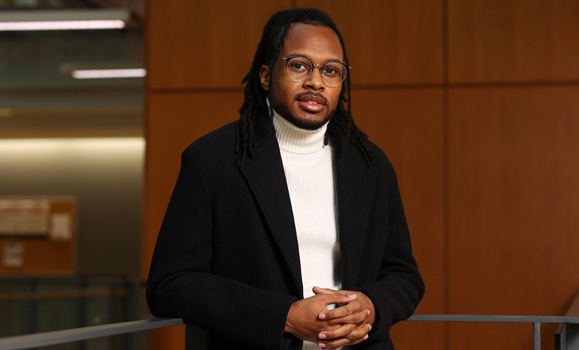 Born and raised in Dartmouth, Khaylis Sparks isn't sure that he would be pursuing post-secondary education were it not for scholarships. Having gone through the Dalhousie Transition Year Program (TYP), Khaylis discovered a passion for learning that led him to his studies in computer science.

"I didn't even necessarily want to go to school before I got the scholarship," he says. "Getting scholarships has allowed me to put my foot in the door and realize that I love learning and computer science so much."

When Khaylis recently discovered he was being awarded the Dash Hudson Scholarship, it came as a surprise and at a time when he needed a boost.

"I didn't actually initially read the email properly. I have ADHD and don't always read things unless I know I need to," says Khaylis. "It was a surprise. I was actually thinking of taking a break from school for my mental health. With COVID and everything else going on, it's been a lot. I was thinking it might be good to slow it down, but this makes me feel that my hard work is recognized, especially since selection was based on asking professors who they thought deserved the scholarship."

As Khaylis plans ahead, opportunities like this are allowing him to be ambitious with hopes to use his position to make a difference for others.

"I know there is a lot of money to be made in computer science, so I'm hoping that I can get a good job and use that to hopefully start funding, on the lower scale, at least have enough to support my family and the kids around the community that I grew up in," explains Khaylis. "On the largest scale, hopefully I can invest in schooling for Black kids to give people more of a comfortable experience. It's awkward looking around and not seeing very many Black students. I would hope to, it's a tall order but if I could do it, I would like to start my own Black university possibly here or in the southern United States."
Loreal Dancause, Bachelor of Management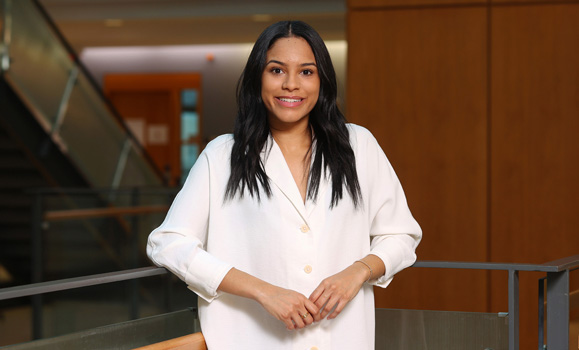 For Loreal Dancause, the Dash Hudson Scholarship has not only resulted in financial support but connections that are impacting her future. After connecting with Dash Hudson CEO, Thomas Rankin on LinkedIn, Loreal has landed an internship with the company.

"Dash Hudson is a marketing and digital company and that's what I want to do after graduation," she says. "After I received the scholarship, I started doing some research, connected with Thomas and it kind of went from there. I'll be a content creator working on various projects related to social media during my internship. I'm so excited, it's my dream job."

Like Khaylis, Loreal was surprised and delighted to find out that she had been selected for the scholarship. As she looks ahead to the end of her studies, she is seeing this as an opportunity to finish hopeful and with a little more motivation.

"I was very surprised and really thankful for this opportunity that's been given to me. I've been putting hard work into school and thankful that it's paid off.

It's going to really help me in two senses. Obviously, it helps pay for my education so that right there is tremendous, but also in the sense that where I work so hard for my grades it's almost like that extra little push."

The Dash Hudson Scholarship is one of many available to incoming and current Dalhousie students from underrepresented groups. New for 2022, the Faculty of Computer Science has expanded its scholarship offering to include awards exclusively for incoming students who identify as African Nova Scotian/African Descent and Indigenous, joining the Women in Technology Scholarship as part of the Faculty's WeAreAllCS diversity initiative. In the Faculty of Management, the Promise Scholars program offers financial and wraparound supports at the undergraduate and graduate level for Black and Indigenous students.