Mike Evelyn is on his way to the Olympics from a path that was anything but conventional. His hockey career began at home in Nepean, Ontario and after playing on a trio of junior teams in the Ottawa area, Evelyn moved to Halifax to join the Dalhousie Tigers. In five seasons in the black and gold from 2014-2019, he played in more than 125 games while earning his Bachelor of Engineering. 
Before graduating, Evelyn made a life changing appearance at an RBC Training Ground event. His athletic prowess earned him a spot at the Atlantic regional finals in March of 2018. RBC Training Ground is an event that helps identify athletes with Olympic potential and that's exactly what the Canadian National Bobsleigh Team saw in Evelyn. He was recruited by the team and attended pilot school in Calgary that winter. From there he decided to pursue the sport full-time.
"I didn't really think about doing it until they approached me," said Evelyn over Zoom while in his hotel room in Latvia. "I didn't go out specifically looking for bobsled, I went to that RBC Training Ground looking for any chance at any sport basically. I definitely didn't feel drawn to it until I tried it, it's quite the rush. It's hard to put into words, it's a little bit like a roller coaster that's not on rails."
The event took place just weeks after the conclusion of the 2018 Olympics in PyeongChang, South Korea. A humble Evelyn attributes part of his success to some lucky timing.
"You get this big influx of athletes towards the end of a quadrennial for the Olympics, and then a big lull after the Olympics when all the athletes retire and don't want to be involved in the sport for four more years," said Evelyn. "I was just sort of in the right place at the right time."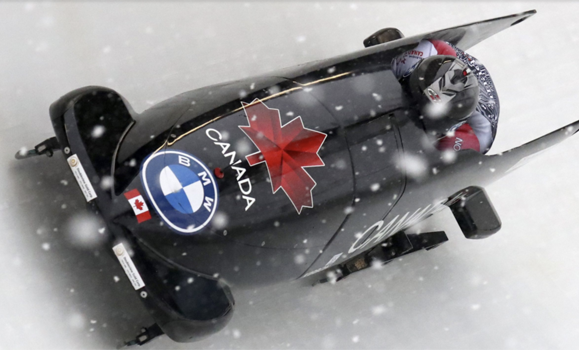 Photo courtesy of Canadian Olympic Committee.
Projecting forward

Evelyn's size and power weren't the only two advantages he had that made him a good fit to transition to bobsled. The sport doesn't come with equipment managers, technicians, and maintenance crews so working together and doing things for others is a vital part of the success of the team. 
"We spend a ton of time on the sleds just taking care of them, taking them apart, managing the equipment, doing things for teammates, putting teammates ahead of yourself," said Evelyn. "That's a big part of being successful and hockey definitely helped with that."
In terms of skills needed to excel in the sport, Evelyn's skating background gave him a head start compared to others who join the sport from track and field, rugby or football.
"There can be a lot of struggles for a track athlete who has a ton of running experience, learning the minute differences between running and pushing," explained Evelyn. "As a hockey player, skating is close to pushing in that you're always projecting forward. You're always in what we would call your 'drive phase' and so I didn't have to unlearn some bad habits."
At pilot school in Calgary in 2018, Mike got to step foot on a track and take a look at the icy banks. Those same banks are where he would soon find himself sliding around at up to speeds of 150km/h.
"The first thing we did was actually walk the track and I didn't realize that the corners are walls, they're 20 or 25 feet high and they're almost 90 degrees to the ground," exclaimed Evelyn. "I kind of thought it was sort of like a slightly banked curve racetrack, but you get totally sideways, and I wasn't prepared for that."
Punching a ticket to the show

Mike officially joined the Canadian team in October of 2019 and one month later he got his first taste of a real race in Lake Placid. Fast forward to this season on the BMW International Bobsleigh and Skeleton Federation (IBSF) World Cup each race is a little bit more important than normal with Olympic qualification on the line.
The top two performing countries at season's end qualify three sleds in both the two-man and four-man competitions. The countries finishing third through ninth qualify two sleds in both competitions. At the time of the interview with Mike, Canada was on the cusp of qualifying three sleds.
"Canada is trending towards having a shot at qualifying that third sled which would be huge for everybody," said Evelyn. "It would mean four more guys get to punch their ticket to the show, which is what this is all about."
Canada's performances this season have been extra impressive considering all races took place on European tracks due to COVID-19. For the most part, Team Canada and Team USA will train on their own tracks which could include Lake Placid, Whistler and Park City in Utah. But having home track advantage doesn't always necessarily mean you will perform well, according to Evelyn. 
"The real advantage is how well your pilot knows the tracks," explained Evelyn. "All the tracks are different, and you can have a pilot that's really strong on certain tracks but has never been to other ones or has limited experience and so they won't perform as well, and you'll probably finish a few places further back."
Work ahead

This season Evelyn has been participating in both the two-man and four-man events, with mixed results. 
"In the two-man event we've been doing really well for what we expected to do, I think we've got two fourth-place finishes and I think we're ranked seventh on the World Cup which by all accounts for us is huge," said Evelyn. "In the four-man not so much. I think we're sort of middle of the pack and that was less expected."
Evelyn has spent this season in Canada's number two four-man sled on the World Cup alongside veteran pilot Chris Spring, Samuel Giguere, and Cody Sorensen. The sled has consistently finished in the top 15 all year highlighted by a season-best eighth place finish in Winterberg, Germany.
Combined with Canada's number one sled led by pilot Justin Kripps the Canadians were certainly in the mix to qualify three sleds in the four-man event next month in Beijing, but Evelyn knows not to look too far ahead because there is still work to be done.
"It's always in the back of your mind, this sport is pretty famous for coaches changing their mind at the last minute or making a change close to the end of the season," explains Evelyn. "One of the senior members of the team has a popular saying that he keeps telling us, 'You'll know you've made the team when you're in the sled on the way down the hill in the fourth heat of the Olympics.'"
The BMW IBSF World Cup wrapped up this past weekend in St. Moritz, Switzerland. Evelyn and crew raced to their second-consecutive top ten finish and punched their ticket to Beijing. With their consistent strong performances all year long, Canada and Germany will be the two nations that get to send three four-man sleds to Beijing next month. 
Heats 1 and 2 of the four-man event will get underway on February 18th at 21:30 AST. Heats 3 and 4 will be February 19th at 21:30 AST. You can catch all the action on CBC's coverage of Beijing 2022.