Nova Scotia universities and the Nova Scotia Community College (NSCC) joined with Dalhousie to raise more than $200,000 to improve food security for students as part of a province-wide initiative on Giving Tuesday 2021.
Like last year, the campaign was inspired by a pledge from the J & W Murphy Foundation to match gifts from individuals to a certain threshold that differed per institution (Dal's match was for gifts up to $20,000). Some of the returning schools — including Dal, which had raised $71,650 as of Dec. 3 — were able to surpass last year's Giving Tuesday fundraising totals.
"With the generous of support of our donors and matching partners, the J & W Murphy Foundation, the Dalhousie Student Union Food Bank and Agricultural Campus Food Pantry will be able to provide hundreds of students with reliable access to nourishing food when they need it," says Deep Saini, Dalhousie president and vice-chancellor. "These programs have seen a rise in visits over the past year, and now we know they can continue to meet that need."
By creating supply chain issues that are impacting food availability and costs, the COVID-19 pandemic has exacerbated food insecurity for students. Inflation rates are also at an 18-year high. And the cost of groceries has increased by as much as 10 per cent in the past six months, according to Statistics Canada data.

Answering the call

Dalhousie's community responded to the call for help. Dal's first donor was Brian Arkelian, owner of Halcraft Printers: "We were pleased to support the Dalhousie Food Security Project this year. This will help ensure students have access to proper nutrition while focusing on their education. The students are our future and a benefit to our community," says Arkelian.
Dalhousie Student Union President Madeleine Stinson expressed gratitude on behalf of the students. "With these funds, we can purchase more groceries and supplies, and ultimately serve more students," says Stinson.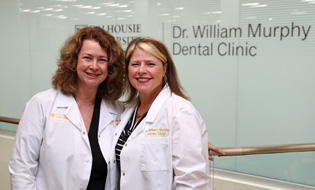 It was Lisa Murphy, co-director of the J & W Murphy Foundation (pictured on the right, alongside her sister, Karen Spaulding), who proposed the idea of taking the campaign province-wide in 2020, so more university students could get the help they need to eat well.
This year the partnership grew; in its second iteration, Université Sainte Anne and NSCC were new partners. They joined Dal, Saint Mary's University, Mount Saint Vincent University, St. Francis Xavier University, Acadia University, Cape Breton University, Atlantic School of Theology, NSCAD University and the University of King's College in raising funds to improve food security for their students.
"To have played any part in igniting what has become a province-wide movement to promote food security on campus is deeply humbling," Murphy says. "Student-led programs are well-positioned to make a difference, but they can meet the need so much more effectively with our collective support."
"The impact of this initiative will be felt on campuses across the province," says Murphy.
People still wishing to support the campaign have until the end of the month to make their donations to Dalhousie at project DAL.