A new podcast launched this year by the Dal-based Child and Youth Refugee Research Coalition (CYRRC) showcases stories and research about the issues affecting refugee children and families in Canada.

CYRRC airs a brand-new segment of The Refuge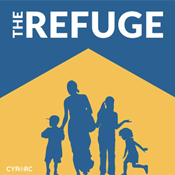 monthly, bringing young refugees, academics and community partners together to discuss key aspects of the refugee resettlement experience — from transitioning to school and work, learning new languages and even the impact the COVID-19 pandemic.
 
"Every guest brings a new piece of information to the table and every guest I talk to I get to learn something new. It has been an amazing experience," says Israel Ekanem, host of The Refuge. Ekanem, a database coordinator with the Immigrant Services Association of Nova Scotia, is a storyteller with experience in film, radio and digital media.
 
CYRRC has adopted the podcast format as one of several avenues for sharing its research with a broader audience,including students. The podcast is available on CYRRCs website as well as on all major streaming platforms by searching "The Refuge CYRRC." Each episode is also avaiable on YouTube. 
 
Seeking — and sharing — solutions

CYYRC was first formed following the arrival of tens of thousands of refugees from the Syrian civil war into Canada beginning in 2015. The group brings together academics, community partners and government agencies from across Canada to carry out research on integration, socio-economic issues, and well-being relating to refugees.

"We wanted to be well positioned to do research on this issue that was unfolding as we were watching," says Simone Chia-Kangata, CYRRC's project manager

Michael Ungar, a professor in Dal's School of Social Work and CYRRC's scientific director, collaborated with researchers, service providers and government partners across Canada to initiate the project. Research kicked off in 2017, with an end date of 2023.

"We try and figure out how to make this movement of people into Canada as smooth as possible and as successful as possible," says Dr. Ungar. "This means focusing our research on employment, mental health support, how people learn languages, and changing social policies to figure out solutions to make the path for all refugees as smooth as possible."

Dr. Ungar has been a featured guest on The Refuge, which initially launched in mid-August. There have been four additional episodes throughout September and October.
In its most recent episode, "COVID-19: Refugee Families' Challenges and Resilience"(aired on October 26), host Ekanem is joined by Anwar Alhjooj (program and intercultural coordinator at Montreal City Mission), Hala Younis (a 15-year-old Palestinian living in Montreal), and Stacey Wilson-Forsberg (associate professor in the Human Rights & Human Diversity program at Wilfrid Laurier University).
What the future holds

Listeners can expect to see the newest episode of The Refuge debut in late December or early 2022.

"We will be looking at how Syrian refugees are settling in Canada, because it has been 5 years since the 2016 cohort arrived which is what started this all for us," says Chia-Kangata.  "We want to look back and see how it has gone, what have we learned, what has gone well, and what can we do better."

The episode will include a Syrian newcomer with lived experience coming to Canada as part of the 2015 cohort alongside Marwa Khobieh, interim director of the Syrian Canadian Foundation and Thomas Soehl, Associate Professor at McGill University and the Canada Research Chair in International Migration.

Follow CYRRC on Twitter and sign up for its newsletter by scrolling to the bottom of this page.