Zero Hunger, one of 17 United Nations Sustainable Development Goals (SDGs), aims to end hunger and achieve food security and improved nutrition by the year 2030 while promoting sustainable agriculture.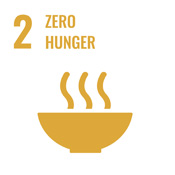 It's a bold aim and getting there could prove more challenging after a year like 2020. Last year, 2.37 billion people were without food or unable to eat a healthy, balanced diet on a regular basis. According to The State of Food and Agriculture 2021, a report from the UN's Food and Agriculture Organization (FAO), COVID-19 pandemic restrictions harmed not only agri-food trade, agri-food supply chains and agri-food markets, but also people's lives, livelihoods and nutrition.
"Farming is a complicated business that has evolved over time through scientific discovery and innovation," says David Gray, dean of the Faculty of Agriculture and campus principal of Dal's Agricultural Campus in Bible Hill, N.S.  "And it is this spirit of innovation that will be essential to cope with the challenges of world population growth, global food production, climate change and ultimately food security."
On December 1, the Faculty of Agriculture will host Open Dialogue Live: Taking a Bite Out of Food Insecurity from 6:30 pm - 7:30 pm AST to explore the importance of a sustainable and healthy food production system, the complexity of our food and agricultural industry and the socioeconomic considerations that contribute to food insecurity and inequity.
Dr. Gray will moderate the panel discussion, which will feature Dalhousie researchers and alumni including:
Ashley J. MacDonald (BSc'14, MSc'19) is in her third year of the PhD in Agricultural Science program at Dalhousie's Faculty of Agriculture. Her research area is agricultural business with a particular interest in sustainability and data-driven decision-making.


Dr. Paul Manning's (BSc'13) is an assistant professor in the Faculty of Agriculture at Dalhousie University. His research aims to better understand the importance of biodiversity (specifically insects) to the health and functioning of agricultural ecosystems.


Dr. Peter Tyedmers is a professor in the School for Resource and Environmental Studies at Dalhousie University. His research explores understanding and improving the biophysical sustainability of food production systems - seafood production systems in particular.


Dr. Gianfranco Mazzanti is an Associate Professor with Dalhousie's Faculty of Engineering. Gianfranco's research centers around crystallization of lipids, especially tryacylglycerols used in industrial food and cosmetic processing.
A growing international consensus
 
The FAO's 2021 report also stated that while many supply chains showed a remarkable degree of resilience in absorbing and adapting to the shock caused by the pandemic, a lack of access to adequate food for millions of people emerged as a huge and persistent problem.
Many rural people were unable to travel for seasonal work — an important source of income in poor communities. Immobilized by lockdowns, low-income urban households saw their incomes and spending on food fall sharply. Even before the COVID-19 pandemic, the world was not on track to meet the shared commitment to end global hunger and malnutrition in all its forms by 2030, but the pandemic has caused further setbacks.

International consensus has grown around the idea that transforming agri-food systems towards greater efficiency, resilience, inclusiveness, and sustainability is essential and the need for high-level research of farming, food production and agricultural sustainability is at an all-time high.
Food security, as defined by the United Nations' Committee on World Food Security, means that all people, at all times, have physical, social and economic access to sufficient, safe and nutritious food that meets their food preferences and dietary needs for an active and healthy life.
The problem of rising food costs

The agricultural industry contributes to the economy, but the food produced impacts the health and well-being of communities, explains MacDonald. Throughout history, we have witnessed the connection between the availability of food and national security. When people have access to the healthy food they need, communities are strengthened. Rural communities, especially, rely on agricultural businesses for more than just the food they produce. They are a source of employment and tax revenue to support infrastructure and public goods in the region.
"Several studies have shown income is the strongest indicator to food insecurity," says MacDonald. "Think about your monthly budget, your necessities. Often the food category is the only one that is not fixed. The Ecology Action Centre has found the root cause is not the cost of increased food, but rather that wages and social assistance has not increased at the same rate.  Food costs may have risen, but Canadians are spending less, proportionally, than we have before. In 1969, our food budgets were about 19 per cent of our income, more than housing (15.2 per cent) yet in 2019, housing was nearly 30 per cent of our budget and food was about 15 per cent including restaurants and take-out."
Rethinking agriculture and ecosystems

Paul Manning, an assistant professor with the Faculty of Agriculture and Dalhousie's 87th Rhodes Scholar, says that more than 50 per cent of the Earth's habitable land is used for agriculture. The ways by which this land is managed has important consequences for both the local and global environment.
"My research focuses on insects. In the context of agriculture, when thinking about insects — many people think immediately of species that are pests. However, only a small fraction of insects inflict harm on crops and livestock. Insects are important components of terrestrial ecosystems, through providing important services like pollination and decomposition, they are critical in supporting the economic and environmental sustainability of food production."

Dr. Manning's research aims to better understand the importance of biodiversity to the health and functioning of agricultural ecosystems. Much of his work looks at dung beetles as a model system for understanding the vulnerability of agroecosystems to environmental disturbances.
Solving the food-production puzzle
 
Peter Tyedmers, a professor in the School for Resource and Environmental Studies, explores understanding and improving the biophysical sustainability of food production systems in his research.
Aside from his work on seafood, he studies other food systems, often using Life Cycle Assessment to examine the impacts and trade-offs associated with how we produce food. He is also one of the advisors on Canada's Annual Food Price Report (led by researchers at Dalhousie). 

"Meeting the nutritional needs of almost an eighth of the human family remains a pressing global challenge that has gotten worse over the pandemic," says Dr. Tyedmers. "However, with few exceptions the primary bases for food insecurity globally are insecurity (presence of conflict), and poverty. Unlike in early generations, food insecurity is not a function of supply shortfall. Signs of emerging localized supply shortfall, largely related to climate change impacts, are unfortunately starting to emerge in some parts of the world."
The research of Gianfranco Mazzanti, an associate professor in the Faculty of Engineering, centers around crystallization of lipids, especially tryacylglycerols used in industrial food and cosmetic processing.
Dr. Manzzati's previous work in Agro-Industrial areas of Engineering involved extensive work with the food industry and post-harvest work. A recent addition to Gianfranco's role at Dal is the on-campus microbrewery where he helps students run, operate and learn about microbrewing and the local industry.
Join in the conversation Wednesday, December 1 at 6:30 p.m. as we tackle the topic of zero hunger by 2030.