It's a question many university communities have had to ponder over the past year and a half: How do you bring back a sense of community when the COVID-19 pandemic has all but obliterated social interaction and community spirit?

One Dalhousie student decided to take matters into his own hands.

His name is Aidan Bonner. He's a 19-year-old undergraduate student studying commerce. He's also the founder of the Happy Human Project (HHP).

"As a freshman, I wanted to fix the perished sense of community at a time where our world had gone virtual and distance, which sparked Happy Human Project," says Aidan, who is from Oakville, Ont., just outside of Toronto.

Formed earlier this year, the group's efforts have focussed on tapping into the momentum of community to raise money for different causes each month.
Creating a movement

With 150 members and counting, it is clear that there is a major desire among students at Dal to give back.
Bonner's group has already amassed a sizable following on Instagram (with more than 1,400 followers currently). The group also has its own website, where it highlights its monthly initiatives and sells branded Happy Human Project merchadise including tote bags and stickers. All proceeds from sales go towards supporting its fundraising causes.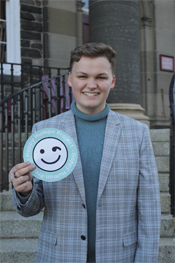 "Happy Human Project embodies the importance surrounding the sense of community and how strong community can create true lasting happiness from natural ways," says Aidan.
At the start of each month, members decide on issues of focus and then plan initiatives to raise awareness and/or fundraise to support them. The group holds events on campus to inform the community on key issues students can relate to and show their support towards.

The group's first donation in June was $500 to the The Legacy of Hope Foundation, which supports the need for reconciliation and harmony between Indigenous and non-Indigenous peoples. They've also raised money for Shelter Nova Scotia (to combat homelessness) and Autism Nova Scotia. And in October, they highlighted Mental Illness Awareness Week as well as Spirit Day — which celebrates standing up against LGBTQ+ youth bullying and harassment.

For November, HHP has decided to fundraise for Movember — an annual initiative raising awareness around men's health.

"It's an incredibly important cause that raises money and awareness for men's mental health - one that resonates with a lot of male students and faculty here at Dalhousie," Aidan says.

As part of its fundraising activities this month, HHP will be hosting a movie night on November 17 in the Student Union Building with all funds going directly to Movember. The event will begin at 7:00 p.m. and admission will be $5.00. The admission price also gets you a free 4 pack of Redbull, snacks, and a movie night with peers.
How to get involved

Aidan say new members are always welcome on board and are encouraged to reach out if interested.

Sydney Alleyne joined the group in April as communications director alongside Aidan as a way to feel the inclusiveness of the Dal community.

"It was something I felt very interested in. I knew it was something the community needed in terms of mental health resources and awareness," Sydney says.

As the first semester is coming to a wrap, the HHP team is in full effect planning their holiday season initiatives throughout December.

"Looking ahead, our team is busy planning our next community initiative for December, where we will aid our local food banks by collecting cans and raising money through campus events," says Aidan.
If you are interested in joining the group as a general member or the executive team, you can fill out an online application form on the HHP website or send a direct message to HHP through Instagram. If you are interested in starting another Happy Human Project chapter elsewhere, fill out the form at the bottom of this page.