You don't have to look hard in Nova Scotia to find success stories emerging from the province's booming digital tech sector.

Many are personal tales of students, entrepreneurs, and professionals, some of whom have arrived here from far-away shores to find fertile ground for their new ideas or opportunities for career growth. Others are stories of startups and established companies relocating to the province to tap into its rapidly growing pool of tech talent — fed, in part, by the region's leading lights in tech education such as Dalhousie.

"Our tech sector in Nova Scotia has been on an upward trajectory for many years and is showing no sign of slowing down," says Wayne Sumarah, CEO of Digital Nova Scotia.

And as Nova Scotia's tech domain expands, major sectors across the province — from oceans and agriculture to health care and entertainment — are being reshaped. Here, in Nova Scotia, we're on the verge of a major leap forward in the digital space.  

Here, we code.
Bringing people together

Dalhousie, led by its Faculty of Computer Science with many interdisciplinary academic and industry partners, has rallied its energies in this mission to help create Here We Code — a new movement to build on this momentum by inviting everyone to join in growing Nova Scotia's digital economy.
"It is time to redefine how we see ourselves as a global leader in the digital space," says Dal President Deep Saini.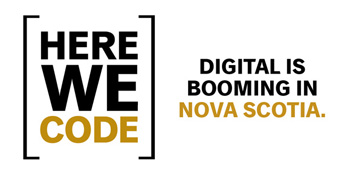 Dal's emergence as a leader for Here We Code stems naturally from its role as a hub of tech education and research in the province. The Faculty of Computer Science has grown its enrolment by more than 100 per cent over the last five years and has set its sights on adding another 600 or more students over the next five. With 50 faculty and research experts, including five Canada Research Chairs, and plans to double that over the next half decade, students who study at Dal gain access to some of the brightest minds in computer science and digital.  

Dal is undertaking these efforts to increase its talent pipeline, research output and strategic partnerships to support industry and businesses to meet the growing need for digital talent and expertise. The Atlantic Provinces Economic Council estimates 2,000 new digital workers will be needed a year to meet demand in the region.

Dal is doing so with support from Nova Scotia's provincial government, which announced in March a $16.8 million investment to expand and enhance computer science education at four Nova Scotia universities. Of that, $13.3 million is going to Dalhousie to help the Faculty of Computer Science continue to expand its leadership in the sector.

But as Here We Code suggests, this momentum around technology in the province is about far more than Dalhousie. It's about bringing Dal together with other tech leaders and innovators to create an even richer, more prosperous digital economy.
"Dalhousie is proud to be at the forefront of Here We Code, but it is much bigger than Dal. It's about building a movement that everyone can be part of — and that is extremely exciting," says Dr. Saini.
It also goes beyond simply coding, tapping into the vast intersections between digital and just about every other aspect of society and the economy from oceans and the arts to boardrooms and healthcare services.

"There are new opportunities daily, and our innovation ecosystem continues to strengthen and expand, which is why initiatives such as Here We Code are so important," says Digital Nova Scotia's Sumarah. "The movement will bring people together to drive our region forward and highlight the important role digital plays in Nova Scotia's economic future."
Creating networks for success

As Zaaheda Islam navigates her final year as an undergraduate computer science student at Dalhousie, she is already a part of this future.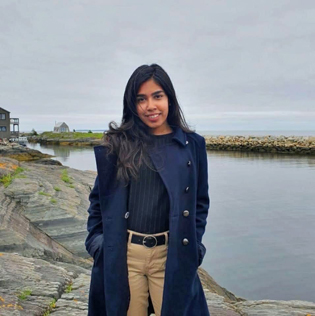 Through co-op, she's held three different roles at AXIS Capital, a financial technology company, allowing her to gain experience as a business analyst, developer and data scientist. Each subsequent position — and a part-time job that emerged as a result — has provided her with a unique perspective on the versatility of working in digital tech.

"Because of the growing demand for tech employees, I was able to leverage that to explore my interests in three different sectors of computer science without any previous industry experience," she says. "A year before my graduation, I now feel confident about joining the industry as a fresh graduate next year."

She's also felt inspired by how welcoming and inclusive Nova Scotia's tech community has been, noting the dedication of firms to increasing representation from those who have historically been underrepresented in the field of technology.

"As an international student and a women-identifying student in technology, I feel at ease to be part of Nova Scotia's digital community," she says.

As Here We Code gains steam, others like Islam are being welcomed into the fold, too, setting the stage for many more success stories in the years ahead.

Learn how you can join the movement today at herewecode.ca.