Sciographies is a radio show and podcast about the people who make science happen, presented by The Faculty of Science and campus-community radio station CKDU 88.1 FM. This is the seventh and final article in a weekly series that features excerpts from each new episode of season four.
Katja Fennel grew up in Rostock, a small coastal city in what was known at the time as East Germany, or the German Democratic Republic. Living in the Eastern Bloc during the Cold War meant a great deal of self-censorship and "indoctrination," says Dr. Fennel, and when she was a teenager, those were the hardest realities for her to overcome.
But when the fall of the Berlin Wall happened during her first year of university, she could finally think, speak, and travel freely. She began building a successful scientific career — one marked by leadership and international collaboration — and is now a Killam Professor and chair of the Department of Oceanography.
Dr. Fennel's research involves the development of physical-biogeochemical models, which are tools that can help us better understand and predict the state of the ocean as the climate changes. Dr. Fennel uses her education in mathematics to build these extremely complex predictive models with her team. They're currently contributing to the biogeochemical expansion of the global Argo platform, BGC-Argo, and anticipate launching 40 autonomous vehicles in the coming years to collect the comprehensive data needed to inform these models.
In this week's episode of Sciographies, host David Barclay sits down with Dr. Fennel to discuss her experience growing up behind the Iron Curtain, her path to oceanography, and the challenges involved in modelling dynamic ocean environments.
Listen to a preview of Dr. Fennel's episode
Here are some excerpts from the episode (edited for clarity and length)
On coming of age during a major historical event
Barclay:  What was the infiltration of authority like? Was there a certain paranoia as a teenager that your school report would be read [by the wrong person]?
Fennel: Absolutely yes. In my social studies class, a dreaded subject because it was just propaganda and ideology, we had a new teacher who started talking about Gorbachev's book… We had to write an essay on it, and I remember letting my guard down and writing more honestly than I was taught. Immediately after handing it in, I regretted it. Turns out that's exactly what he wanted, and I was asked to read it to the whole class. [The teacher] was gone a few weeks later. That was not tolerated.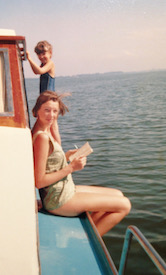 Barclay: What were your thoughts and feelings about the Berlin Wall coming down?
Fennel: It was super exciting. When I think about my life, it was still the most significant event that happened. Opportunities, possibilities, outlooks — everything changed.
On choosing to study mathematics in university…
Barclay: Were your parents unified in suggesting you go towards the physical sciences and mathematics?
Fennel:  I think my dad was the more influential voice and my mom went along. But math wasn't necessarily a passion of mine. Biology was interesting, and as a kid I was passionate about art… [Studying the arts] didn't seem like a good idea in that system. Choosing math as the field I would study at university was sort of this practical thought process, because I wanted to pick a field that was least susceptible to ideological influence.
On the importance of modelling…
Barclay: We talked about the prediction of weather. In the type of modeling that you're doing, you're looking at predicting things on much larger time and spatial scales. Can you tell us the main objective of the complex modelling that you do?
Fennel: I like to think of it as a whole spectrum. On the one end, there's the basic scientific understanding, like fundamental understanding about how ocean biogeochemistry works. And then the other end of the spectrum is the extremely practical and applied stuff. Making predictions for aquaculture, fisheries, harmful algal blooms. The whole climate projection angle is important, too. I mean, if we're trying to make guesses as to what will happen going forward 50-100 years on our planet with climate, we need climate models. And then there's also the angle of mitigation… If we can solve the CO2 problem, the ocean is at the core because it's the largest reservoir of CO2. But how do we do that safely?
Listen to the entire 30-minute episode of Sciographies at 6 PM Thursday, October 28 on CKDU 88.1 FM in Halifax. Or, stream on Apple Podcasts, Spotify, Google and other popular podcasting platforms. You can also listen to previous Sciographies episodes on the same platforms or at soundcloud.ca/sciographies and dal.ca/sciographies.
On November 12, 2021, David Barclay will host a video interview with special alumni guest Dr. Mathai Mammen (BSc'89). Dr. Mammen is the Global Head of R&D for Janssen, the pharmaceutical division of Johnson & Johnson. He led the development of their COVID-19 vaccine. Get all the details at dal.ca/sciographies.