With dozens of recommendations, Dalhousie's updated African Nova Scotian (ANS) strategy offers the university's most robust approach ever to increasing support for ANS students, staff and faculty.
The scale and scope of these proactive recommendations may be broad, yet each and every one ties back to a single foundational principle: African Nova Scotians are a distinct people.
"Central to the need for an African Nova Scotian strategy, and the foundation of the strategy itself, is the understanding that African Nova Scotians are a distinct people," said Michelle Williams, a Dal law professor and co-chair of the strategy's working group, at a gathering on campus last week.
Jalana Lewis, who joined Dal last fall as director of African Nova Scotian Community Engagement, organized last Friday's event as a way to inform staff, faculty, students and community members about updates that have been made to the African Nova Scotian strategy since its launch in 2018.
"It's been an excellent year here, and I am thankful for all the people who are open to collaborating," said Lewis (pictured below), whose work has been instrumental in progressing the goals of the strategy for the university.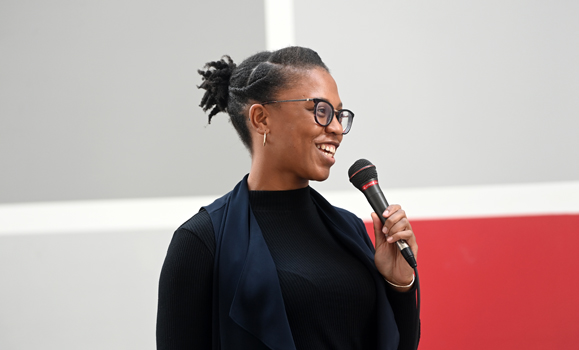 The event featured speakers, food by local African Nova Scotian vendors, a spoken word performance by Guyleigh Johnson of the Black Student Advising Centre, and a video (watch below) highlighting the strategy's progress and its team.
Learn more: Meet Dal's new director of African Nova Scotian community engagement (Dal News)
A path forward

Led by Lewis and a dedicated working group from Dalhousie, with input from an advisory council of Dal community leaders, the African Nova Scotian strategy — now available to view as a document — lays out a strong vision and the path to achieving it in detail.
During last week's event, members of the strategy working group — including Williams, fellow co-chair Quenta Adams (director of Student Academic Success at Dal), and members Melisa Marsman (assistant general counsel) and Barb Hamilton-Hinch (associate professor and assistant vice-president, equity and inclusion) — presented on the history of African Nova Scotians in the province and at Dal.
The strategy's recommendations — developed based on the collective research, experience, expertise and wisdom of African Nova Scotian students, staff, faculty and other members of the community — link up closely to many key areas of the focus for the university more broadly as well. The strategy document even includes a column showcasing where the different recommendations fall in Dalhousie's new strategic plan, Third Century Promise.
"If actioned, these recommendations will allow the full and equitable participation of African Nova Scotians at Dalhousie," reads the strategy.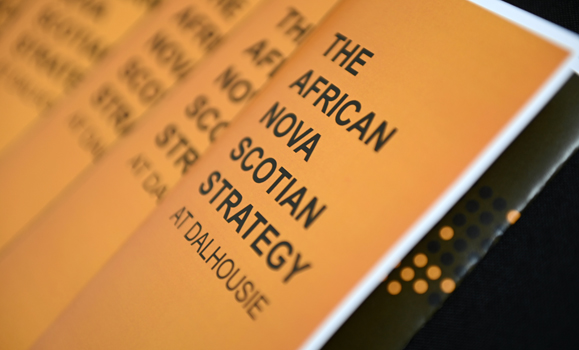 Some of the recommendations shared by the working group at last week's event include:
Develop annual African Nova Scotian community immersion education and training with senior Dalhousie leaders (the first annual retreat was held in March 2021)


The development of an African Nova Scotian Research, Policy and Engagement Centre that would be the hub of African Nova Scotian research, policy development and student, faculty, community and staff engagement at Dalhousie.


Recruit, promote and retain African Nova Scotian faculty and staff, including developing and implementing a mentoring strategy.


Streamline and publicize research assistant opportunities and the promotion of graduate opportunities for African Nova Scotian students. Develop a pool of on campus part-time and summer jobs for African Nova Scotian students to support income attainment and exposure to post-graduate/professional schools.
In addition to new recommendations and research, the current strategy furthers work that grew out of Breaking Barriers, a 1989 report commissioned by Dalhousie. While there has been progress for African Nova Scotian students, staff and faculty at Dalhousie since the report, the new strategy shows there is still much work to be done.
Learn more: Breaking Barriers, 30 years later (DAL Magazine)
Michelle Patrick, a student success career advisor at Dal and member of the strategy's advisory council, closed last week's event with a special thanks to Lewis for having done so much already to move this important work forward.
Many components of the strategy's recommendations are currently already underway. To learn about the strategy, please explore the full document with recommendations and a shorter-form brochure prepared by the African Nova Scotian strategy's working group.
See some scenes from the update event below