Sciographies is a radio show and podcast about the people who make science happen, presented by The Faculty of Science and campus-community radio station CKDU 88.1 FM. This is the sixth article in a weekly series that features excerpts from each new episode released this fall.
Sherry Stewart (BSc'87) first chose to study psychology at Dalhousie because she had an interest in understanding anxiety disorders and emotional problems. Now she's a clinical psychologist and professor in the Department of Psychiatry and the Department of Psychology and Neuroscience with a cross-appointment in the Department of Community Health and Epidemiology.
As a Canada Research Chair (Tier I) in Addictions and Mental Health and Fellow of the Royal Society of Canada, Dr. Stewart is known for her research on the individual psychological factors and personality traits that drive a person's alcohol abuse, other substance misuse, or problem gambling behaviour. She develops clinical interventions based on her findings so that clinicians can help their patients prevent and treat these widespread challenges.
UniVenture, a current study, looks at how one of Dr. Stewart's previously established prevention programs can be adapted to improve mental wellness and reduce distress, excessive risk taking, and negative consequences of substance use among university students across Canada.
In this week's episode of Sciographies, host David Barclay sits down with Dr. Stewart to discuss her path to a career in psychology and her research studies that inform real-world clinical practices.
Listen to a preview of Dr. Sherry's episode [Embed codes found below]
Here are some excerpts from the episode (edited for clarity and length)
On helping patients with empathy…
Barclay: In terms of psychology, is it important to bring your own experiences, as perspective, into your understanding?
Stewart: For clinical psychology, yes. I don't think you have to have experienced something yourself, but you can't be entirely removed from it. In order to empathize with something, you have to really understand it from a personal level or from what you see from others around you.
On defining addiction…
Barclay: I do have to ask. I was looking over your CV and I was wondering: do you think you're maybe addicted to working?
Stewart: [Laughs] That's a good question —
Barclay: [Laughs] But a serious question too.
Stewart: I think I work more than other people for sure. Does it create problems for me? I don't think so. I think a lot would depend on your own personal situation, right? If I were with somebody that demanded a lot of time, then my work life balance would not work for that other person. I think under certain circumstances, this could create problems for me, and I'm lucky that I'm in a relationship where it doesn't, because [my work] makes me happy.
Barclay: Is that the clinical definition of addiction, when it does cause problems in someone's life?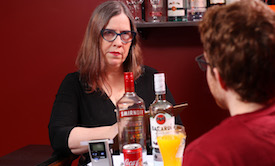 Stewart: It is. In the clinical definition of any addiction, you're really looking at the negative consequences rather than the amount [of the behaviour]. Of course, those things are correlated though, right? Someone can be a heavy drinker and not have a lot of negative consequences, but it's rare.
On popular prevention slogans and campaigns…
Barclay: Do you have thoughts on things like just say no to drugs? Are we now at another level of intervening?
Stewart: I think just say no is going to be ridiculous for many people. I mean, it could make things even worse for someone who is sensation seeking, right? It could [make the behaviour] sound interesting to them. Our approach [to prevention] is very different; it's about recognizing that people are using for a reason, and it's working for them in some way. It leads to a much more compassionate approach . . . Therapeutically, people feel more understood when you're giving them a more individualized approach that recognizes their unique needs and reasons for using substances. And then it tells you more about what skills they might need to do better.
Listen to the entire 30-minute episode of Sciographies at 6 PM Thursday, October 21 on CKDU 88.1 FM in Halifax. Or, stream on Apple Podcasts, Spotify, Google and other popular podcasting platforms. You can also listen to previous Sciographies episodes on the same platforms or at soundcloud.ca/sciographies and dal.ca/sciographies.