After a hiatus due to the pandemic, Dalhousie's annual Mawio'mi — along with its drums, vendors and sense of community — returns to the Studley Campus quad this Wednesday (October 13).

"I think the campus could really use this kind of energy — this kind of healing," says Michele Graveline, Dal's Indigenous Student Advisor and organizer of the 11th annual powwow. "I think everybody could use this in terms of our wellness."

Vendors will start selling at 10 a.m. on Wednesday, with the meal service from 11 a.m.-1 p.m. The grand entry will commence at noon and the powwow takes place thereafter until 4 p.m.

Two different drum groups will provide the pulse of this year's celebration, including Eastern Eagle and Smokey Point. There is also opportunity for dancers and attendees to win prizes.


Appreciation and understanding

This year's Mawio'mi will be slightly slimmed down due to the pandemic, but vendors will still be bringing a plethora of different craft items from clothing to beadwork.

A tipi will be set up on the quad by two Elders, who will be on hand to share teachings. A sacred fire will also be lit where attendees can learn about the fire and smudge.

Graveline hopes that the event provides an opportunity for Indigenous people to come together and appreciate each other. But she knows that doesn't stop the emotional trauma carried by Indigenous people in Canada as they confront colonial structures on a daily basis.

"I think that it has been particularly difficult, but it's not unlike other years," says Graveline, who notes the impact of the fight for fishery treaty rights here in Nova Scotia over the past year, along with the uncovering of missing children buried at residential schools over the summer and the passing of another National Day of Action for Missing and Murdered Indigenous Women and Girls (MMIWG) on October 4.
A learning experience

Graveline says she hopes that non-Indigenous members of the Dal community use the Mawio'mi to learn and celebrate with the Indigenous community members who attend.

"If they talk to some of the folks who are offering things, they learn a little more about Indigenous communities, Indigenous teachings and Indigenous realities through spending the day with us," says Graveline.

The Dalhousie Senate passed a motion allowing Indigenous students amnesty in order to attend the Mawio'mi.

The Mawio'mi at Dal was first started by Indigenous students as a way to gather and celebrate culture. Graveline says the university later took over the event's organization as it grew.

"You can't miss the drum. You can't miss the beautiful regalia, glinting in the sun," says Graveline. "It brings people together."
More scenes below from the 10th annual Mawio'mi in 2019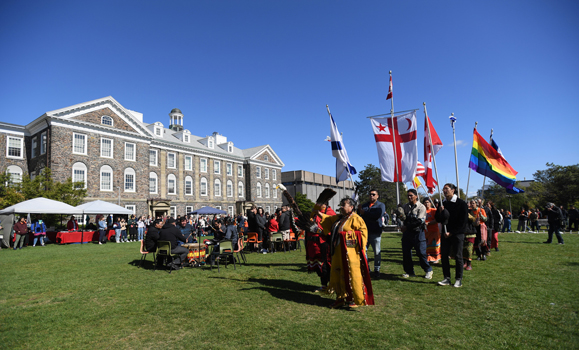 Grand Entry.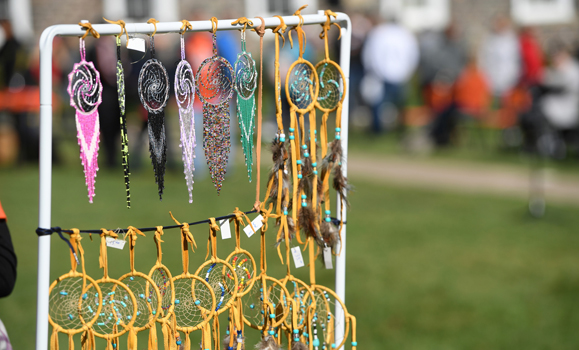 Vendors.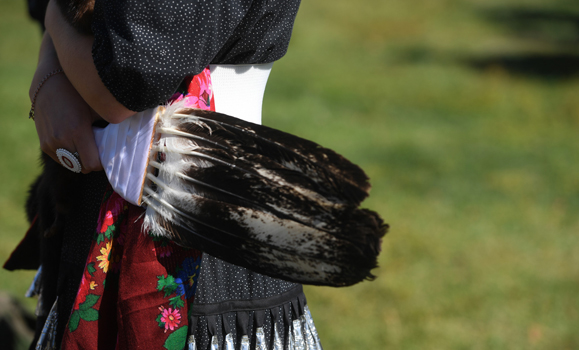 A dancer.