Sciographies is a radio show and podcast about the people who make science happen, presented by The Faculty of Science and campus-community radio station CKDU 88.1 FM. This is the fourth article in a weekly series that features excerpts from each new episode released this fall.
Melanie Massey grew up in the bustling urban environment of Toronto's East Chinatown. The city was all she knew until a university field course brought her to the Alberta Badlands, where she spent a summer living and studying outside in the remote Canadian landscape. Working in and with nature became a guiding force for her career path.
Now a PHD candidate in the Department of Biology, Massey's research looks at how temperatures influence organisms. Particularly, the cascading effects that some organisms experience when they're subject to temperature fluctuations in early life stages.
She also dedicates her spare time to engaging BIPOC youth in science outreach and education through Diversity of Nature, an organization she co-founded with Suchinta Arif, another BIPOC graduate student at Dalhousie.
In this week's episode of Sciographies, host David Barclay interviews Massey about her path to biology, how she's combined her love of art with her passion for science, and removing barriers to make science more inclusive.
Listen to a preview of Massey's episode
Here are some excerpts from the episode (edited for clarity and length).
On growing up in Canada's largest city…
Barclay: Was it a true big city childhood, where you could order down food when you were like 5 years old?
Massey: Oh yes. My mom would send me to the Chinese barbecue place as a kid, and they'd just say, 'Oh, Lancy's kid? Yeah, we've got it.' Then they'd chop up a duck in front of you [laughs].
Barclay: You went to public school. Were you right away interested in science, or were there other subjects pulling you in different directions?
Massey: Oh, there are definitely lots of different things pulling me. I love school and I loved learning. I think I liked art the most. I was a big artist and still kind of am… science wasn't a huge pull for me very early on. I just wasn't really aware of nature. I didn't go out in nature. I was in urban spaces. And before I left for university, I could probably count the number of times that I went camping on one hand. So, I just wasn't really aware of the ecology around me.
On a contemplative moment while digging up dinosaur bones…
Massey: I was sitting out in the sun, digging up this hadrosaur rib, thinking OK,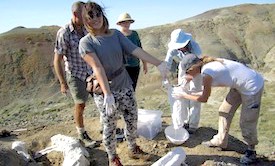 this actually isn't that much fun anymore, these things are dead. I found myself eventually running around catching frogs and butterflies with my professor's kid. It was a nice turning point though, because I realized paleontology wasn't great for me, but that I did love the outdoors and all the different critters flitting about.
Barclay: That's when you took a true turn to commit to biology?
Massey: Yes.
On her PhD research focus…
Barclay: Tell me about your research so far.
Massey: I'm working on a species called zebrafish. They're a popular pet species and an extremely popular medical research model. But instead of doing medical research or microbiology research with these zebrafish, I'm actually looking at them from an ecological perspective. I'm taking these fish and I'm incubating them under changing environmental conditions. And all of this is relevant to climate change. We know that temperatures are, on average, getting warmer globally, but they're also getting more variable. We're seeing short term climatic events like heatwaves but we're also seeing higher highs and lower lows. I'm exposing the fish to these temperatures and seeing how they can plastically respond within and between generations to this thermal variability.
On leveling the playing field…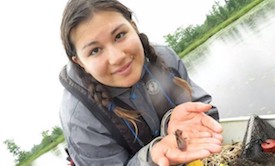 Barclay: What is your advice for addressing the issue of barriers [in science] faced by BIPOC individuals?
Massey: A lot of advice about this has been tailored to people of colour themselves. We're often told to build communities of support or stand up to defend ourselves. But really, the onus of dealing with these barriers should be on those who have power. Suchinta Arif and I just wrote a paper on this, where we give advice to powerful people in the academy, explaining what they can do to help make our barriers go away. Funding is often a huge barrier… that's a good place to start… Making an effort to hire more field assistants that come from different, diverse backgrounds… It could also look like serving Chinese food instead of spaghetti one night at a field station. There are little steps everyone can take to make people feel included and reduce barriers.
Listen to the entire 30-minute episode of Sciographies at 6 PM Thursday October 7 on CKDU 88.1 FM in Halifax. Or, stream on Apple Podcasts, Spotify, Google and other popular podcasting platforms. You can also listen to previous Sciographies episodes on the same platforms or at soundcloud.ca/sciographies and dal.ca/sciographies.