Two years ago, Bill Revels was injected with millions of extremely small glass beads — an innovative medical procedure that ended up saving his life.

Revels had been diagnosed with liver cancer after experiencing pains in his side and back. "When I went into the hospital, I found I had a lesion on the liver," he says.

Doctors told Revels surgery wasn't an option, and his first chemotherapy treatments were unable to stop the tumour's growth. That's when Dr. Bob Abraham called to inform Revels there was another option.

"With glass? That sounds kind of funny," Revels recalls telling the doctor over the phone after he explained the Y-90 radioembolization procedure. The procedure uses radiation-emitting glass beads to target a tumour directly while avoiding harm to other parts of the body.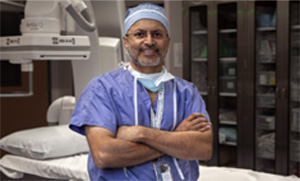 "He was able to come in the morning have the procedure done. The procedure itself is painless and he didn't even know that we had actually injected the therapy. He was able to go home that afternoon," says Dr. Abraham (pictured right), Revel's treating physician and an interventional radiologist at the QEII.

The procedure is just one of the exciting opportunities possible with research in the biomaterials field — possibilities that researchers and doctors are hoping to expand upon with the creation of a new biomaterials lab at Dalhousie University to be funded by this year's Molly Appeal campaign.

The annual fundraising campaign, led by the Dalhousie Medical Research Foundation (DMRF), first started in 1980 when Molly Moore gave five dollars to the foundation — it's first donation. Forty years later, the DMRF is still working to innovate in health care. This year, the foundation is asking Maritimers to help make a difference in the next generation of biomaterials research by giving what they can.

Improving care and patient outcomes

With the new Biomaterials Innovation Centre, researchers will work on a range of new treatments and products for conditions like Revel's liver tumor to new orthopaedic implants.

"What's so exciting is that this lab will be able to touch so many disease processes and improve care and outcome of the patients that we treat in so many ways," says Dr. Abraham. "Biomaterials can be developed to be used in every part of the body and can improve treatments for so many diseases including cancer as we have seen with Y-90 therapy."

Revels says the only side effect after his Y-90 procedure: some tiredness for a few weeks after the treatment. Two years after the procedure he is able to live a normal, happy life.

"It's one of the most rewarding things about my life. I'm able to make these kinds of differences with these patients," says Dr. Abraham. "To be able to see him go back to work, be able to support [his] family, support himself and feel well after a diagnosis of liver cancer is truly amazing and a biomaterial is what has allowed this to happen."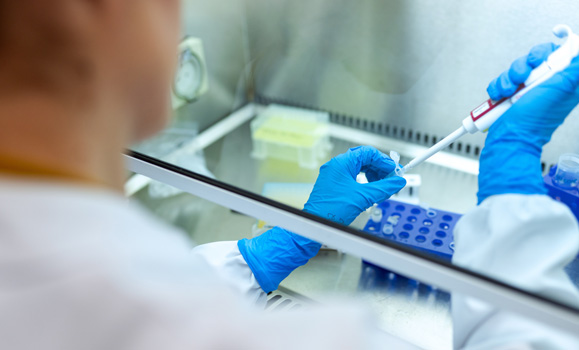 Dr. Abraham continues to work on the next step in the Y-90 radioembolization procedure.

"We actually are creating the next level of Y-90 therapy with new glass beads that are therapeutic but that you can actually visualize as we're injecting," he says. Using a CT scan, doctors will be able to see the treatment as it works and verify its success as it happens. The new biomaterial used in the procedure will soon be entering a clinical trial.

Revels says he's thankful to the doctors and researchers who work on these innovative procedures that turned his life around and is happy to share his success story to raise awareness about the impact the Molly Appeal can have.

"What's so great about this campaign and fundraising is that it's going to bring a lot of very dedicated, passionate and talented people together in one location to create all these new products," says Dr. Abraham.

Through the Molly Appeal fundraising, and more innovative research emerging out of Dalhousie in the biomaterials field, there is hope for new life-changing procedures. If you're interested in donating to the Dalhousie Medical Research Foundation, learn more now.