Before the arrival of Europeans, Indigenous people living in the territory now known as Canada (including the Mi'kmaq people) used natural celestial and seasonal cycles to gauge the passage of time and organize their activities.

The rising and setting of the sun governed the daily cycle. Over a yearly cycle, the variation of the day length and maximum elevation of the sun drove the weather patterns and events in the natural world around them and in between the daily and yearly cycles, the moon waxed and waned through its phases over a 30-day period.

A new landscape art installation on the Dalhousie Agricultural Campus represents the Mi'kmaw lunar cycle and is organised to showcase educational knowledge of the 12 months and moons within the four seasons.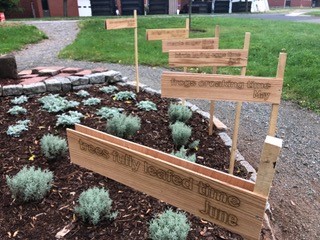 "This installation is a type of eco-calendar and brings together western scientific and indigenous wisdom through knowledge renewal and communication," explains Richard LeBrasseur, assistant professor of Landscape Architecture at Dal.

Based on a concept by Han Xie (Class of 2019) and configured and installed by Victoria Moffat (Class of 2022), this landscape installation collaboration showcases how landscape architects inspire healthy living and well-being while protecting natural environments and people — creating vibrant community spaces.
Creating resilient landscapes

This experience was developed through the method of Two-Eyed Seeing, whereby traditional Indigenous knowledge and conventional science each guide the other towards a unified appreciation of the Moon Cycle. The small outdoor area provides interpretation about the Mi'kmaw culture and a place to walk and relax within nature.  

Arthur Stevens, a Mi'kmaw community member from Millbrook First Nation, provided a seminar to Landscape Architecture students in 2019 on the lunar cycle and was the inspiration for this project.

There is much to be learned from indigenous knowledge to help create resilient sustainable landscapes and communities as we continue to respond to the impacts of climate change.

The Mi'kmaw Lunar Cycle art installation is available to view on the Agricultural Campus along the Cobequid Trail near the Haley Institute.

Basics of the Mi'kmaw lunar cycle installation:

· The lunar cycle is split into four primary moon phases as outlined by the various stones with the Moon cycle around it (12 months or moons).

· There are four moon crescent shapes within the larger full-moon circle, each with different reflective materials.

· The installation & walkway layout intersects the lunar circle at the curvature angle or path of the Annual Solar Eclipse (June 10/11).

· The annual lunar cycle is expressed in 12 wood signs with the Mi'kmaw name and English translation for the moons of the Mi'kmaw calendar.  

· The large vertical Elm functions as a sun dial and can be used to estimate the time.

· The shiny leaved plant species were used for medicinal purposes by the Mi'kmaw.