Sciographies is a radio show and podcast about the people who make science happen, presented by The Faculty of Science and campus-community radio station CKDU 88.1 FM. This article is the second in a weekly series that will feature excerpts from each new episode released this fall.
Rachel Chang was convinced that she'd end up with a career in industry instead of academia, but an opportunity to work at Dalhousie that allowed her to pursue research questions about ocean-atmosphere interactions led her down a path to professorship. Now she's an associate professor in the department of Physics and Atmospheric Science.
Dr. Chang uses her background in engineering and chemistry to study aerosols in the air — where they come from, how they change and move around, and how they impact both current weather conditions and longer-term climate change. She's particularly interested in doing this in marine and polar environments, including the Canadian Arctic.
In this week's episode of Sciographies, host David Barclay sits down with Dr. Chang to chat about her upbringing in Scarborough and her self-described non-linear path to atmospheric science.
Listen to a preview of Dr. Chang's episode
Here are some excerpts from the episode (edited for clarity and length).
On growing up…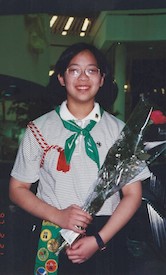 Barclay: You participated in a lot of extracurricular activities growing up. Were there any standouts?
Chang: The thing that made one of the biggest impacts on my life, at least at a younger age, was being in Girl Guides. That really normalized me [to Canadian culture]. My parents were immigrants and they wanted to make sure my siblings and I had the necessary skills to succeed in North America. We all learned to skate, we all went downhill skiing, cross country skiing — they made sure we had the basic grounding for what Canadians did.
On an unexpected career move…
Barclay: You thought you were going to work in industry after your PhD. But as a post-doctoral fellow, were you starting to think that academia was instead the route for you?
Chang: No, I was like, I'm done. I had an interview with an instrumentation company, actually. But at the time, my research interests had been going back to these marine aerosols and I was really interested in the interaction between the ocean and the atmosphere. I thought, if I was to pursue my own research program, these are the types of questions I would be most interested in…  So, I started to think about Canadian universities near oceans. And then the job posting at Dal showed up, so I applied.
On the questions that shape her research…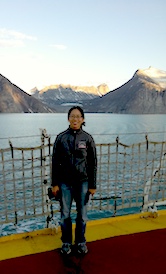 Barclay: You've done some really interesting stuff since coming here. You made some of your own instruments, you've done work from ships up North. What kinds of questions have you been tackling?
Chang: My questions try to address all parts of what I consider the life cycle of a particle in the atmosphere. I'm interested in particles coming from the ocean because we don't actually know how much sea spray makes it into the atmosphere, what that sea spray is made of, what conditions change the particle size, chemical composition, etc.  We don't know — even though sea spray accounts for 50 per cent of all the particle mass that's in the atmosphere. It's a large uncertainty in our understanding of cloud droplet concentrations, which is one of the properties that affects cloud reflectivity [and is therefore relevant in terms of climate and the Earth's radiation budget].
On pivoting her research to a COVID-related study…
Barclay: You did wade into the world of COVID-19 research last year. Can you tell me about that experience?
Chang: It felt like we were contributing to the war effort. We were testing N95 masks and also other potential new materials that people could source locally here, because there were plants considering changing their production lines to make masks. We were testing those new materials to see how good they were in terms of filtration and if they could meet the N95 threshold.
--
Listen to the entire 30-minute episode of Sciographies at 6 PM today on CKDU 88.1 FM in Halifax or find it on Apple Podcasts, Spotify, Google and other popular podcasting platforms. You can also listen to previous Sciographies episodes on the same platforms or at soundcloud.ca/sciographies and dal.ca/sciographies.