Vassy Kapelos (MA'06) knew she had a keen interest in politics, but she wasn't sure where it was going to take her when she enrolled in her master's studies at Dalhousie. She certainly didn't see it leading to sitting in the anchor's chair of one of Canada's most-watched political news programs.
After completing an internship in South America during her undergraduate degree and traveling throughout the continent the rest of the year, she decided to pursue a master's in Political Science, writing a thesis on democratic consolidation in Argentina.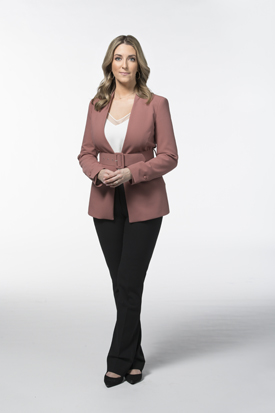 Following a college course in journalism, Kapelos worked in Saskatchewan and Alberta doing community reporting and eventually covering provincial politics, work that led to an opportunity as Ottawa bureau chief and host of The West Block at Global News.
"I was lucky to spend essentially five years hopefully approaching [my reporting] with some humility and being able to say 'This isn't necessarily the way my friends and I see things but I have to understand it if I want to reporting on these big policy decisions," she explains. "It brings a lot of important perspective to the kinds of things I report on or hold people to account. [For example] All those people who were worried about ambulance wait times — all those things are decided in the halls of power."
Importance of humility and hard work

Her early years in journalism laid the groundwork for a move into political reporting and eventually to her current role as host of CBC News Network's Power & Politics, the network's flagship political news show. But it was not without a lot of learning and humility along the journey.

"Being able to absorb information you read perhaps an hour before the show and to be able to synthesize it is the most important skillset I need at this juncture."
"I very quickly shed that level of entitlement that I think sometimes permeates getting a degree like [a master's degree]. It's easy to feel like 'I studied so much, I worked so hard, I know a lot now. That should equal some level of success, compensation, or stature' and it really doesn't. It is never a substitute for a diminished ego, humility and it sounds cheesy, but really working very hard and working your way to that point."
The skills she gained in her master's degree were fully evident when Power & Politics grew from a two-hour show to a three-hour program during the US 2020 election, increasing the scope of coverage. Her time spent reading and processing class material, formulating her own thoughts and pushing herself to speak up in each class all were more relevant as she worked to manage a longer, more involved show.

"With the nature of my show, I am not always doing an interview where I'm seeking information; I'm holding people to account," she says, referring to interviews with politicians. "Being able to absorb information you read perhaps an hour before the show and to be able to synthesize it is the most important skillset I need at this juncture."

Visiting Dalhousie as a moderator

Kapelos returns to Dalhousie this September to moderate the inaugural Rt. Hon. Robert L. Stanfield Conversations: Talking Democracy, between political philosopher Dr. Charles Taylor and political scientist Dr. Simone Chambers. Titled Democracy on Edge, it happens at the Dalhousie Arts Centre on Thursday, Sept. 23 and will be streamed live on CBC and archived on Dal's YouTube page for those who can't attend in person.

"I'm beyond thrilled to come back, especially for something like this," she says. "I have wonderful feelings about Dalhousie. It was an amazing environment to be in — small classes with a core group of people." Her class was close knit and Kapelos has kept in touch with many of her classmates.

She's looking forward to hearing the conclusions the speakers at the Stanfield Conversations will come to on democracy. One of the areas she studied with Dr. Robert Finbow in the Political Science department was the concept that North Americans and Western people inherently believe that democracy is good.

"My experience in South America taught me that this not the case everywhere; that, in fact, our repulsion of dictatorships is actually not universal," she says. "I know that sounds completely counterintuitive, and I'm not saying it's justified, but the outcomes of democracy have not always resulted in a high level of economic prosperity, for example. For me it'll be interesting to hear about if democracy is on edge, A) what does that mean? B) what is the potential impact of that?"

With a federal election in Canada taking place only a few days before this event, it's sure to be a stimulating discussion. Kapelos is keen to hear more what the speakers think about when they think about democracy on edge.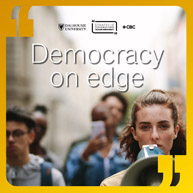 Stanfield Conversations
Democracy on Edge
Featuring a conversation between Simone Chambers and Charles Taylor, moderated by Vassy Kapelos
Thursday, September 23, 2021
7:00 pm (Atlantic)
Rebecca Cohn Auditorium, Dalhousie Arts Centre
Sign up is required to attend in person. If you plan to watch the event live online at home, register for the access details. The event is free to attend. Learn more and register.
"Are we talking about proportional representation or are we talking about populism? Is populism even singularly defined? I'm not sure that it is. I'm interested in hearing the two points of view that will be put forth and challenging them."