From the peak of the highest mountain in the world to his dental practice in Windsor, Nova Scotia, Dalhousie alum Kevin Walsh (DDS'90) has learned a lot about leadership and strategy. It's those lessons he shared with Dal graduate students this week.

Dr. Walsh, who summitted Mount Everest earlier this year, spoke with Carolan McLarney's Strategic Leadership and Change capstone course for students in the MBA Financial Service and MBA Leadership programs.
For years, Dr. McLarney has been teaching a case study about the 1996 Everest disaster where eight mountaineers died in a blizzard. She asks what can be learned from the tragedy, from the perspective of a business professional. So, when Dr. McLarney saw an article about a Nova Scotian Dalhousie alum climbing Mount Everest in the middle of the pandemic, she wondered if he'd be interested in speaking with her students.
"I found his email address off his dental practice and wrote to him. He wrote me back and said, 'I would love to chat about my time on Everest and climbing — but I'm in Kathmandu," she says. When he got back in Canada, Dr. Walsh called her up and they were able to arrange a virtual presentation through the new state-of-the-art studio in the Centre for Executive and Graduate Education in the Faculty of Management.
Chain of command

In his presentation, Dr. Walsh discussed all the different aspects that go into summiting Everest, from training to preparation and communication.
He got hooked on mountaineering while stationed in Germany as a military dentist. He and his brother came across a mountain-climbing school and decided to try it out. At the time, he never thought he would climb Everest, but eventually after gaining more experience that once far-fetched idea became reality.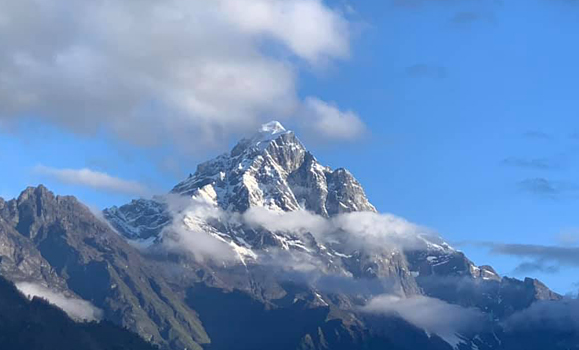 "Eight years ago, I decided I was ready for Everest, and I needed to make sure I had the proper training and planning," he says.
After his extensive training, he left Nova Scotia earlier this year and his group summitted on May 23. It takes about 60 days to safely climb the almost 9,000-metre-tall mountain.
"Mountaineering is inherently a risky undertaking, especially if you're not prepared. Leadership is so, so important," Dr. Walsh says. "We had a great leader. I picked the guy I wanted to go with."
"The chain of command has to be clear. If anything goes wrong, there needs to be a 'buck stops here' approach from the leader. It has to be clear who is in charge of what."
'Almost anything is possible'

Dr. Walsh, who has operated his family dental practice for 27 years, is no stranger to running a business.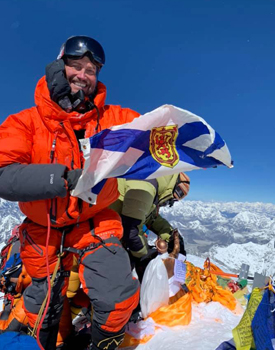 "Getting your headspace around an expedition of this magnitude — planning, preparation is key and that applies to the business world. Having faith in your coworkers, or in the mountaineering case your fellow climbers is super important. You rely on each — you're hanging off a rope together — and I think that lesson is also true in the corporate world."
Dr. McLarney says she thinks the MBA students — who come from a diverse range of industries — walked away understanding "what it is to pursue your passions and be a good global citizen."
Dr. Walsh echoed that sentiment while reflecting on his experience.
"If you set your goals and have a plan and put it all in motion, almost anything is possible. I wouldn't have guessed 10 years ago that I would have been standing at the top of the world back in May, but with the right approach you can get stuff done."