In between lectures and clinical placements, Dal pharmacy student Kamylle Frenette has another passion, and it's one that's landed her on the world stage: triathlons.
Kamylle, who is entering her fourth year in Dal's Pharm D program, is competing in the 2020 Paralympics on Team Canada in the triathlon.
She began competing at the international level in 2018 after running for the Université de Moncton's cross-country team for four years. Kamylle was born with club foot and became interested in the sport at a young age.
"My dad is a tri-athlete. Growing up I always followed him and watched his races. I always loved it, so I started training with him," Kamylle says.
The triathlon is an endurance sport that consists of swimming, biking and running.
"When I was at U de M, I went to nationals. Nationals were in Victoria, which is where Triathlon Canada is located," says Kamylle.
It was at the competition that she was approached about joining the Triathlon Canada's Para team.
Triathlon was first introduced to the Paralympics in 2016 when Team Canada's Stefan Daniel walked away with a silver medal.
Following her passion(s)

After placing fourth at both the 2018 and 2019 triathlon world championships and winning two world cups, Kamylle left for the Tokyo 2020 Paralympics ahead of their start on August 24 after a week of training in Whistler, B.C.
Following a year-long delay caused by the COVID-19 pandemic the games are going ahead, with some added logistics, according to Kamylle. For example, athletes are required to return home once they finish competing. Kamylle says her team will return just two days after they finish racing.
"But I think the cool thing about these games is that it does look really, really different. From what I've heard, from the Olympic side, Japan has done an incredible job to make the experience the best it can be in these circumstances," says Kamylle.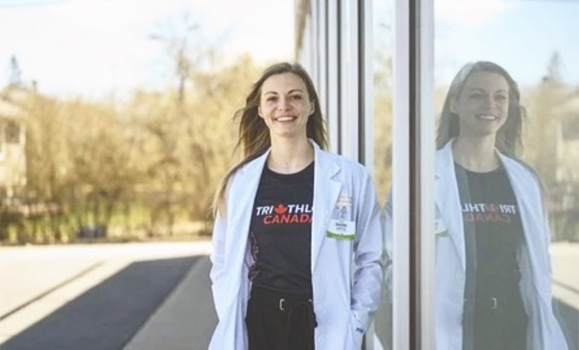 Competing in international athletics, while studying in Pharmacy school would certainly not be an easy task for anyone. Kamylle credits the people around her, at Dal and at Triathlon Canada, for helping her manage both of her passions.
"I feel very supported. The College of Pharmacy has been amazing at really accommodating and making sure that I'm able to get my competitions in," Kamylle says. "They're just very accommodating, making sure that I can succeed both on the pharmacy and the triathlon sides."
"I think having really, really awesome people and supportive people around me has really made this more bearable and more doable." It's a busy schedule but she says she's fortunate she gets to follow both of her passions.
A surreal feeling

Originally from Dieppe, New Brunswick, Kamylle says representing her country in Tokyo and seeing her name on a Team Canada race suit is a surreal feeling.

"I just feel so much pride. It's really awesome to get to wear the maple leaf and represent Canada."

Spectators are mostly prohibited at the games as a pandemic precaution. That rule means her father, one of Kamylle's biggest supporters and the origin of her triathlon journey, won't be able to see her compete in person. But that certainly won't dampen the support from her parents' watch party back home in Canada.
"He's very excited. I think he's a little heartbroken that he's not able to be there. He's always been there for important competitions," Kamylle says.
Kamylle is schedule to race in Tokyo on Sunday, Aug. 29 at 8:30 PM Halifax time.