Doug Ruck (BA '72, LLB '77) didn't socialize much as a Dal law student, choosing instead to surround himself with books, studying in the various libraries around campus. One of three Black students to start law school in 1974, Ruck says there was pressure to conform: "You had to fit a certain mold. You had to look and act a certain way. That's how you became a lawyer." But what he experienced in those years is what he says has made him uniquely positioned to accept his two most recent appointments.

Now edging his way to retirement, Ruck was first approached by the College of Physicians and Surgeons to chair a task force into systemic anti-Black racism within the College. On its heels came a similar request from the Nova Scotia Barristers' Society to lead an external investigation into systemic discrimination within the policies, regulations and practices of the Society. Both enormous tasks, he couldn't say no: "I am respectful and appreciative of the fact that both institutions are saying we have to look at ourselves, we do not stand here with a clean slate. But mere words are not enough; there must be substantive and meaningful changes."

Ruck believes gratitude needs to extend beyond these regulatory bodies who are opening themselves up. He says, "The real thank you goes to those people who are no longer with us, those people who each and every day sacrificed and struggled against discrimination and inequality. I was able to go to law school because of those sacrifices." 
Law school a different place in the 70s

Unlike many of his classmates, when Ruck entered law school, he had no experience with the law and no lineage in its practice. One of a handful of Black law graduates called to the bar in Nova Scotia, he originally wanted to study medicine. Son of Senator Calvin Ruck, a prominent activist, he says he was "brought up on the civil rights movement since birth." Fondly remembering how people would fall silent as his father stood up to "put forward a case to support individuals who didn't seem to have a voice," he wanted to be able to do the same.

It was also the expectations and hopes of his family and community that sustained and fortified him through law school. But in a time before Google, he was overwhelmed by basic terminology and language; fitting in was a challenge. Diversity was not a buzzword and he frequently felt like he was not wanted and shouldn't be there.

He describes the moment when he walked out of a particularly difficult exam and was challenged by a student who used an expletive to ask him what he was smiling about. Micro-aggressions like this happened frequently, Ruck explains, but he knew he always had to keep 'above the fray.' In some ways, it became easier to avoid being with his fellow students than finding ways to integrate. "It was what I went through. I may have at the time accepted it a bit too readily," he says. But he acknowledges there have been significant changes societally and at the law school since his time.
Becoming more inclusive

The law school of today, he says, has evolved. Referring frequently to the Indigenous Blacks and Mi'kmaq Initiative, which Dal established in 1989 to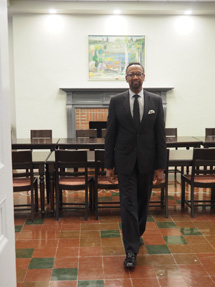 increase representation of Indigenous Blacks and Mi'kmaq in the legal profession in order to reduce discrimination, he knows the experience of racialized and marginalized students has changed demonstrably, providing the additional support that helps students succeed. It's clear to him that he's no longer alone in believing "law has to be also an area that not only attracts diversity but encourages diversity within the practice." Ruck also notes the growing number of racialized and marginalized individuals represented at the higher levels at Dalhousie, citing Dal's President, Deep Saini, as a prime example.

It was always his belief that there had to be other ways, besides litigation, to resolve disputes. After his time at Dal, Ruck went on to study mediation at Harvard. Four decades later, he's had a distinguished career. On his long list of positions is Chairman of the Nova Scotia Labour Board and Ombudsman for the Province of Nova Scotia. He also serves today as Board Chair at the University of King's College, where he did his undergraduate degree.

Even though his free time is limited and it is difficult to balance these two external reviews, he humbly acknowledges that he's the right person, at the right time and place. He knows the recommendations he makes will only be a beginning, but they're the right beginning. And as he says, "Optimism takes a lot of work."