Barb Hamilton-Hinch has experienced Dalhousie from a variety of perspectives: as an undergraduate student, a graduate student, a member of staff, an assistant and associate professor, and an alum. And she's been fighting for equity and inclusion every step of the way. Now, she's starting a two-year appointment as Dalhousie's assistant vice-provost equity and inclusion, which will enable her to extend her leadership of this critical work.

We sat down to speak with Dr. Hamilton-Hinch about this new role and what she hopes to accomplish.

Dal News: One of the key responsibilities of the assistant vice-provost equity and inclusion is supporting the vice-provost in establishing and guiding the work of university-wide equity, diversity and inclusion (EDI) committees. Can you outline how you'll approach that work?

Dr. Hamilton-Hinch: I think it'll be important to get a good handle on how all the EDI committees across the university are aligned with the new strategic plan. I know from experience that different policies exist in every school, department and unit. I'm not saying that they all have to be the same, but it would be good to get a clear snapshot of the differences and ensure we're all speaking the same language. I don't think we currently have a clear picture of how the different faculties and units manage or apply equity policies and I'm hoping this role will help get those answers. It would be lovely to have a better understanding of each unit's EDI policy and what they need to succeed by the end of these two years.  

Dal News: You've always been quite involved with EDI at Dalhousie — through your research, as one of the founders of Imhotep's Legacy Academy, as co-chair of the Promoting Leadership in Health for African Nova Scotians (PLANS) Program, and as co-chair of the Faculty of Health Diversity and Inclusion Committee. What are you most looking forward to accomplishing in this new role?

Dr. Hamilton-Hinch: I want to get us to action. I want to start seeing the results of the committees because there's no point in having a committee if it doesn't result in meaningful action. So, what I'm most excited about is developing an action plan that's realistic, putting measures in place to monitor what we said should happen and then reevaluating it when it doesn't. I think we can always do a better job of evaluating and reevaluating what we say we're going to do.

Co-chairing the Belong Report committee for [Strategic Plan 2014-18, strategic priority] 5.2 with Jasmine Walsh helped me see the importance of engaging and validating with all university players — faculty and staff and students — to check to see are we getting it right. And if we're not getting it right, asking how we can improve. We had open discussions about what people want to see and what's not working. I don't know if I'll be able to model that, but I hope I can get as much feedback from as many people as possible about what they would like to see happen within these two years.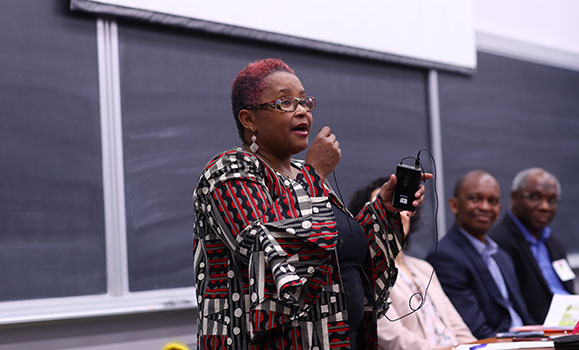 Dal News: That sounds like a big task — especially considering the role is designed to take 60 per cent of your time while you'll be continuing your work in the Faculty of Health. What do you think the main challenges will be?

Dr. Hamilton-Hinch: I know I'll have to be very aware of not taking on too much. So, because I want to be effective, I need to really monitor how I'm using my time in both positions. That's going to be one of my main challenges because I'm very passionate about EDI and I could spend all my time just doing that.

Another challenge will be helping people understand the difference between equality and equity. I need to really look at that and be strong and comfortable in explaining the difference. It's difficult when people think someone is getting more than another group. I get that. I've been there. I know how taxing that can be. And certain programs, resources, funding and positions could make someone feel as if they're not getting their share of the pie. I need to be able to join those conversations so that people don't feel like they don't matter because that's the worst feeling. I know what that feeling is like, and I don't want any group to ever feel like they don't matter. My overall primary responsibilities will focus on the university wide EDI committees setting them up, supporting them and developing actionable items.

Dal News: Any other thoughts you'd like to share?

Dr. Hamilton-Hinch: I'm hoping that my passion for EDI is known and that my commitment to equity is known. And I hope that doesn't get quieted. We need to have some courageous conversations. I know that's going to take some work because some folks are not ready to have those conversations whereas for me, they've been long overdue. I have an idea of how things function at Dal and where some improvements can be made. But I also credit Dal for being a leader in so many ways.