At the centre of every research-based graduate student's life at Dalhousie is their relationship with their supervisor. Faculty supervisors help students shape the direction of their studies, mentor them through challenges and play a key role in their professional development.

Motivated by the importance of the relationship, the Faculty of Graduate Studies announced Tuesday (July 6) the creation of a new associate dean, student-supervisor relations position and the first person to hold it, Hany El Naggar, from the Faculty of Engineering.

"Dalhousie is extremely fortunate to have hundreds of excellent graduate supervisors who are doing tremendous work supporting our students. Their expertise and commitment to their roles as mentors is inspiring," says Marty Leonard, dean of the Faculty of Graduate Studies. "We are so pleased to have Dr. El Naggar join our team to help bring our community together to learn from one another, our peer institutions and academic research focused on grad student supervision."
An important bond

Supervisors are typically a student's first and main contact when they arrive to study at Dalhousie from across Canada and around the world, and they often play a key role in helping students maintain their wellbeing throughout their studies.

Research shows that the quality of student-supervisor relationships is one of the most important factors in determining the time graduate students take to finish their programs, as well as the rate in which they complete their degrees.  

In his new role, Dr. El Naggar will develop resources that students, faculty and staff can use to help build and maintain relationships. He plans to consult with colleagues to determine areas where support is needed and establish a cross-discipline committee dedicated to supervision. He will also design and deliver supervisory skills-building workshops for the graduate studies community, including events specifically for new faculty.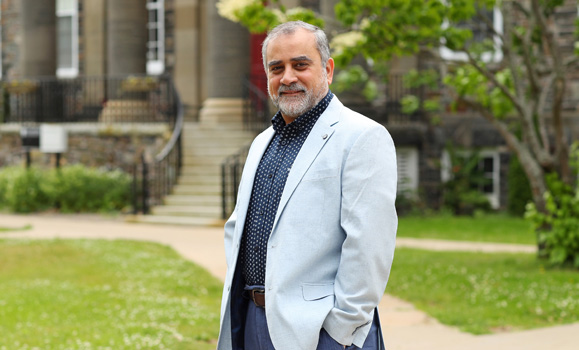 Innovation and cultural understanding

Dr. El Naggar is well acquainted with the needs of graduate students, having spent six years serving as graduate coordinator in the Department of Civil Engineering, where he currently supervises 11 students. In addition to being an important source of support, Dr. El Naggar says a strong relationship is the key to sparking innovation. He notes that many students place their supervisor in an elevated status that can stifle creativity.

"They can't be scared to make mistakes — to experiment, fail and learn. This is at the heart of the innovation process," he says. "Supervisors need to cultivate a relationship with their students where they feel free to speak their mind and share ideas. When you have an open dialogue, real mentoring can take place."

Once a landed immigrant and international student himself, having travelled from Egypt to earn his master's and PhD at the University of Western Ontario, Dr. El Naggar says he learned from mentors who made him feel at home in Canada. He has drawn on this experience supervising students from around the world and says that improving intercultural communication will be one of the focuses of his work.

"Each student brings a different perspective. It's our responsibility to understand and respect these differences."
Reaching out

Dr. El Naggar says his first priority will be to reach out to faculties, departments, and colleagues to learn about their successes and challenges. He notes that while he has supervised close to 30 graduate students in his career, it has not necessarily prepared him to fully appreciate what supervisory relationships are like in other disciplines.

"I need to listen a lot," he says. "I'm looking forward to getting input from across the university about the kinds of support that is needed and creating a new network focused on supervision, so that we all can all learn from each other's experiences. Inclusivity is so important."