Voice students in Dalhousie's Fountain School of Performing Arts have been busy rehearsing and filming this year's opera production. With a pre-recorded process unlike anything the cast has experienced before, Die Fledermaus: Revenge of the Bat is sure to be an unforgettable virtual operatic experience, with a story of love triangles, mistaken identities, practical jokes, and wild parties.

Under the direction of Toronto-based Anna Theodosakis, the virtual rehearsals started in January, with filming getting underway in the second week of February. The cast had been meeting online regularly since September under the guidance of Dal's Betty Allison. They met for "silent practice time," which involved them being on mute in their own spaces while singing through their music and speaking their dialogue.

The cast has also been keeping a digital diary to document their journey and experiences.

Die Fledermaus, which premiered in Vienna in 1874, was composed by Johann Strauss II in German, and is based on a French vaudeville comedy. It has been popular since its debut, with productions in English and French during Strauss's lifetime. Critics found this operetta to be scandalous and ill-suited for the Viennese stage, but the audience adored it.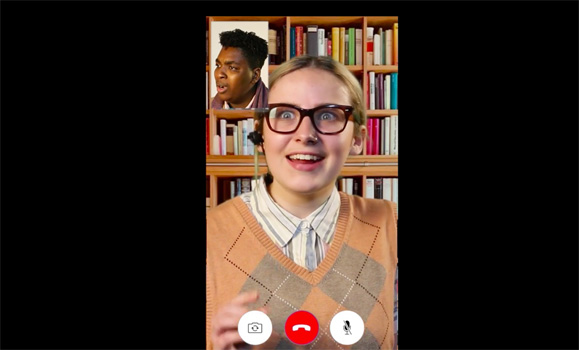 (Image right: Emmanuel Solomon (Gabe), shown as inset image, and Katherine Shore (Billy)).

The Fountain School's production has been created with the Dalhousie community in mind, so the singing is in English and the plot, adapted by Amanda Smith, is set on Dalhousie campus in pre-COVID times.
A lesson that is priceless: "boyfriends are not viceless"

The adapted storyline follows Rosalinda, a first-year Music student, and her boyfriend Gabe, a ritzy business student, as they try to hide their Friday night plans from one another but end up at the same off-campus party. Rosalinda arrives at the party, luckily in disguise, and suspects Gabe of flirting with other girls. As it turns out, he is doing exactly that. Furious, Rosalinda comes up with a plan to trick Gabe and catch him in the act.

More and more students arrive at the party and it's starting to get pretty wild. With dancing, karaoke and flirtation, the situation quickly gets out of control.

Before too long, the young party-goers end up in the campus security office for their rowdy behavior. The evening comes to a close with the end of a relationship but the beginning of new revelations. As Rosalinda concludes by the end, this experience "taught [her] something priceless; that boyfriends are not viceless."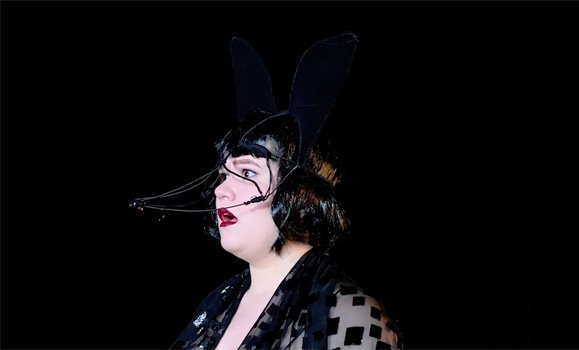 Nicole Keeping as Rosalinda.
Theodosakis remarks that throughout the story there is "an emphasis on the fact that liars will always be caught," and as chorus member Samantha Fullerton put it so concisely: "what goes around, comes around."
Rehearsals and filming: a welcome challenge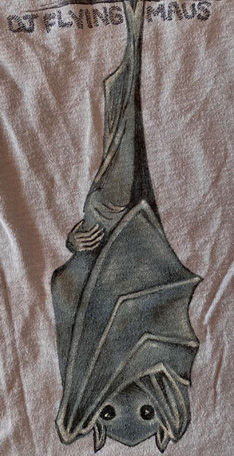 When asked what the best part about a digital opera was, Theodosakis responds: "The best thing about directing a digital opera is playing with the medium of film. I asked myself, 'what can we do in the digital medium that we could never do onstage?' Film opens up a world of creativity that's different to live theatre and it was great to change up how we normally approach opera."

There are certainly many elements in the production that highlight the creative possibilities of film. The chorus, for example, was doubled. Filming each member of the chorus twice in different costumes allowed the party scenes to become more fully realised. Samantha was filming remotely in her home and noted that the most challenging thing for her was getting consistent lighting and audio recording.

Chorus member Ashley Rose Goodwin found this experience to be a welcome challenge. "Training yourself to stay really disciplined with learning the music even though you weren't physically around the cast" was the best part of the production for her, she says.
Art in a time of isolation

Ashley Rose feels that it's important "to engage with things that we love...during dark times." She also observes that this experience of creating a "piece of art" during a pandemic was "very separate, but somehow very together."

Having only seen each other online in rehearsals, the cast then met in small, socially distanced groups during the filming process and bonded in a different way than what they had experienced in past productions.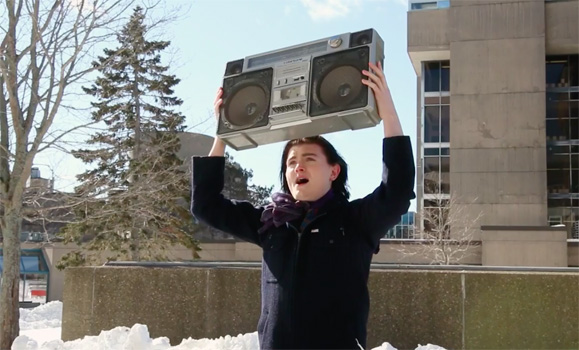 Shane Scott as Alfred.

"The chance to create art and collaborate with new people during a pandemic is a rare treat and definitely kept me inspired," says Theodosakis.

For Allison, the instructor, it was the energy coming from the cast and creative team that filled her motivation. "Teamwork made the constant changes and unpredictability possible," she says.

When the cast and creative team were asked to describe this production in one word, the ones that kept coming up were "fun," "scandalous," "wild," "party" and "innovative." This opera will take the audience through a night of drama and partying. The cast hopes you will join them in celebrating this new form of opera and music making.
 
Die Fledermaus: Revenge of the Bat can be viewed for free from March 25 to 28 by requesting a link.