An online event happening this weekend brings leading Black scientists and health experts together to share stories about their discoveries and some of the challenges they've faced along the way to making them.

The Black Excellence in STEM and Health Research Symposium, organized by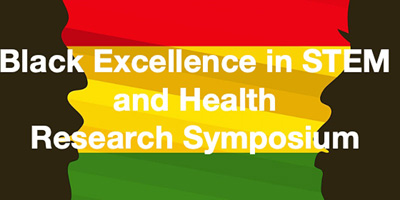 Imhotep's Legacy Academy (ILA) with partners at Dal and beyond, will expose junior high and high school students as well as university students and subject specialists to the contributions of Black innovators across a range of fields, including science, technology, engineering, math (STEM) and health.

"Young people are still trying to figure out what they want to do with their lives and what they want to do with their career, so when they see these experienced scientists come and talk about their experiences and the things they may have had to go through to get to where they are today, it could be inspiring," says Sidney Idemudia, ILA's executive director.

ILA has been hosting an event celebrating Black excellence along with the Halifax-based Delmore "Buddy" Daye Learning Institute (DBDLI) for a few years now, adding new community partners each year as a way to expand its network and further amplify its message. Dal-based PLANS (Promoting Leadership in health for African Nova Scotians) joined in last year, bringing a health flavour to the mix, and this year sees a new partner in the Canadian Black Scientists Network — a group that helps elevate and make more visible Black Canadians working across science and health-based sectors.
A window into science and health


The event kicks off Saturday at 1 p.m. with a keynote talk by Maydianne Andrade, a professor and Canada Research Chair in the Department of Biological Sciences and vice-dean of faculty affairs and equity at the University of Toronto Scarborough. Dr. Andrade, an expert in mating systems and behavioural ecology, will share some of her experiences working in the lab and field.

Following that, attendees will have the option of joining different breakout rooms focused on more specific topics of interest. Speakers for those sessions include Philip Asare, an assistant professor of engineering at the University of Toronto; Dzevela Kong, an assistant professor of applied mathematics and data science at York University; and Andre Fenton, a professor of neural science at NYU's Arts & Science program.

Idemudia says the event will be structured in a way to ensure secondary school students will have the option to attend all of the breakout sessions if they wish. He says they will also be invited to take part in two different activity segments, one focused on STEM and the other on health, and to listen to research presentations from university students in STEM and Health programs.

The Black Excellence event, now in its third year, offers Black youth opportunities to meet potential mentors and role models who could help guide them along their educational and career paths.

ILA has worked hard over the past year to adapt its programming to a virtual environment during the pandemic, sending youth participants and mentors engaged in outreach their materials ahead of weekly meetings, and creating mentorship opportunities from afar.

"In some ways, it's been great for the students because they can do it from the convenience of their home," he says. "They can still participate hands-on."