African Heritage Month means different things to different people. For Monique Thomas (BComm'11), community outreach and transition to university coordinator at Dalhousie, it's a chance to celebrate Black excellence.

"I love seeing people coming from where I'm from and thriving despite the barriers and challenges we face," she says. "I'm especially inspired by people in my millennial peer group, because we have different challenges."

Thomas is referring to the career and finance challenges commonly encountered by millennials. In addition to experiencing those issues, Thomas' Black peers also face additional barriers due to persistent racial inequality.
A sense of belonging

As a staff member at Dalhousie's Black Student Advising Centre, Thomas is intimately familiar with how a lack of Black representation in a university setting can create barriers for students. "That was a challenge in the past, because people would come but they wouldn't stay," she says. "Often because they didn't feel like they belonged or because they couldn't find a community on campus."

That, in part, is what drew Thomas to her role. "I owe a lot of my success and friends to the centre," she says. "If a student walks into a classroom and doesn't feel like they belong, the Black Student Advisory Centre is a place where they can share their experiences with other students who may be going through the same things. It's a safe space for them."
Taking action

Over the last couple of years, Thomas has worked on a range of initiatives designed to make the Dalhousie campus a more welcoming, supportive place for Black students. Every fall, the Black Student Advising Centre works with the Registrar's Office to organize open house and networking events for Black high school students. Post-acceptance, the centre follows up with a Black student orientation featuring current Black students, faculty and staff.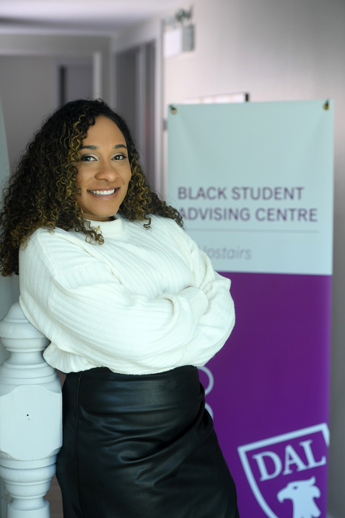 "This gives them a sense of what it's like to be on a predominantly white campus," says Thomas. "We want to prepare them for that so they can be as successful as possible."

Thomas says these initiatives, in addition to other programs like Talent Pathways, are gradually making a difference. In 2011, there were just twenty-three students who self-identified as African Nova Scotian at Dalhousie. Now, there are over two hundred.

"My sister is a Dalhousie student now, along with her friend," says Thomas. "I believe after they saw me and others go through it and succeed, it showed them they can do the same"

For her own inspiration, Thomas will continue to look to her peers. "That is what drives me," she says. "I have mentors for sure, but seeing the people who are going through it with me is more motivating for me."
Closing the (history) gap

For Thomas, addressing racial inequality isn't entirely about the here and now—it's also about ensuring that whenever Nova Scotia history is taught, Black history is included as an integral part of that narrative, instead of as an after-thought. Thomas is from Preston, Nova Scotia, a historic Black community that continues to experience stigma and discrimination.

"There's a lot of ignorance around the community and the people who live there. I make it very well known that that's where I'm from, because being a part of the largest and oldest Black community in Canada is something that I'm proud of."

Despite the fact that Nova Scotia has a strong African-Canadian heritage, Thomas regularly meets white people who express surprise when they she tells them she's from Nova Scotia.

"It's important for everyone to understand the oppression that has happened," says Thomas. "Because it didn't stop—it's just not as extreme. Most people know about Africville, for example. It wasn't that long ago, so there are people still alive who lived in Africville and others who had a part in what happened in there—or their parents or grandparents did. And those thoughts and perceptions, everything just trickles down generation by generation unless it's unlearned."