The COVID-19 pandemic presented some challenges for Promoting Leadership in health for African Nova Scotians (PLANS) to offer its regular camps for teens. But an unexpected grant through the Dartmouth General Hospital Foundation and the RBC Foundation provided the perfect opportunity to connect with African Nova Scotian high school students who are interested in careers in the health professions.

For Sarah Upshaw, the program manager of PLANS, it was a great opportunity, although it meant creating a 14-week program at short notice. She worked with the Faculties of Medicine, Dentistry, and Health to hold sessions on many different health professions, together with information about applying to university, scholarships, and financial literacy.

"I wanted to provide a meaningful experience for the students and make the best use of the funds I had for the program," says Upshaw.

Students in the co-op program at five local high schools provided the ideal audience for the new PLANS program. They were already enrolled in a co-op program, 80 hours of which was allocated to a placement. But because of COVID-19, traditional placements for co-op students interested in the health professions — such as in hospitals and nursing homes — were not available. The PLANS program helped to fill this gap.
What oral health professionals do

At the end of January, 10 Grade 11 and 12 students filed into a conference room at the Zatzman Sportsplex to listen as Cynthia Andrews, Heather Doucette, faculty members in the Faculty of Dentistry and School of Dental Hygiene, respectively, and Juliette Thomas, a dental assistant and the co-ordinator of the North Preston Dental Clinic, explained the roles of dentists, dental hygienists, and dental assistants. Second-year dental hygiene student Jennifer Johnson was also there to answer questions from a student perspective.

Dr. Andrews and Prof. Doucette talked about the educational requirements of their respective programs. They also gave a mini lesson on nutrition and what causes plaque and the problems it can cause. Juliette Thomas set out the responsibilities of her role at the North Preston Dental Clinic as both a dental assistant and the administrator of the clinic.

Prof. Doucette explained why it is important for more African Nova Scotian students to enter the oral health-care professions. "We need more African Nova Scotians in the various health professions. It's important to increase diversity in health care. Patients feel more comfortable with health-care providers who they can relate to and who may better understand particular barriers to care that they face."

Jennifer Johnson fielded questions from students who asked about the workload and the types of activities she was involved in. "You have an eight-to-five day, plus studying in the evenings," Jennifer told those gathered. "Then in second year you spend 12 hours a week caring for patients. It's a lot of work, but a lot of fun. And the best part is, you know you'll have a job when you're finished."

COVID-19 limited the oral health hands-on activities the students were able to try, but they were able to test their reverse hand skills using a mirror — something dentists and dental hygienists are required to learn in order to be able to operate on areas of the mouth that cannot be seen directly.
What the students thought

Beth Ejigu, a Grade 11 student at Citadel High School, would like to be a dentist. When asked why, she says it's partly because "I enjoy working with my hands" and partly because she has braces on her teeth and is intrigued by oral health care. She says she enjoyed the session and learned a lot.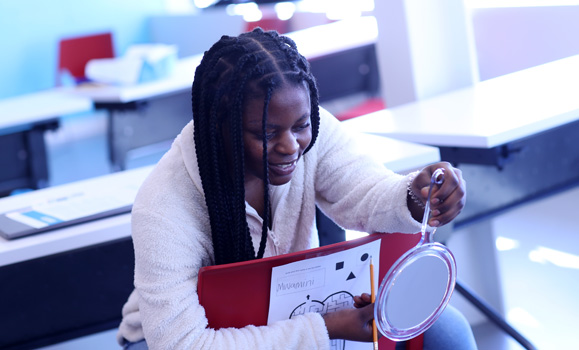 Mwamini Bifakubaho (shown left) is a Grade 12 student, also at Citadel. She's interested in a career in nursing or dentistry, but says she has no one at home she can ask about post-secondary education. The co-op program enables her to explore many different health-care careers and learn about university life and scholarship and bursary options as well.

"I've never laughed so much in a session before," says Tek Omod, a senior student at Citadel, "It was so cool." She had been thinking about applying to nursing but is now considering oral health studies too.

Janelle Colley, a Grade 11 student at Auburn High School (pictured below), knows she wants to do something in the medical field and appreciates the broad exposure the PLANS program is giving her. "There are so many programs I didn't know about. It's really opened my eyes."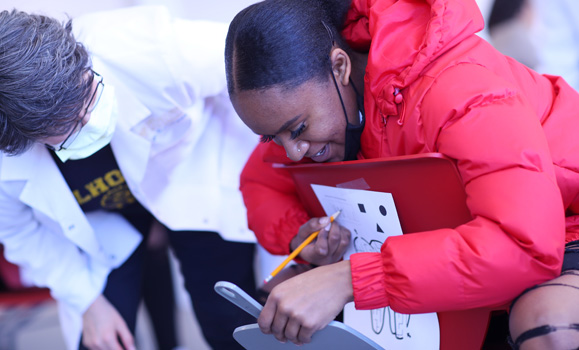 The oral health session helped Janelle to understand the different roles of dental assistants, dental hygienists, and dentists, and she appreciated that Johnson was on hand to give a student point of view. When asked if she would consider a career in oral health, she says "it's definitely something to think about."
Next steps for PLANS

Upshaw is delighted with the way the sessions have worked with the co-op students. "We have been able to provide them with information about scholarships, such as the Johnson Pathway Scholarships, and support them through the university application process and any barriers they encounter along the way."

She says the students also benefit from attending the sessions as a cohort. "They make friends here and some of them will likely attend college or university together."

Sarah already has funding for a second co-op placement program this term and is hopeful that she will be able to roll the program out to rural schools. She is also exploring ways of getting information to junior high students so that they know what courses to take in high school to make them eligible for health-care programs at university.