Lilly Briggs (BA'05) had a rare sort of childhood. Her father was in the Canadian Foreign Service, so she grew up bouncing back and forth between Canada and various parts of Asia. As a result, she developed an early love for travel. Her passion for the environment, which blossomed when she was nine years old and living in Quebec, wasn't far behind.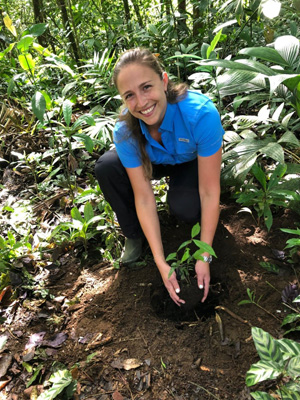 "We had the good fortune of living very close to nature, with a meadow and a forest nearby," says Briggs. "Every day before I went to school, my father and I would put out birdseed and watch the birds. I fell so in love with blue jays that I wanted to change my name to Lilly Blue Jay Briggs."  

It was around this time that Briggs began to understand that if she wanted to continue to enjoy nature, she would need to do things to help protect it. With her parents' encouragement she started her own environmental group at her elementary school.  

Briggs' passion for the environment never waned. Throughout her childhood, she was often the one reminding her parents to turn off the lights, and she continued to organize environmental groups and activities for her peers. When she started at Dalhousie, a Bachelor of Arts in international development studies and environmental studies felt like a perfect fit.
Passing on the passion

Now she's an environmental educator and founder of Finca Cántaros Environmental Association in Costa Rica, a non-profit organization dedicated to conserving the biological corridors that extend from Canada to Costa Rica, through environmental education and reforestation. Through this work, Briggs, her colleagues, and her neighbours are offering today's youth the chance to develop the same love of nature Briggs experienced as a child.

When it comes to creating educational programs for children, she has plenty of inspiration to draw from. One of Briggs' role models was Tarah Wright, a professor in Dalhousie's Department of Earth and Environmental Sciences. "She was a young, energetic, strong female academic," says Briggs. "She created space in her classes for sharing personal environmental stories. Those reflections really helped me understand how I came to identify as an environmentalist. I try to bring that to my role as an educator."

After Dalhousie, Briggs moved on to York University, and then to the Cornell University, where she helped bring the Cornell Lab of Ornithology BirdSleuth program, which was only available in the United States, to nine other countries including Costa Rica. The program develops training and materials for environmental educators. The results have varied a bit across countries, but the youth are consistently enthusiastic.  

"Kids will run into their teacher in the community and say, 'I saw this bird the other day, and this is what it was doing!'" says Briggs. "Creating a formal space for kids to go out and learn about birds raised their interest. There are birds around all day every day, especially in a country like Costa Rica, with high bird diversity, but the program really brought the birds into focus." 
A relocation

In 2019, Briggs decided to relocate to Costa Rica. She purchased a reforested nature reserve along with some adjacent land, and established The Children's Forest of Coto Brus, which aims to expand the existing nature reserve through reforestation, in collaboration with local schools.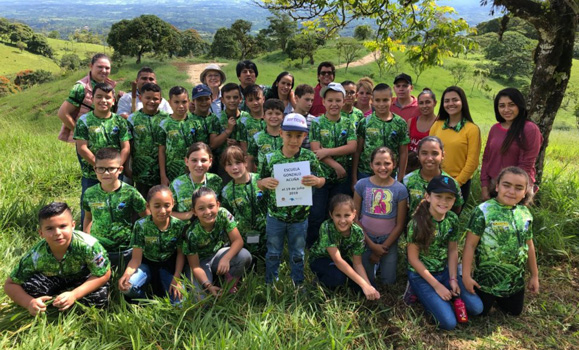 "The advantage of The Children's Forest is that it's a long-term project," says Briggs. "It's not just one day where they come through and plant some trees. It's a tree growing project, because we're taking care of these trees and this forest. Environmental education really needs to be an extended, ongoing process where kids can literally get their hands dirty. They also need to develop critical thinking and problem-solving skills while still creating social bonds within the community."      

Ultimately that's what led Briggs to found Finca Cántaros Environmental Association, which allows her to expand her environmental programming to include new opportunities for youth, including programs specifically for girls. In everything she does, Briggs also tries to approach nature from a positive angle.  

"It can feel like it's always bad news all the time," says Briggs. "We shouldn't ignore the issues, but it's hard to be motivated to address those issues if we don't take the time to go sit in a park and appreciate that nature is everywhere."