"Look at us, we're here, we're doing this – you can, too."
That's what Joy Chiekwe says is the goal behind the newly formed Black Wellness Cooperative, a group of Black health and wellness professionals in Nova Scotia dedicated to creating welcoming fitness-focused spaces in underrepresented communities.
Joy and her colleagues host fitness events in the Black community to get people moving and get connected.
Creating relationships

Joy graduated with a Bachelor of Kinesiology from Acadia University in 2018 and is now in her first year of her Master of Science in Kinesiology through Dal Health's School of Health and Human Performance. She is researching the lack of diversity in the ACCESS (Activating Cancer Communities through an Exercise Strategy for Survivors) program where she works as a Clinical Exercise Physiologist.

In the program she and other researchers use exercise to see how they can improve the conditions of cancer patients and survivors. Joy says while there have been about 350 people come through the program, none of them have been Black. With supervisors Barb Hamilton-Hinch and Melanie Keats, Joy will research if the Black community doesn't know about the program, and how they can change their outreach.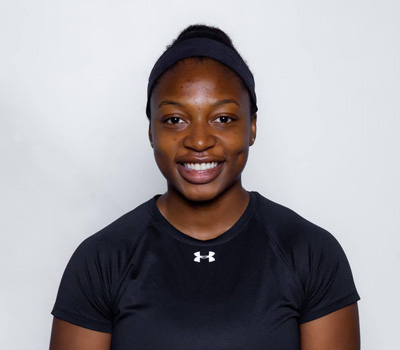 Through the Black Wellness Cooperative, Joy (shown left) hopes to create relationships and trust with the Black community in Nova Scotia that can translate into her research. She says since she grew up in Cole Harbour and not the Preston townships or larger Black communities, she didn't know many Black people in the wellness community.
"I wanted to work with Black wellness professionals, so I started interviewing them and showcasing them on my Instagram and blog. All of a sudden I realized I had met about 12 people, and we realized there really could be something here."
Joy says The Black Wellness Cooperative has had incredible feedback about the community events they've held so far.
"Everyone has been excited, we've had bootcamps virtually and in person. They have all been full, we're seeing young and older Black faces."
Other members of the collective include Chernise Clayton, Melanie Gallagher, Nikki Martin, Asha Pelly, Dawn Sheppard, Spencer Boyd, Korede Akindoju, Ashley Grant, Keisha Turner, Jonathan Dododza, Leelee Oluwatoyosi and Eko Davis.
Representation matters

Previously, when looking for a workout or class to take, Joy says when she didn't see anyone in the room who looked like her, the atmosphere felt unwelcome. That representation is a big part of why they started this group.
"The Black community has been neglected. We have higher rates of chronic illnesses, there is history of us not taking care of our bodies and the health system not helping us."
Although the group just formed in August 2020, they have already won an award. Dr. Rajack-Talley, Dalhousie's Vice-Provost, Equity & Inclusion, presented the Black Wellness Cooperative with an African Heritage award during the launch of African Heritage Month.
"That felt amazing. We just started but we are creating waves and people are seeing us and wanting to work with us."
In addition to working on her thesis and in the community, Joy shares informative videos about getting motivating and moving your body on Instagram. She says there's a gap between academic research about daily movement and getting people to understand the importance, so her videos are a form of knowledge translation.
"A lot of people think they have to be all sweaty and go to the gym, but really, two minutes of movement is better than zero. Even just stretching your legs or doing some squats is helpful in the long run."