No one knows food more than the faculty, staff, students and alumni of the Faculty of Agriculture and the Agricultural Campus. So, it only seemed natural, in the middle of a global pandemic, to produce a "pandemic" cookbook.

A small but mighty internal team of four spanning Truro, Halifax and Cape Breton worked together on the concept, design and photography, while cooking nearly every recipe in two local kitchens.

"Shortages of flour and yeast and other basic staples in the grocery stores proved that people were spending more time in the kitchen and preparing their own food from scratch," said Alisha Johnson, alumni relations for the Faculty of Agriculture.

A greater appreciation for local produce and #ThankAFarmer campaigns were also in abundance. The Truro Farmers' Market quickly switched to online sales and many vendors experienced increased sales, according to manager and alumnus Margaret Congdon.

"Some vendors had noticeable increases in their number of sales, early on, which was interesting, considering the time of year (early spring)," she said.

As Ag Campusevents quickly turned virtual, — including the annual Barley Party in April — Jason Grant, Cultiv8 Manager, performed a rendition of the song "Better Together" which quickly became a theme for things to come. It was adopted for regular campus trivia and now the Better Together cookbook, to name a few.
Collaboration in the kitchen

"As we transitioned to working from home, we wanted to utilize this unique opportunity to connect people with their food and where it comes from while also producing a one-of-a-kind keepsake of this brief time in our history," said Stephanie Rogers, Faculty of Agriculture communications manager. "Thus, the Better Together cookbook was born!"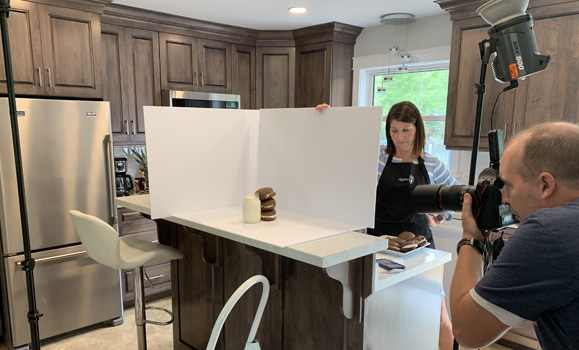 Dispersed throughout the cookbook are short research facts and information on the work being undertaken by the Faculty of Agriculture in the areas of local and global sustainability, food security, and health & well-being as targeted by the United Nations Sustainable Development Goals.

Community members were asked to submit family favourite recipes using ingredients that were easily accessible across a broad range of categories including appetizers, entrees and desserts.

"The Better Together Cookbook is a great way to teach your children about the fun science of cooking and baking," says Community Education Officer Lauren Peters who is also featured in the cookbook.

"Community Education is about learning where your food comes from and how important each person is along the supply chain –=— from the farmer who planted the seed to the grocery store clerk who placed it on the shelf.   Thanks to the amazing community at the Faculty of Agriculture, we get to connect with them through this recipe book."

"Food connects us all," says Dean David Gray. "The Faculty of Agriculture is proud to dedicate its efforts to feeding the world. There isn't another sector that impacts our lives, both individually and collectively, more than agriculture. It's our future. It's that simple."

To order your copy of the Better Together Cookbook, email agalumni@dal.ca