It's not a small feat in the best of times—bringing the university community together to welcome prospective undergraduate students and give them a taste of life at Dalhousie. But this year, Open House presented a few unique challenges, not the least of which was finding a way to host it online.
Fortunately, the Open House steering committee was up to the task, launching a group effort that paid off.
A global gathering

More than 3,400 students registered for the event, with over 1,800 attending on Saturday. The remainder will have the opportunity to view recorded and on-demand content over the next 30 days.
And while over 85% of the attendees were from Canada, the online format also allowed students to attend from around the world — more than 60 countries.
While the team is thrilled with the incredible number of attendees, they're even more excited by the resulting applications to the university.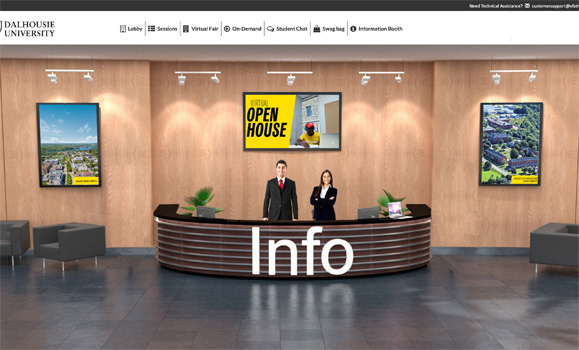 Virtual info desk.
"Open House is a significant opportunity to inspire prospective students to apply," says Kristen Sutherland, associate registrar and director, student recruitment and undergraduate admissions. "It also provides applicants the ability to make strong connections and map their next steps on their path to Dalhousie. We are encouraged by the level of engagement at the event and delighted by the number of students who have chosen to apply. Virtual Open House has demonstrated that the Dalhousie community is committed to supporting future students in new and innovative ways."
Over 1,700 registrants submitted their applications prior to the event to qualify for early admissions consideration and to receive priority processing from our admissions team. Since the event, the university has received applications from several hundred more prospective students who were motivated by what they saw and learned.
Virtually everything

The process to create Dal's first virtual open house kicked off with the careful review of a number of possible virtual event platforms and concluded with the selection of vFairs as the host for this year's Open House. One of the key features that made vFairs ideal for the task was that it allowed prospective students to choose from a variety of program options based on their interests, just as they would in traditional Open House events.
As Katherine Cross, assistant registrar, recruitment and events and Open House committee chair, explains, "the power of this platform was not only its capacity to emulate a live event with a virtually rendered lobby, student lounge, auditorium and fair floor, but also its ability to host thousands of attendees taking in a variety of experiences simultaneously."
Dalhousie's setup included a lobby where students could view a welcome from President Deep Saini and navigate to synchronous and on-demand content, an all-day virtual fair and a chance to chat with faculty, staff and current students. Sessions included a rich selection of content including faculty presentations, admission support, panel discussions, campus and residence tours and fun activities, including live trivia.

Exploring info tables in a virtual gym
Collaborative effort

Katherine is quick to acknowledge the contributions of everyone who pitched in to help across the university. The event steering committee was supported by a team of people from across the campuses who contributed with planning and ideas, creating video content, event promotion, session preparation and more.
"I couldn't be more excited to see the culmination of months' worth of planning and effort coming together so spectacularly," Katherine says. "We could not have achieved what we have without our team, volunteers and supporters. A massive thank you to everyone involved."
Open House is one of the first points of contact with students considering Dalhousie for their studies in 2021. To keep the conversation going, attendees will receive special follow up packages encouraging them to continue with their next steps on their journey to Dal. They'll also be encouraged to join us for the next Open House, currently scheduled for February — an event that will enable prospective students to take a closer look at the program of their choice.
Open House attendees came from more than 60 countries:
Afghanistan, Antigua, Aruba, Bahamas, Bangladesh, Belgium, Bermuda, Botswana , Brazil, Burundi, Chile, China, Colombia, Congo , Costa Rica, Dominican Republic, Ecuador, Egypt, England, Ethiopia, France, Ghana, Greece, Grenada, Haiti, Hong Kong, India, Indonesia, Iran, Iraq, Israel, Jamaica, Japan, Jordan, Kenya, Lebanon, Mauritius, Mexico, Morocco, Nepal, Nigeria, Oman, Pakistan, Peru, Qatar, The Philippines, Puerto Rico, Russia, Rwanda, Saudi Arabia, Sierra Leone, Singapore, South Africa, Spain, Sri Lanka, St Kitts & Nevis, Switzerland, Syria, Tanzania, Trinidad and Tobago, Turkey, UAE, Uganda, United States, Venezuela, Vietnam and Zimbabwe.