As the global threat of COVID-19 remains ever present, Canadian researchers are working tirelessly to better understand and combat the virus. Whether developing a vaccine, learning about how COVID-19 affects the body or studying how the pandemic has influenced every aspect of our lives, Canada's researchers rely on cutting-edge research infrastructure to do their work.
The Honourable Navdeep Bains, Minister of Innovation, Science and Industry, announced on Monday close to $28 million in research infrastructure support through the Canada Foundation for Innovation's (CFI) Exceptional Opportunities Fund. The funding, which covers the urgent need for equipment for ongoing research related to COVID-19, will support 79 projects at 52 universities and research hospitals, colleges, polytechnics and Cégeps across Canada.
One of the funded projects is being led by researchers at Dal, the IWK Health Centre and the QEII Health Sciences Centre, who have received $1.2 million to advance the development of new COVID-19 vaccines with upgrades to the Canadian Center for Vaccinology's level 3 containment facility at the IWK Health Centre. This will allow them to create models of COVID-19 to test the efficacy of vaccines, learn why people develop different degrees of severity of the disease, and produce new tests to determine at the earliest stages of infection who may be hit the hardest.
"This is a great opportunity to enhance the basic research and clinical research capabilities to conduct valuable work on COVID-19 by growing the SARS-CoV-2 virus, studying models of COVID-19 severe infections, monitoring clinical biomarkers of severe COVID-19 disease and identifying COVID-19 vaccine responses in people," says Dr. David Kevin, professor in Dal's Faculty of Medicine and project leader.
Enabling real-time results

Elevating the capacity and operation of this facility will be an important achievement for Canada. The development and testing of pre-clinical and clinical COVID-19 vaccines is a key part of the pipeline of providing Canadians with safe and effective immunity — allowing for a secure return to "normal" conditions.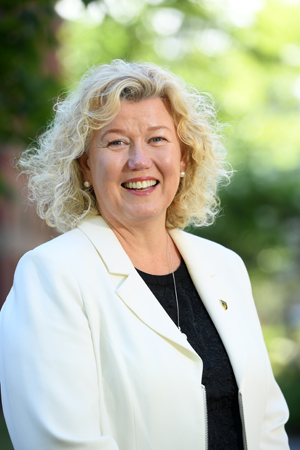 "We are so very proud to have this amazing group of researchers playing a key role in the fight against COVID-19," says Alice Aiken (shown left), vice-president research and innovation at Dalhousie. "The innovative work they are doing will provide real-time results that can be used right here in Nova Scotia, throughout the country, and around the globe."
For more than 20 years, the CFI has been giving researchers the tools they need to think big and innovate. Fostering a robust innovation system in Canada translates into jobs and new enterprises, better health, cleaner environments and, ultimately, vibrant communities. By investing in state-of-the-art facilities and equipment in Canada's universities, colleges, research hospitals and non-profit research institutions, the CFI also helps to attract and retain the world's top talent, to train the next generation of researchers and to support world-class research that strengthens the economy and improves the quality of life for all Canadians.
"Canadian researchers' immediate response to the pandemic has demonstrated the research community's crucial role in helping to resolve this crisis," says Roseann O'Reilly Runte, president and CEO of Canada Foundation for Innovation in a news release. "Working to find a vaccine, to learn about how COVID-19 affects the human body, or to study how this pandemic has influenced every aspect of our lives, Canada's researchers have taken centre stage as our guides and our source of hope. The CFI is proud to support their efforts by equipping them with the research infrastructure they need to further their significant work."
Dalhousie University, the Dalhousie Medical Research Foundation, the IWK Health Centre, and Research Nova Scotia have also committed to contributing funds to support operations and maintenance of the infrastructure over five years. 

To learn more about all of the funded projects, visit the Canada Foundation for Innovation website.