Stevie Wonder's "Superstition" and Gene Parsons's "Kindling" don't have much in common, but the songs do share a little more than a musical era. Both tunes feature the sounds of TONTO (also known by its full name, The Original New Timbral Orchestra). The first and largest music synthesizer ever built, TONTO was created by Malcolm Cecil in the late 1960s, and used by a wide variety of 1970s musicians, from Joan Baez to The Doobie Brothers.

Half a century later, musicians are finding new ways to incorporate the unique sounds of TONTO into their music, beginning with A Tribe Called Red in 2018. Now, electronic musician Angie Coombes (BSc'06) has found a whole new way to bring TONTO into the modern world by combining her love of music with her proficiency in neuroscience.
The end result? Technology that allows her to control the massive instrument simply by experiencing an emotion.
Building sound with brainwaves

Coombes, who also goes by the stage name Angie C, originally planned to go to medical school, but after graduating from Dalhousie with a combined honours degree in biology and neuroscience, she couldn't secure the funding to pursue her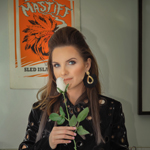 dream. Despite the setback, Coombes refused to stand still. Instead, she began exploring other interests. During that time, she built her electronic music career and worked as a research assistant for a neurologist. That's when Coombes developed an interest in electroencephalograms (EEGs), which use sensors to record brain activity.

She saw the opportunity to combine EEG tech with TONTO while working on a music grant. "I had already done a few brainwave-controlled fashion projects where I made outfits change colour and light up based on brainwave activity," says Coombes. "So I thought, 'why don't I take it a step further and try and control TONTO with brainwaves'?"

Armed with an Emotiv headset and developer kit, a grant from Canada Council for the Arts and permission from the National Music Centre (NMC) in Calgary, where the synth is housed, Coombes assembled a team to support the project. This included music producers Mitchell Claxton and Trey Mills, and NMC studio and electronics engineer Jason Tawkin.

Together, they figured out how to use Emotiv's headset, algorithms and some custom-built software to isolate specific emotions and assign a TONTO function to each one. That means Coombes can set the headset to trigger TONTO's cut-off filter if the person wearing it feels excitement. If they feel stressed, that could activate TONTO's delay or resonance functions. It all depends on how Coombes sets it up. After some practice, Coombes was even able to gain some control over the sounds, by consciously calling up specific emotions.

TONTO hasn't been entirely agreeable, though. "I asked [my friend Jane] to say the alphabet backwards because it's a really hard thing to do, and the instrument squealed and got really loud all of a sudden, which was pretty funny," say Coombes.
Symbolizing integration

In the spring, Coombes plans to release an album that incorporates TONTO's emotion-driven sounds and she's exploring the possibility of a live performance as well. But Coombes says none of this would have happened without a comprehensive understanding of both music and neuroscience.

"I've always been a huge fan of smashing random ideas together from different fields," says Coombes. "We can get so siloed in logic and math and science, and arts and writing and creativity. But even if you think of how the brain works, there's a right hemisphere and a left hemisphere. To me, it symbolizes integration and how important it is to bring it all together. That's how the magic happens."