Everything Nicole MacDonald (BDH'20) needed to complete her bachelor of dental hygiene degree slotted into place sooner than she expected. The certificate in disability management was an unexpected bonus. Surprisingly, she has COVID-19 to thank.

"I feel like I'm one of the few people the pandemic has benefitted," laughs Nicole.
Making a plan . . .

Nicole studied sciences at Saint Francis Xavier University before heading to Ottawa to pursue dental hygiene at the Canadian National Institute of Health.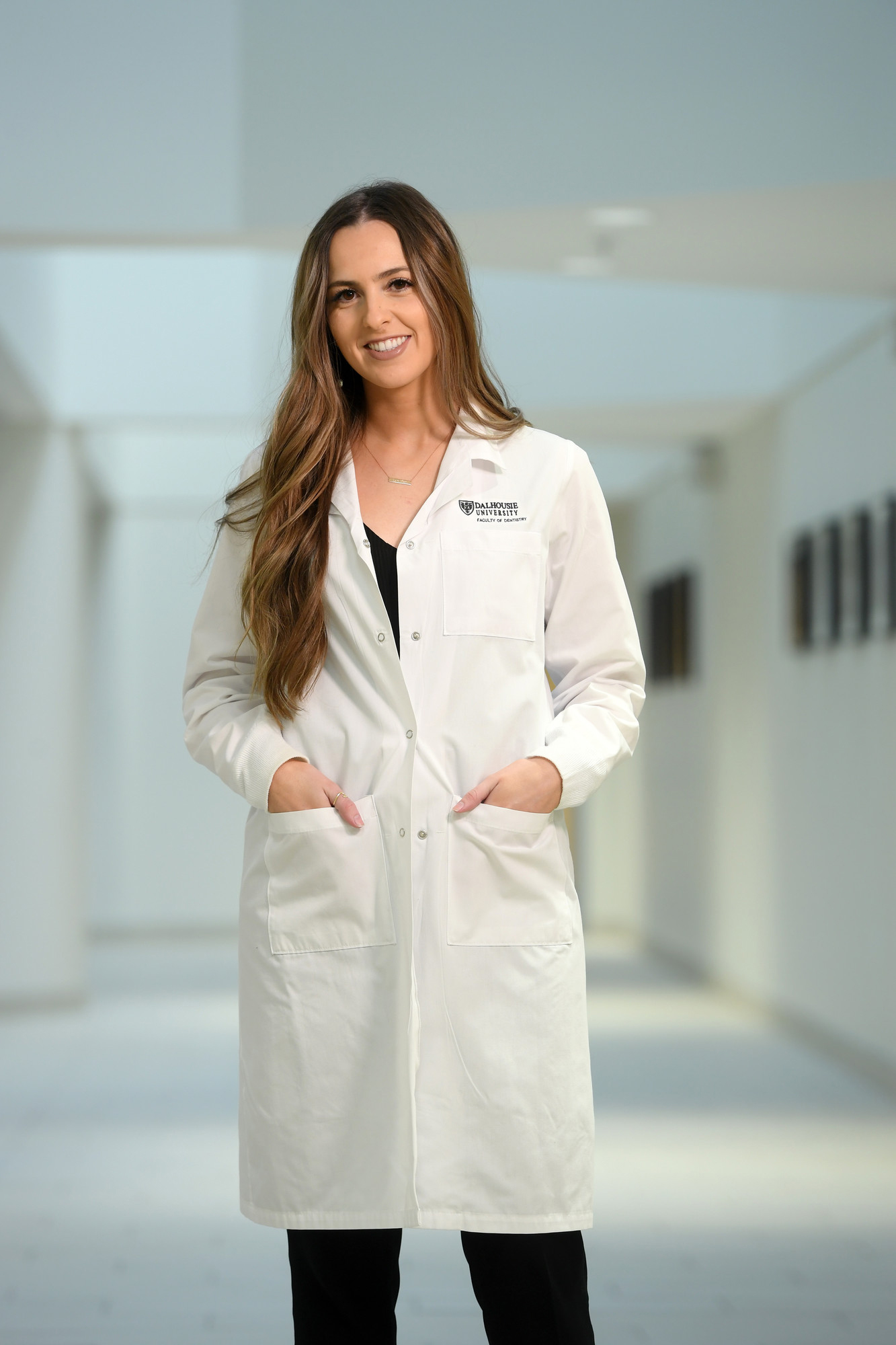 After completing the 18-month fast-track program in March 2018, she returned home to Nova Scotia to practise with the Port Hawkesbury Dental Group.

But it wasn't long before Nicole decided to return to university. "I knew I wanted to teach," she says. Coming to Dalhousie to begin the bachelor of dental (BDH) hygiene program would pave the way for graduate studies and the career she had set her sights on.

Nicole completed the BDH program this past spring and the experience she gained instructing first-year students confirmed for her that teaching was her goal. But she couldn't yet tick off the BDH from her to-do list. Because she had not studied for her diploma of dental hygiene at Dalhousie, Nicole was required to complete four Dalhousie elective classes before she could claim her BDH degree.
. . . and adjusting it

Nicole's original plan was to take two courses during the summer term and two in the fall. She would also temp in dental practices while she studied. She would complete her degree requirements by Christmas and be able to start a master's degree in January.

But the global pandemic disrupted her plans — in a good way.

One major impact of COVID-19 was the mandated closure of dental clinics in March. Realizing that her plan to work while studying was unlikely to work out as planned, Nicole bravely signed up to take all four electives in the summer term.
The bonus

Interested in disability management, Nicole had already taken one course in the subject during her BDH. When she was told that it was the prerequisite for the other three courses in the certificate program, Nicole decided to go for it, adding a statistics course as her fourth elective. She admits it was "a lot of work," but by the end of June, all the requirements for her degree had been met.

"Disability management is all about getting people back to work after an injury or illness," explains Nicole. "It's also about creating safe workplaces and practices — to avoid back injuries, for example — which is relevant for dental hygiene."

Nicole started her master of education in the adult education and health cohort at Saint Francis Xavier University in September. All the teaching is conducted online, allowing Nicole to continue working 32 hours a week at MicMac Dental in Dartmouth. The schedule at the clinic means that she works three long days a week. On her days "off," she fills in as a temp in other dental practices. "I like to stay busy," she explains.

The next three years will continue to be busy as Nicole juggles her master's studies and working. But her goal of teaching dental hygiene is now within her sights. "I hope I won't have to go too far to get a job," she laughs.