Sciographies is a radio show and podcast about the people who make science happen, presented by The Faculty of Science and campus-community radio station CKDU. This article is the fourth in a series that will feature excerpts from each new episode released this fall.
One could say Mark Stradiotto's career as an inorganic chemist who studies the properties and behaviour of metal and other inorganic compounds isn't all that surprising considering his past. After all, the Guelph, Ontario native spent many years as a drummer in hair bands that idolized Van Halen. But now his interest in metal is more scientific than musical, and if it weren't for a chemistry course about organometallic compounds in his third year of university, he might have never made the switch.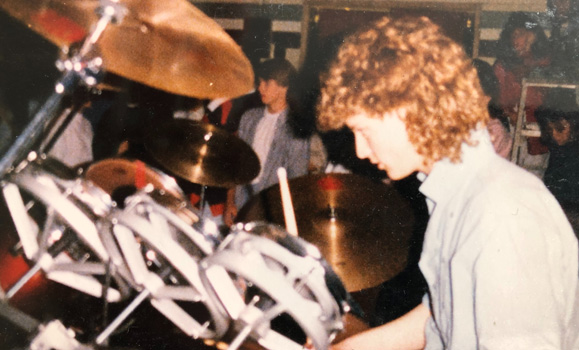 Today, the professor and Arthur B. McDonald Chair of Research Excellence leads the Stradiotto Research Group in the Department of Chemistry. Dr. Stradiotto specializes in the study and design of ligands. Ligands are ions or molecules that bind to metals, allowing the metals to react in ways that otherwise wouldn't be possible. They're incredibly useful in pharmaceutical chemistry, and some of the innovations out of Dr. Stradiotto's lab — like DalPhos — have been patented and licensed to industry partners.
In this episode of Sciographies, Dr. Stradiotto talks to host David Barclay about his upbringing, his participation in the commercialization of research, and his approach to teaching chemistry to undergrads. 
Listen to a preview of Dr. Stradiotto's episode.
Here are some excerpts from the interview, edited for clarity and length.
Overcoming a stressful post-doc position…

Barclay: It sounds like you had a great professor who took you under his wing as an undergrad for summer research. And then you ended up doing your PhD with him — he took you the whole way.
Stradiotto: He definitely did. That was a very protected, nurtured, and small research group. I could sit in his office and have a conversation for two hours. It was just spectacular. It was everything a student would hope for… Then I went to the University of California, Berkeley [for a post-doc]. I had a very tough time at Berkeley, and I mean that from a mental health and confidence point-of- view. It was not the experience I had hoped it would be and it was a very tumultuous time. But I made it through, published some good work, and established myself. And in a way, that was almost its own gift. If you feel that sort of burden and you can make your way through it… it gave me a sense, when I arrived here at Dal, that I could do anything. The things holding me back at Berkley were now gone, and I could just go for it.
Bridging the gap between academia and industry through commercialization…

Stradiotto: Around 2007, we developed some really cool chemistry that we thought was going to be useful and exciting. There were some really nice papers and congratulations that came out of it. But then we realized those methods lacked the practicality that was needed to then translate to end-users. From that moment, I said if we're going to develop this stuff with basic research in mind, can we not also have a long-term vision and make choices early on that will allow these methods to be very practical? So, in doing that, I think we're very self-critical of our methods.
Barclay: [Commercialization and application] comes up quite a bit. I'm curious, from a research standpoint, how it came into your life?
Stradiotto: I was developing some of those early systems — the ones that ended up being academically cool but impractical — and Dal's Industry Liaison and Innovation office did a sweep through departments to introduce themselves. I explained what I did, and they decided to look at patenting some it. That caused me to be a lot more introspective about not just having to deliver a paper — which was real science that could be reproduced around the world — but delivering something that could then be translated into these different environments as well… In addition, in 2010, I had some fantastic students who changed the angle of my research. They developed a new area for the group and pushed our research even more into a hot applied area, which then just amplified the commercialization because the innovations were even more relevant.
A modest approach to teaching…

Barclay: You also have some teaching awards, and you've taught a lot of classes over the years. What's the secret to your success?
Stradiotto: I'm not sure I can answer that, but what I do know is this: I'm never the smartest person in the room, and that includes when I'm teaching undergrads. So, I think I have to take time to understand the material to be able to convey it in a way that I'm comfortable with. And I know when I'm very quickly overwhelmed by material. so maybe I try to determine, even subconsciously, the parts that are going to be trouble and how I can round those edges for the students. Maybe that's a part of it.
Listen to the entire 30-minute episode of Sciographies at 4 PM today (Thursday Oct 15) on CKDU 88.1 FM in Halifax or find it on Apple Podcasts and other podcasting platforms. You can also listen to all Sciographies episodes to date at soundcloud.ca/sciographies or dal.ca/sciographies.