Matthew Numer (associate professor, School of Health and Human Performance) describes his educational background as diverse, which explains his research portfolio.
Hailing from Pittsburgh, Dr. Numer taught social studies to middle schoolers and high schoolers and pursued his master's in school counselling. A friend of his had connections to Dalhousie, so he travelled to Halifax and completed an interdisciplinary PhD in Sociology and Health on history of HIV and gay men in Nova Scotia.
He started teaching a human sexuality course and was later offered a position in the School of Health and Human Performance's Health Promotion program. In 2018, Dr. Numer conceptualized the Sexual Health and Gender lab — or "SHaG."
The SHaG lab is the umbrella under which Dr. Numer and associated students research LGBTQ health, sexualized violence, Indigenous boys and men's health, and e-learning.
Connecting Indigenous boys and men to the land and community

In February of this year, Dr. Numer received a CIHR Operating Grant: HIV/AIDS and STBBI Community-Based Research for his research project Indigenous Masculinities and Sexual Health: Exploring community-driven interventions among boys and men through land-based methodologies, totalling $449,896. This is the second project affiliated with this research.
Dr. Numer and his team are working with the Mi'kmaq Native Friendship Centre's Seven Sparks program which facilitates Indigenous men's transition from jail back into the community, and Healing Our Nations, which looks at HIV within our communities, two-spirited men and other LGBTQS identities. He says he was brought into the project because of his background in masculinities, and how gender plays a role in men's health — specifically with Indigenous men.
"We framed it around a very holistic way of looking at sexual health, you can't address it without going back to the colonial roots, the trauma," he says.
In the previous research project, Dr. Numer and his team held community consultations, interviewing 10 men from the Seven Sparks program about their experience growing up. They talked about sexual health, gender relationships, and how people interact.
"We definitely heard there is capacity for resiliency despite challenge, a lot of positives that come from the community and rediscovering knowledge that has been suppressed through colonization. The impact of residential schools is ongoing. People were told things like the culture is not to be talked about, even things like basic knowledge around sexual health and bodies. There are things you feel like you should know, but when you disrupt them it's hard, like what it means to be a man — a lot of people didn't figure it out until later in life."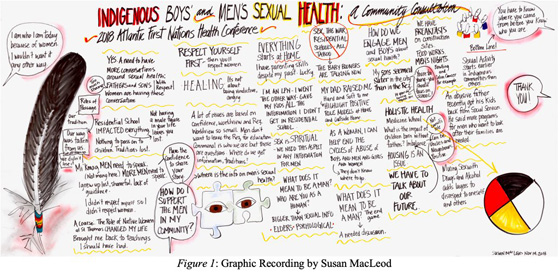 Graphic recording by Susan MacLeod. Presented in study: Doria, N., Biderman, M., Miller, D., Prosper, A., & Numer, M. (2019). Graphic facilitation as a tool to guide community-based research on Indigenous boys' and men's sexual health. Journal of Indigenous HIV Research, 10, 20-27.
For this grant, the focus is connecting Indigenous boys and men to the land and community. There will be daytrips to do land-bases learnings, teachings and ceremonies (currently put on hold due to COVID-19).
Dr. Numer says data will be collected in non-invasive ways by the community partners (Healing Our Nations and the Friendship Centre), working with the communities to find out what they want to happen and what they want to share. The results will be given back to the community.
"The goals are so big – addressing health inequities – it's hard to even find out where to start so we're following the leads of the community from the ground up. When we talk about how our culture has interrupted the idea of masculinity, sexuality and health, it has to happen in a place where people are comfortable to talk."
Award-winning researcher

In March of this year, Dr. Numer won the Early Career Research Excellence Award from the Faculty of Health.
"It's pretty awesome. We do a lot of our work in silos — it's just the nature of academia — so it's nice to know that people see your efforts."
Dr. Numer and the SHaG Lab team continue to do work on gay men's sexual health in relation to drug use and hook up apps, undergraduate attitudes towards various sexual topics, and more.
He says as a gay man and an activist, he was drawn to this work.
"I've always been pretty involved in the community. I've had partners who have HIV, and the significance is big. There's a big difference between the way we think about things and the way people experience things."
"Sex is an emotional act for people, even when it's hookup sex. I do a lot of broad cultural work too, to change the way we think about sex to be something not hidden, not stigmatized. It's nice to see that my work is landing with people."
To keep up to date with the SHaG Lab's research, follow them on Twitter @DalShagLab.