We are constantly uncovering new and exciting information that shapes the way we view the world around us. While modern technology plays a key role in these discoveries, Dalhousie Science professor Jonathan Ferrier also recognizes the value of approaching scientific research using Indigenous knowledge.

Dr. Ferrier is a member of the Mississaugas of the Credit First Nation Board of Education and an Assistant Professor in the Department of Biology at Dal. He is one of several members of the Faculty of Science currently supervising graduate and undergraduate students in their research this summer. This opportunity is made available to students each year on a competitive basis through the Faculty of Science Summer Research Awards.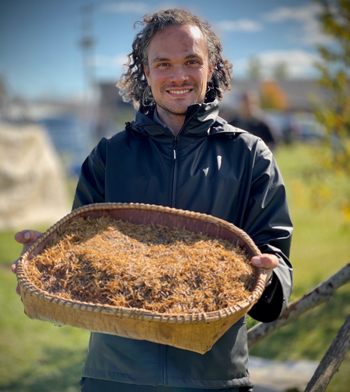 Dr. Ferrier began his research with the Faculty of Science in February of 2019. His lab is dedicated to Indigenous science and medicine, with a focus on food, medicine and material security and examining our relationship with the land. He describes his work as holistic, taking a circular approach to both research and education. All research is conducted with an emphasis on interconnectedness, honouring a First Nations philosophy of "all my relations."

While some elements of his research have been put on pause as a result of the COVID-19, Dr. Ferrier says he remains optimistic. Students and faculty have adapted to online research and are currently collaborating online using agile methodology, "Scrumming," which allows researchers to collaborate and quickly communicate successes and problems within their research projects. Time away from the lab has also given Dr. Ferrier the opportunity to plan ahead for future research projects.
Honouring all our relations

Prior to quarantine, Dr. Ferrier and his students would engage in outdoor ceremonies and a talking circle before beginning their work.

"When you're speaking and listening, seeing and acknowledging each other in a circle, it facilitates respect and deeper learning. It's a hallmark of indigenous pedagogy," says Dr. Ferrier.

"We begin with ceremonies so that we can do our work empathetically, honouring our relations, not only with people but the flyers, the crawlers, the two legged, the four legged, the swimmers and Mother Earth. It's important that we recognize the country — Mi'kma'ki — and customs that we're in and to represent the education system that was here before Canada and colonization."


Mi'kma'ki, the country of the Mi'kmaq people. This map will be featured in the outdoor classroom at the Life Sciences Centre. (Copyright Michael Martin and Native Council of Nova Scotia.)

Currently under development, Dalhousie's' Outdoor Ecolab, an on-campus outdoor classroom, will be another valuable tool for education. The newly designed Ecolab will feature two maps that facilitate an understanding and appreciation of the land. The first is the map of Mi'kma'ki, the unceded country of the Mi'kmaq people, which covers the majority of Atlantic Canada. The second is a geological map, displaying the language used to describe knowledge and observation of the land we live on.
Language and science

"One of the projects that we're doing is a complete meta-analysis of all the ethnobiological uses of plants and animals. To date, we have about 20,000 reports of plants and animals for medicine in Anishinaabek territories," says Dr. Ferrier. This involves tracing the location of the documented data to their Anishinaabek names.

"We make predictions about what will happen in nature from what we observe, and that is how we name the things. We've taken this time to strengthen our language in connection with the land and the relations living there," Dr. Ferrier explains.

Both Mi'kmaq and Anishinaabemowin are Algonquian languages. Each has been formed through observation of the land and all its relations. By practising these languages, people have maintained valuable insight into the life and ecology it honours. "So, one can imagine how Western analytical chemistry could fit into an Indigenous framework of acknowledging the land and its relations, and that's what we refer to as Etuaptmumk-two-eyed seeing: honouring the best of both worlds, for the benefit of all."
Naturally scientific

"We are naturally inquisitive," says Dr. Ferrier. "That's the gift of science. We become naturally scientific when we begin to embrace Gitche Manitou."

 Gitche Manitou translates to "Great Spirit" or "Great Mystery" in many Algonquian languages. Dr. Ferrier describes how knowledge keeper Jim Dumont of the Grand Medicine Society recognizes this Great Spirit as being energy, which opens up an abundance of possibilities for scientific inquiry.

"It's physics. We see this energy moving in circles in the planets, in the shapes of ourselves, in our DNA that is circling and spiraling," he says. "You see it in the protons, neutrons and electrons spinning around the atom in water, minerals — that's life. When we try to manage these relations, bending the circles into linear structures, things fall apart. That energy is moving in circular waves, that's why we have a talking circle, we're respecting that balance, that circular way of life, and Indigenous people have done so for millennia."