Guided by a strong sense of professional solidarity, pharmacists across the province and the country are playing a critical role in caring for people in their communities during these unprecedented times.
Two of Dalhousie's College of Pharmacy graduates give us a glimpse into the lives of pharmacists over the past few months when life as we knew it completely changed as a result of the COVID-19 pandemic.
"It's been scary. And it's been stressful. But for the most part, there has been a strong sense of community within our pharmacy profession," says Sarah Opie (BScPH'10). "We are a profession that has always supported one another and had each other's backs. In times of uncertainty, that support seems to strengthen."
Sarah is an instructor in Dal's College of Pharmacy and also works in a local community pharmacy. She has been working from home since the COVID quarantine began, and also helping the pharmacy team as much as she possible, giving full-time, frontline staff some much-needed additional support.Like many pharmacies in the province, they offer free delivery services with pharmacists and staff shopping for patients and delivering prescriptions to them, rain or shine.
She adds that with the current precautions in place in physician's offices and walk-in clinics, pharmacists are filling in many of the gaps for their patients.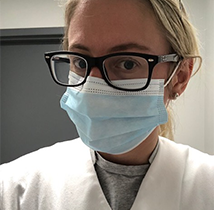 Sarah Opie (Photo provided)
"Pharmacists are triaging more, prescribing more, extending prescriptions, administering essential injections. We are also providing a huge support to patients who are lonely, fearful, and who are struggling with mental health concerns," she says.
"It's a challenging time for everyone and every single person is struggling in some way. But we are all in this together," she says. "Pharmacists get up each morning, leave their families at home and work tirelessly with your health and wellbeing in mind to make sure that you and your families are taken care of, that you feel safe and that you are not alone."
Jody Collin (BScPH'07) is completing a Masters in Community Health and Epidemiology while serving as Manager of the Metro Dispensary, the non-profit community pharmacy located at the IWK. She says the past few months have been "a bit of a blur."
Since the COVID-19 outbreak was declared a pandemic, she has never been busier — implementing a comprehensive pandemic plan early on and adapting it to meet the ongoing needs of the community, answering questions from the public, reassuring patients and taking comprehensive and ongoing steps to keep everyone safe and healthy.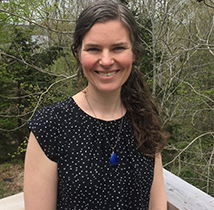 Jody Collin (Photo provided)
"We installed a plexiglass barrier between us and the patients, implemented strict cleaning protocols that have been modified many times as the recommendations have changed, we have activated the tap action on our debit machine, stopped taking anything into the pharmacy including old medications and sharps containers, and, most recently, we have all started wearing surgical face masks all day to protect ourselves from each other," she says.
She also made tough staffing decisions to ensure the pharmacy could stay open if anyone became sick, which means working short staffed on every shift during a time when they are busier than ever. "We are coming in early, staying late, and working on days while the pharmacy is closed to catch up. I am so lucky to have an amazing staff that has rolled with the punches and adapted to all of these changes," she says.
Jody says her day doesn't end when she leaves the pharmacy; she delivers medications on her way home, does all her paperwork at home and spends part of each night catching up on the latest news from the Pharmacy Association, the College of Pharmacists, the Canadian Pharmacists Association, Public Health, the IWK.  At least once a week, she sends updated policies out to staff.
The Metro Dispensary is a not for profit pharmacy that was established in 1966 and provides pharmaceutical services and medications at the lowest possible cost to clients, including all cystic fibrosis and diabetes insipidus patients in the province of Nova Scotia. The Dispensary also serves all clients referred by a social worker in the community or hospital who would benefit from lower cost medications.
"We are very lucky to be located within the IWK hospital, so those patients that do come in to pick up their medications are pre-screened and told to wash their hands before entering the pharmacy, and they are monitored for social distancing while they wait," she says, noting they also provide curbside pick-up for medications and have moved all of their counselling to the phone, so that patients are in and out of the pharmacy as quickly as possible.
These are just two examples of how pharmacists are going above and beyond for their patients and communities during these challenging times.