This article is part of a series focusing on the grads of the Dalhousie Class of 2020. Visit our Class of 2020 virtual space to share in the excitement with our newest graduates.
Agnivo Rakshit (DDH'20) had never been to a dental hygienist before he decided to become one. But that didn't stop him from falling in love with the profession or finding that it has changed his life forever.

Agnivo was born, raised, and went to high school in Kolkata, India. He visited the dentist, but never saw a dental hygienist. "Dental hygiene is quite a new profession in India,' he explains.
From India to Newfoundland


The path to dental hygiene began in Newfoundland. At the age of 18 Agnivo took the bold step of leaving India and starting a BSc degree at Memorial University (MUN). For two years he studied biology and psychology, becoming acquainted with snow for the first time and, despite some initial homesickness, basking in the company of the warm-hearted Newfoundlanders he met.

It was also at MUN that Agnivo began to consider the question, 'What next?'

When he began studying sciences in St. John's, Agnivo felt strongly that he wanted to work in health sciences, but he didn't know which career path he would pursue. From his experience with dentists, he knew that oral health was a "rewarding field and a good career" that involved helping people.

Agnivo began googling careers in oral health and looked at various websites on careers ranging from dental assisting to oral and maxillofacial surgery. Dental hygiene was among the mix of options. It intrigued him and he kept reading more and more about it.

"In life," says Agnivo, "you often don't know what you will like until you try it."  And that certainly proved true for him.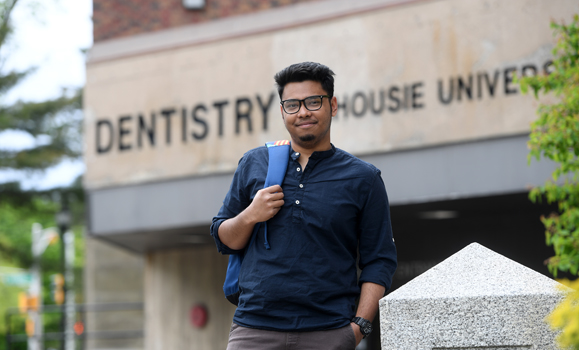 And from Newfoundland to Dalhousie
 
After his two years at MUN, Agnivo had all the prerequisites for the dental hygiene program and he was accepted at Dalhousie.

Right from the start, he knew he had made the right decision. "I had wonderful instructors," he says, "and they made me fall in love with this profession. They were my mentors, my professors, and they helped me every step of the way."

That's not to say it was easy. In the first semester there were 10 subject courses. Not surprisingly, it was overwhelming to being with. There was also the hands-on training, which was completely new, but also intriguing to Agnivo.

"I found myself very curious about the dentiforms and the instruments," he says. "In dental hygiene, it's not enough to have a good theoretical knowledge. You need to know proper techniques as well. I found that practice, dedication, and a love for your work made it easy to learn."

Seeing patients brought new challenges, such as time management. "I needed to learn how to multi-task and balance caring for my patients with building my speed and other tasks like recording information," he explains. "My instructors helped me a lot with this."

The best part of the job, says Agnivo, is making people happy. "It is a very satisfying profession because when you have debrided someone's teeth, removed all the calculus and biofilm, they smile better and with confidence."
Many lessons learned

Important lessons were also learned on the many rotations dental hygiene students go through. At the New Immigrant and Refugee Oral Health Clinic, Agnivo says that he learned about the cultural aspects of care. For many of the clinic's patients, the oral health care they received in the Dal clinic was the first they had had in a long time.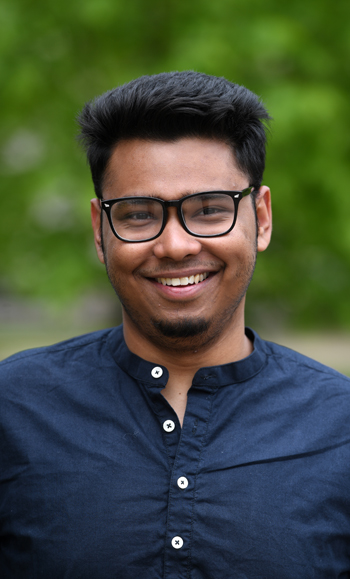 "Not only did we have to treat their oral conditions, but we had to help them understand our profession and the importance of good oral health care," says Agnivo.

A rotation in the paediatric clinic at Harbour View Elementary School gave Agnivo exposure to looking after children. As an only child and with no real experience with children, he says this was something he needed. He feels treating children gave him new communication skills and taught him to be more patient."

Treating elderly patients, some with dementia, at the Camp Hill Veterans Memorial Building also provided valuable lessons.

"You learn to correlate life and health to oral health," he says. "Dental hygiene teaches you that."
More than classmates

Reflecting on his two years in the School of Dental Hygiene, Agnivo says that he has made friends for life and that being the only male student in the class was a "special privilege".

"As dental hygiene students, we go through good and bad times together and work on each other before we treat actual patients. That involves a lot of trust and it creates a special bond between all of you. You become more than classmates."

The process of becoming a dental hygienist has given him a lot, Agnivo feels. "It goes beyond knowledge and seeing patients. It teaches you life skills and shapes you as a person."

Agnivo plans to work in Nova Scotia when he receives his license and at some point in the future return to Dal to study for his bachelor of dental hygiene degree. He is very "proud and happy" to be part of the Dal family.

"Dal is one of the best universities in Canada," he says. "It has been a privilege to study here and be a part of it."