This would normally be the time of year during which Dalhousie's chancellor would be presiding over Convocation ceremonies: shaking hands, tapping heads, giving hugs and posing for thousands of photos.

Graduation celebrations look a little different this year: the Class of 2020 is celebrating virtually due to the COVID-19 pandemic, with well-wishes coming in from across North America and around the world. And among those sending their best are Dal's outgoing and incoming chancellors: the Honourable A. Anne McLellan and the Honourable Scott Brison.

Brison was set to be formally installed as chancellor this spring, and while he shares graduates' disappointment in not being able to gather in person, he's glad to see grads are taking the time to mark the milestone in their own way.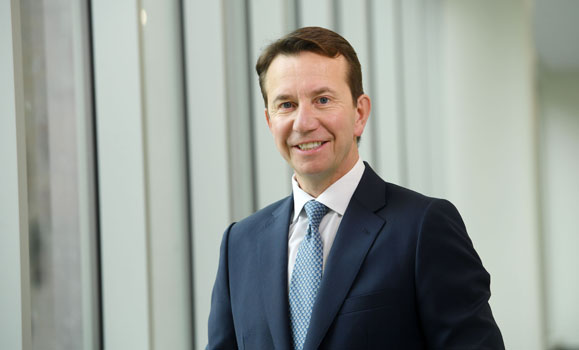 Chancellor Brison.
"I think ceremony and celebration are important," says Brison, who served as Member of Parliament for the Nova Scotia riding of Kings-Hants for over 20 years and held multiple cabinet positions including Minister of Public Works and President of the Treasury Board. "For my family, it was a big deal."

Brison was part of the first generation of his family to have the opportunity to go to university — so, too, was McLellan. They both grew up in rural Nova Scotia: Brison in Cheverie in West Hants, McLellan just 40 minutes up the road in Noel Shore. And their paths towards becoming two of the most significant politicians in Canada both went through Dalhousie.

"During Dalhousie's 200th anniversary, people often asked me, 'What does Dal mean to you?'" says McLellan. "And I tell everyone who asks: Dal made the rest of my life possible. It's that simple. A Dal education has that power, if you're open to it."

From friends and colleagues to chancellors

Brison and McLellan have been friends for years, having served together in Paul Martin's federal cabinet in the 2000s when McLellan was deputy prime minister.

"I'm just thrilled that the next chancellor of Dalhousie is Scott Brison," says McLellan. "Not just because we're both from Hants County, and former colleagues, but because he is such an enthusiastic, thoughtful supporter of what Dalhousie can do for an individual student, but also in community of ideas and excitement that can change not only our region but our world."

The feeling's more than mutual. In fact, Brison says even though they're dear friends, it's even a bit intimidating taking over from McLellan after her five years as chancellor.

"Anne is a remarkably accomplished person," he says. "She's somebody who, even when I was in opposition, we had that connection based on our roots. We're friends, we've served together, and as chancellor emeritus I know she'll stay deeply involved in Dal and help me learn the ropes.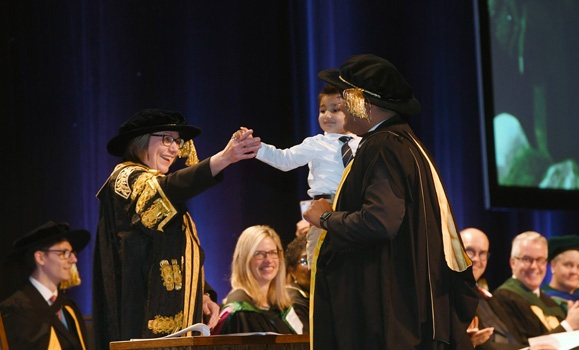 Chancellor Anne McLellan, greeting a grad and a family member on-stage at a past Convocation ceremony.

"From what everyone has told me, Anne's contribution [as chancellor] has been quite extraordinary. I hope to come close to that, and work hard in doing so."

The importance of ceremony and contribution

While the chancellor's role is mostly ceremonial, they do serve on the Board of Governors and play an ambassadorial role for the university in general. In McLellan's case, one of her proudest contributions during her time as chancellor has been the creation of the Chancellor's Chair in Aboriginal Law and Policy. Located in the Schulich School of Law — where McLellan earned one of her two Dal degrees — the chair is currently held by Professor Naiomi Metallic.

"Reconciliation is a major challenge and opportunity for this country and for postsecondary institutions in particular," says McLellan "I thought it was important for the law school to have such a chair, and Naiomi is a truly outstanding legal academic who is making such a difference in this country."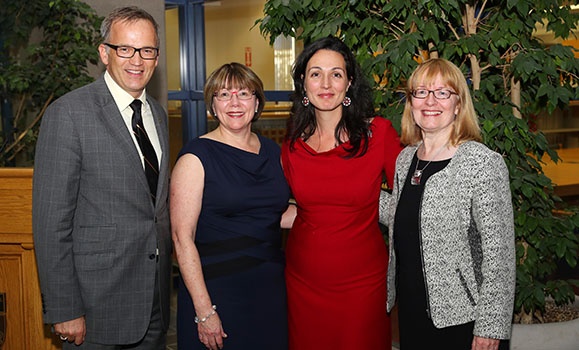 Chancellor McLellan with Naiomi Metallic (second from right) as well as President Emeritus Richard Florizone (left) and Dean of Law Camille Cameron (right) at the launch of the Chancellor's Chair.
When asked about the memories she'll take from her time as chancellor, McLellan reflects on the five-plus years of Convocation ceremonies she oversaw: all the graduates, their families, their stories and how much that little moment meant for each of them.

"It's only maybe 20 or 30 seconds on that stage, but it was important to both me and Richard Florizone, who was president at the time, that every graduate felt the significance of that moment. They've put so much work into getting there. You have to respect what they've achieved and take on-board the sheer joy of those moments."

Dalhousie has committed to ensuring grads from the Class of 2020 are able to take part in a future Convocation ceremony when in-person events are able to resume, and Brison is eager to be there with them and other future graduates in the years ahead.

"It's exciting to be part of that moment for students. I'm really looking forward to being up there on stage with our graduates soon."

An entryway to the world

Though they studied at Dal at different times, and in different programs — Brison in Commerce, McLellan in Arts and, subsequently, Law — they share the belief that Dalhousie helped them to connect with the broader world beyond their own home communities.

"Dal is a place where you have truly world-leading research happening in oceans, in agriculture, in batteries, in vaccines," says Brison. "But it's also a place where people from small communities in Atlantic Canada can earn a higher education. People who grow up in places like Cheverie or Kennetcook or Noel Shore or Gormanville can, at a place like Dalhousie, get the skills they need to change the world.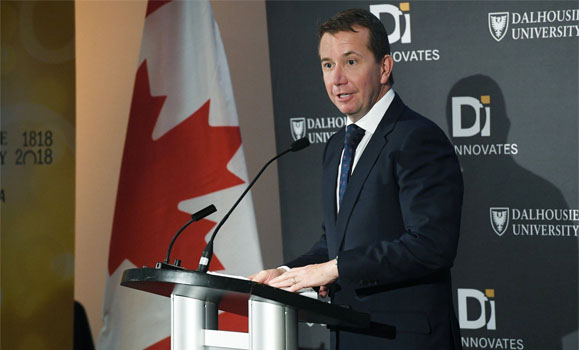 Brison speaking in 2018 at the opening of the Emera IDEA Building, when he was a MP and President of the Treasury Board.

"That's not an easy needle to thread — being both world-class and being there for people here in our region — but Dalhousie threads it quite exceptionally."

McLellan says part of Dal's success is being large enough to attract such significant capacity and talent, while still being small enough to have meaningful, collaborative relationships that bring about big changes and big discoveries.

"I think that's why Dal is attractive to a lot of young people and their families from across Canada and around the world," she elaborates. "It's this place that has a high degree of intimacy but is also large enough that it can bring together people of exceptional talent who then, in turn, attract the attention of major industries or institutional partners globally."

Brison agrees, with a particular eye towards the need to work together to address global challenges ranging from climate change to rising xenophobia and populism.

"The problems of the world are not going to be solved by lawyers. They're not going to be solved by business people. They're not going to be solved by government people. And they're not going to be solved by researchers. They're going to be solved by all of them, working together. And Dal represents a living lab to educate a generation of people who are not only exceptional in their own silos, but really good at cross-collaboration across those silos. That's where I think Dal can make a big difference."

And in doing so, Dalhousie provides opportunities to people from across the Atlantic region — something near and dear to Brison's heart, and McLellan's as well.

"Whatever Dalhousie accomplishes globally, tackling these big issues, it is always a place for people like Anne and me to bloom, and to equip ourselves with what we need before going out into the world," says Brison.