This article is part of a series focusing on the grads of the Dalhousie Class of 2020. Visit our Class of 2020 virtual space to share in the excitement with our newest graduates.
Why did you want to attend the Schulich School of Law?

Upon visiting the law school from Montreal during my undergrad, I was warmly welcomed and immediately struck by the collegiality of the students and faculty at Schulich Law. The Weldon Tradition of unselfish public service was something that I really admired and a tradition to which I wished to contribute, both as a student and alumnus.

I was also drawn to Schulich Law as it offered the JD/MI combined degree to allow me to concurrently study law and information management. I believe the interdisciplinary program will enable me to pursue my passion of ameliorating access to justice by increasing access to legal information.
In what ways were you involved with the law school community?

Among my most memorable experiences are those that allowed me to offer peer support or use my legal training to serve the local community. I enjoyed doing pro bono work for the Nova Scotia Artists' Legal Information Society, assisting the Wellness Committee in launching the Peer Support Network, and serving as a student representative to the Atlantic chapter of the Federation of Asian Canadian Lawyers.

Throughout my law school journey, I was grateful for the opportunity to use my interdisciplinary training to work alongside reference staff at the law library to assist students and members of the public, as well as help instructors create legal research content for 1L lectures.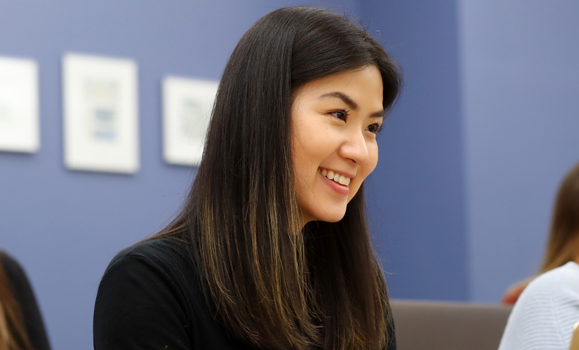 What is your favourite law school memory?

My favourite law school memory is my clinical term at Dalhousie Legal Aid Service. It was an eye-opening experience to see firsthand the injustices affecting persons with low incomes in our community. I was fortunate to have the invaluable opportunity to work on a human rights appeal affecting over 1500 Nova Scotians with disabilities.
What will you miss most about Schulich Law?

I am so grateful for the lifelong friends that have supported my personal growth and made my law school experience unforgettable. I will miss the kind, caring librarians and staff at the Sir James Dunn Law Library that never fail to put a smile on my face. Not all heroes wear capes!
What are your post-graduation plans?

As a Vancouverite, I have moved back home to the west coast to start my articles in Vancouver, BC, this spring. I am excited to pursue a career in litigation and hope to use my information management training in innovative ways in the transforming practice of law.