This article is part of a series focusing on the grads of the Dalhousie Class of 2020. Visit our Class of 2020 virtual space to share in the excitement with our newest graduates.

When Genny Centeno Metri began an undergraduate degree in software engineering in her home city of Merida, Mexico, she couldn't help but ask, "Where are all the women? Am I in the right classroom?"

Inspired by her introduction to computer science education, Genny wanted to do something to make a difference and narrow the gender gap in technology. As she graduates from the Master of Applied Computer Science, she can certainly say that she's succeeded.
Inspiring others

In 2014, Genny joined the Merida chapter of global non-profit Women Who Code, an organization that inspires women internationally to excel in technology careers. She worked remotely as a director for the chapter throughout her studies at Dalhousie.

Women Who Code operates across 84 chapters worldwide and engage women through events, mentorship and skills development.

"All the speakers are women, we're trying to make their work visible and trying to make people aware of what women are working on and give role models to people that are studying their bachelors right now, to see that if these girls can do it, they can do it as well," says Genny. "And, also create a community where they know that if they need any support, they can come to us, if they are going through a hard time either emotionally or academically, they can come to us."

Genny is particularly proud of the work her chapter has done for rural communities through their event programming.

"We have little towns around us and in the past year we have been able to visit schools like elementary or high schools and we take the same workshops we give here in the city and give them to the small communities around us," says Genny. "So, the girls there also get familiarized with the possibilities of the tech world because some of them, for example, only have access to computers at school and not really at home so we try to present what the possibilities are and what they can do when they grow up."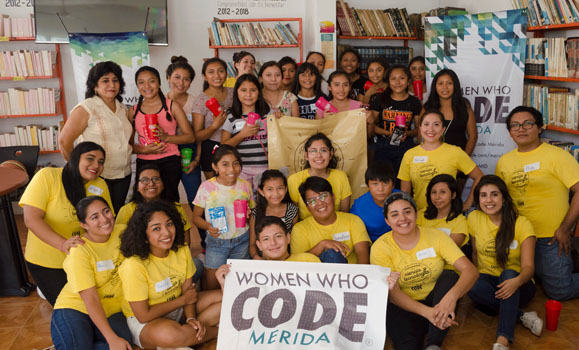 Introduction to the workforce

Genny moved to Halifax to begin her studies in the Master of Applied Computer Science program in 2018. The program provides students with the option to take various streams based on their interests and objectives. Currently they choose from an internship in industry, entrepreneurship or a project.

"I really like the applied approach of it, of how even the courses were very practical in the sense that it wasn't only the theory of it, but you could also get to practice and play with it," says Genny. "I really like the fact that you had the option of doing a project or starting your own company, or you could do an internship. And, I thought that if I was set to stay in Canada, the internship would be a very good option to kind of introduce myself to the Canadian workplace as it was completely new to me, I had no idea how different or how similar it was going to be to what I was used to. It can be stressful, and you have to put a lot of work into it, but basically everyone in the program gets a position for the internship, which is great."

During her time in the program, Genny was awarded with the Citizenship Award and a MACS Medal of Excellence at the annual Computer Science Society's Snowball Awards.

"I really enjoyed my time at Dalhousie, and I'm very grateful for the experience and the support from friends, faculty and staff throughout those months."

Through the internship option, Genny worked with Jazz Aviation, she continued to work with the company afterwards. Due to circumstances relating to COVID-19 Genny is currently at home in Merida but hopes to return to Halifax as soon as she can.
Mentorship

In the meantime, Genny continues her work with Women Who Code where she has recently launched a new mentorship program in collaboration with a local university.

"It's been great to hear what they are curious about, what they're going through, I see myself in them," says Genny.

"I really want them to know there is a community here and there's a group of women that have been through the same problems they are going through right now. It's not the end of the world and we can help them, so they don't have to let this go, they don't have to get out of the program."