This article is part of a series focusing on the grads of the Dalhousie Class of 2020. Visit our Class of 2020 virtual space to share in the excitement with our newest graduates.
It's always the right time to pursue a dream. Just ask 66-year-old graduate Wendy McKay, who will be picking up her Bachelor of Technology degree in Small Business Management on Wednesday, May 20th when the Faculty of Agriculture celebrates its 202 graduates.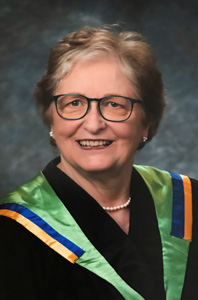 "I decided I wanted to return to school because I am a strong believer in lifelong learning and because I have always loved to learn new things," explained Wendy.

During high school Wendy worked a number of part-time jobs and managed to save enough to finance a year at University of Western Ontario, now Western University.  She earned good marks and very much enjoyed the experience.

Unfortunately, she could only finance one year, a situation that she regretted for most of her life.  

"Getting a university degree was the number one item on my bucket list.  When I was no longer able to continue my work in the medical field, I found I needed a challenge in my life, and I decided it was 'go big or go home'."

Wendy's challenge has been to find a new normal after being diagnosed with advanced macular degeneration, a medical condition which can result in blurred or no vision in the center of the visual field, in 2012.

"I've had to work hard to find new ways to continue with my passion for learning. Without a doubt It's been difficult but very doable with assistive technologies and a lot of patience," she added.
A model of courage

Wendy worked for nearly 40 years as a medical technologist mostly in microbiology and histopathology with the last seven years of her career spent as a Senior Technologist in Histopathology at the Colchester Regional Hospital in Truro.

"Returning to university at this stage of my life has probably been the best thing I have ever done for myself," Wendy added.  "Dal provided a challenge, allowed me to pursue new subjects and presented me with a sense of pride I have never experienced before. I was given the opportunity to acquire a fresh new lens on the world through the perspective of my younger classmates."

"A model of courage, competence and perseverance, Wendy achieves by example," said Beverly Zink, Coordinator of Access Supports for the Faculty of Agriculture.

Assistive technologies and patience have been key to Wendy's success but so too has been the unfailing support of her three adult children, true friends and former vice principal of the AC, Mr. Ian Fraser

"His passion for teaching kept me focussed and constantly moving forward," she added.  "I believe I hold the honour of being both his most mature and final student at the university."
Taking the plunge

Once Wendy contacted the AC and determined that some of her previous educational study would be given credit, she took the plunge.

"Wendy's strength and courage are truly remarkable," said Fraser.  "Even with her limited eyesight she completed the program with Dean's List marks. She amazes me with both her knowledge and ambition."

The Bachelor of Technology in Small Business Management offered a broad range of subjects from financial management through business law and world economics.  Entrepreneurism and international marketing honed the development of strong critical thinking skills and the ability to analyze and formulate complex business models.  

"The biggest change for me was my ability to 'run wild' with my ideas and to discover the world outside of a textbook," added Wendy.  "The more you put into the process of learning a new subject, the more you get out of the experience."

Wendy's future does not include a new career path, but she plans on taking courses in anything and everything she wants to know more about. An accomplished artist, Wendy is fascinated by Art history and Canadian history.

As for her next dream?  The role of grandmother to a keenly anticipated grandchild in September.