Dal Nursing alum and registered nurse (RN) Pauline Surkan (BScN '17)  has been working for several weeks at provincial COVID-19 assessment centres including the recently opened drive-thru centres in Dartmouth, NS. As the name suggests, clients stay in their vehicles and are assessed by nurses and other health professionals.
The province of Nova Scotia opened COVID-19 assessment centres to test individuals who were symptomatic or at higher risk for exposure to the virus.
Pauline's regular assignment is surgery and medicine at the Dartmouth General hospital and when the call came for nurses to work at the pandemic assessment centres Pauline offered to help.
Pauline has a partner and is a mother to two small children. Working at the centre means she is away more from her family during this stressful time and is increasing her own chance of exposure to COVID-19. "I thought pretty hard about the risk when I offered to work at the station," she says. I feel like I wanted to contribute more than being on my usual nursing floor. I wanted to be able to help people and our province get through this, and this was the piece I felt I could contribute."
Making a stressful experience easier

According to Pauline the clients have a broad span of responses when visiting the station to be tested. "Some people are scared because it can be a stressful experience, especially if they are symptomatic, to come out and think of the 'what if's' and the changes that a positive diagnosis might entail. They might be fearful about going into a space where you may run into people who have the virus," she says.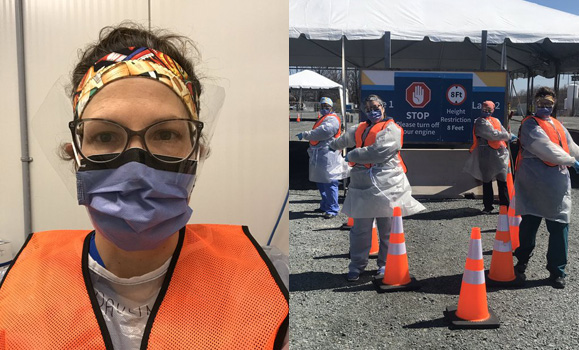 The mobile site does offer several benefits to the client and health professionals. The testing experience takes around 20 minutes in a walk-in centre and seven minutes in the drive-thru she explains.   

At the drive-thru assessment centre nurses ask clients some questions, do a testing swab, provide information about how to self-isolate and then the clients leave to go home. According to Pauline, the visit might be extended if nurses have to measure temperature, oxygen saturation and heart rate.
"In a walk-in assessment centre, housed in a building, we have to wipe down everything twice, that the person being tested touched in the waiting area and in the testing cubicles," she says. The streamlined drive-thru process means nurses can help assess a lot of people in a smaller amount of time than seeing someone at a walk-in.
Having worked in both types of assessment centres, the clients who come to drive-thru sites seem less anxious according to Pauline. "In general, I sense there is less anxiety when people come through the drive-thru because they are in their own space. They feel safe in their vehicles and they are not touching anyone elses' things," she says.
There is also less chance of exposure to the health professional. "You are outdoors, and you stay in your own space and we don't do vitals in drive-thru unless they answer 'Yes' to certain questions," she explains. According to Pauline, drive thru station healthcare workers have more durable PPE and they do not have to change their main PPE, a gown, with every client. Which again saves time.
On the front lines

To minimize the risk of bringing the virus back to her home and loved ones, there are many extra steps Pauline has to take including: bringing extra clothes to work, changing into them after her shift, and lots of extra showers. Pauline says that while the feeling at work is mostly positive and co-workers are supportive, the extra precautions at the end of the shift, when the worker is transitioning back to family life, takes an emotional toil. "You don't realise how exhausting it is until the end of the day or when you have days off. It starts to catch up with you," she says.  
According to Pauline, it is not just the nurses making sacrifices. There are families standing behind them who also rise to the occasion and support the health professionals.
"In our household we have delegated things," she says. "My husband is the dedicated grocery-buyer. We have a 10 and 13-year old and they help each other out and help us out with chores. Everyone has stepped up and taken on a little more so I can do this."  
What can the public do to show their support?

Pauline says that the public displays of support on social media and the "7pm shift change cheers" is uplifting to health workers' spirits. Workers have been receiving food donations, coffee and homemade PPE, like caps, at health and testing centres which is very appreciated. "The support we have been receiving on the front lines from the public has been amazing," she says.
"Honestly, the best thing for me is a sincere 'thank you' from patients and the public." However, if the public wants to further show their appreciation to a frontline healthcare worker Pauline's advice is to ask if there is something they need that will save time.   
"If you are working on the front lines you lack free time. Personalize an offer to help in any way you can. Ask 'Do you need anything?'.  It could be a meal for their family or walking their dog. Time is so precious, and we have very little of it," she explains. These personalized offers of help make a big difference for the healthcare worker. "When you get home you don't have to keep going when you are already depleted," she says.