With the World Health Organization (WHO) declaring 2020 the Year of the Nurse and Midwife, it is very fitting to Faculty of Health researcher and RN Margot Latimer that this is the launch year for the first Nova Scotia CIHR (Canadian Institutes of Health Research) Indigenous Research Chair in Nursing.

The chair is accompanied with close to one million dollars in funding over five years to support the advancement of Indigenous health nursing research, education and practice.

A remarkable opportunity

"Nurses are the largest cohort of health professionals and have an integral opportunity to support the health goals of First Nations Communities,"  says Dr. Latimer. "This chair is a remarkable opportunity to think about nursing and how nurses can practice and advocate for care from an Indigenous health perspective.

"To be the first Nova Scotia chair in Indigenous Health Research is very meaningful to me because it is another opportunity to work with Indigenous communities to advance their own health objectives, to have health care experiences that community members identify that optimize their health, and to be involved in research that is led by Indigenous nurses and health leaders."

The chair will provide funding and infrastructure that will be used with the direction of the First Nations communities in three areas: education, research and clinical practice. Specifically, it hopes to make progress in areas such as engaging Indigenous People in the profession of nursing, providing supportive post-secondary experiences once enrolled, at both the undergraduate and graduate level, while prioritizing nursing research that is relevant for clinical care and child and youth health outcomes.

Dr. Latimer (right) with student Julie Francis.
Funding will be used to support First Nation nurses such as Julie Francis. Julie is a Mi'kmaw RN and MScN student from Eskasoni who is focussing on access to early intervention for children.

"Its exciting to have the opportunity to continue my education in the Master of Science of Nursing program at Dalhousie University," says Francis. "Nurses play an important role in reducing barriers to health care and improving health outcomes in our First Nation communities."

When preparing the proposal for CIHR Chair, Dr. Latimer actively consulted Indigenous community nurses and leaders on what they wanted in these three priority areas. "With their input, we have set strategic objectives over the next five years to make important advances in Indigenous Health nursing," she says.

Dr. Latimer has worked with First Nations community members for over 15 years as a research partner, advocate and champion for advancing Indigenous knowledge in education, research and practice.

She is also a member of the IWK Health Centre's Centre for Pediatric Pain Research and co- leads the Aboriginal Children's Hurt and Healing Initiative (ACHH) with Eskasoni First Nation Health Director Sharon Rudderham and John Sylliboy, Millbrook First Nation. The research portion of the chair will continue ACHH's work with Indigenous children and families.

"The operationalization of the research is informed, lead and interpreted by Indigenous people and then the results used to benefit the health and wellbeing of Indigenous people," says Dr. Latimer.

Key impact area

"There are many Indigenous nurses practicing in First Nations communities who are doing amazing things." says Dr. Latimer. "If they want to come back to do graduate work the chair will offer funding and infrastructure to support Indigenous nurses who often face unique barriers," she continues.

Another key educational aspect of the chair is to continue to make inroads in health education and to decolonize the nursing curriculum.

Based on research conducted by the ACHH team as well as consultation with Elders, Indigenous health faculty, the health Faculties at Dal a course on Indigenous cultural safety was developed and mandatory for all Nursing, Medical, Dental students in the Fall of 2019.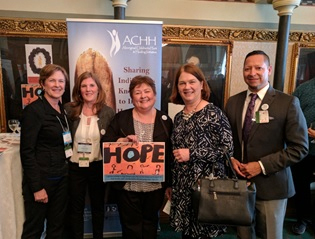 Dr. Margot Latimer and members of the ACHH Initiative Team visit Parliament Hill and share research findings about Indigenous children's health with Ministers, MPs, and other policy makers. L-R Jocelyn Vine, (Former VP Patient Services, IWK) , Dr. Latimer, Sharon Rudderham, Hon. Jane Philpott (Former Fed Minister of Health), John Sylliboy.
"The chair will allow us to continue to build capacity for this course and help us attract Indigenous nurses to Dal who can help us decolonize our curriculum, support Indigenous students and advance our research practices," explains Dr. Latimer.

"As the first Indigenous research rhair in Nursing in Nova Scotia I am thrilled to have a new infusion of resources to work with communities on their priorities and to deepen and create opportunities for Indigenous nurses to be ready to apply for the next chair," she says.

"Congratulations to Dr. Latimer on her well-deserved appointment as a Canadian Institutes of Health Research Nursing Chair in Indigenous Health," says Alice Aiken, vice-president of research and innovation at Dalhousie. "This initiative will support the advancement of Indigenous health nursing research, education and practice, resulting in culturally-safe and gender-responsive health processes and systems. We are incredibly proud to have her as part of the Dalhousie University community."

"As both students and nurses, we face our own challenges and barriers. With the support and encouragement of Dr. Latimer, our NS CIHR Indigenous Research Chair in Nursing," says Julie Francis Mi'kmaw RN and MScN student. "I have been successful in the program so far My hope is that we see more and more Lnu'k in nursing, enrolled in all levels of nursing education post-secondary, graduate and doctorate programs who can become involved in research that is community based, and driven by goals of improving health and well being for all. Congratulations to one of the wonderful allies of the Mi'kmaw Nation, Dr. Latimer."