In the wake of the COVID-19 pandemic, many across Canada and around the world have faced urgent economic hardships, including university students.

Some students have suddenly been unable to return home or have required unexpected expenditures to get there. Others have struggled to acquire urgent housing or are dealing with the loss of expected summer employment. Many have already or will be able to receive help through government programs (such as the Canada Emergency Response Benefit (CERB) and new initiatives just announced last week by the Government of Canada) but for others the need is outside those boundaries, or too urgent to wait.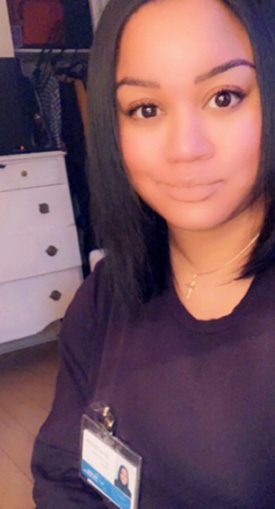 Jenna Upshaw (pictured) was nearing the end of her internship in Health Promotion when the COVID-19 shutdowns began. She was able to complete the final three weeks at home, but with her post-graduation plans all radically changed, she found herself with no income and ineligible for the CERB.

"I'm a single mother of a four year old who was born in my first year of university, so there was never any time to work, being a full-time student, and I really wanted to concentrate on getting good grades as well," she explains. "So when I found out that I wasn't eligible, I was like, 'What am I going to do?' I had a little bit of student loan savings for the rest of April, but after April I had absolutely nothing."

Through Dalhousie's Student Emergency Relief Fund, she was able to acquire an emergency bursary to help her family in the short term — a bridge to help them get through until she can find work, ideally, in her field, or until other programs (like the new federal Canada Emergency Student Benefit) can provide support.

"When I heard about the bursary I was ecstatic," says Jenna. "I was like 'it will get me through at least another month.'"

Being there for our community

In mid-March, when the implications of the COVID-19 pandemic began to hit close to home for Dalhousie and its students, the university responded by developing a short-term emergency financial support program over and above its existing financial aid programs.

Some of those who reached out to Dalhousie for help were students who, for health reasons, were required to leave residence early. Some were international students who needed to urgently travel home or could not return home due to travel, while some required technology to complete their studies.

Immediately, Dal began redirecting available funds to the COVID-19 emergency bursary and short-term loan programs to meet this need. Within just the first couple of weeks, Dal had fulfilled 400+ requests for funding, getting money into students' pockets as quickly as possible.

"We have all been doing what we can to help our students in this unique scenario — as an institution, and as community," says President Deep Saini.
Learn more: COVID-19 Financial Resources

And it's about more than just funding, as well. Dal's team of advisors have been helping students identify external funding sources they might not be aware of, providing budgeting advice and many other sorts of one-on-one counsel.

"Students are facing a variety of challenges, including financial stress," says Rebecca Koeller, associate director, student awards & financial aid. "As new federal and provincial assistance is being announced or changed regularly, it can be difficult for students to know what applies to them. We're here to support them as they navigate the various supports available at Dalhousie, as well as in their communities, and through government programs."

In addition to individual advising, Dalhousie has created a new webpage — dal.ca/financialresources — to help guide students through their options and highlight helpful strategies in managing their expenses.  

The outpouring of support extends beyond Dal's walls as well.

"Many of our alumni, friends and partners have reached out to ask how they can help our students during this trying time," adds Dr. Saini. "Their compassion and generosity are a testament to the strength of our community and of their commitment to our students."

Generous support for Dal's students

In response to these requests, Dalhousie launched a set of crowdfunding campaigns through its projectDAL crowdfunding site: a way for others to contribute to specific needs among Dal's student community.
Since launching on April 1, more than 350 donors have generously given to the campaigns. And thanks to Dalhousie's relationship with its affinity partner TD Insurance Meloche Monnex, the university's alumni office is able to direct $10,000 towards the Student Emergency Fund. Through all this generosity, Dalhousie has been able to provide financial support to more than 800 students and counting, helping them manage unexpected hardships in this pandemic.

For Vice-Provost Student Affairs Ivan Joseph, seeing the community unite behind Dal's students has been truly inspiring.

"During these trying times, my spirt has been buoyed by the tremendous outpouring of kindness and generosity our Dalhousie community has demonstrated to support our students as they try to navigate their way through this pandemic to continue their academic journey," says Dr. Joseph.

Working to help students

Currently, about 25 financial support inquiries are coming in each day. Advisors are connecting with students quickly to learn more about their unique situations to determine which sources of funding are most applicable to them.

Students are approved for funding based on their demonstrated need and their limitations in accessing other sources of funding. (As new government programs are announced or are expanded, Dalhousie is currently focusing its university financial support on students who may not be eligible for these programs as well as those in other areas of need.) The applications are reviewed by a committee of advisors and representatives of the Registrar's Office, International Centre, Faculty of Graduate Studies and Student Affairs. Applications are being reviewed at least two-to-three times per week, with funding released within 48-72 hours of a decision.

For more information, international students should contact the International Centre at international.centre@dal.ca. (For immediate questions, students can leave a voicemail at the International Centre at 902-484-1566). Domestic students should contact the Registrar's Office Financial Aid team at financialemergency@dal.ca.  

Helping others

For Jenna, now at home with her son in Halifax, she hopes to find work in her field when she is able to and ideally move outside the city. "I always wanted a more rural life."

And while she's disappointed she won't be able to cross the Convocation stage in May due to COVID-19, she's keen to do so in the future, and she hopes to connect with her classmates for a virtual graduation party at the end of May. "Just being connected to classmates during this time because we're all going through it together is important."

How you can help
Fundraising continues to help students in need during this pandemic. Visit projectDAL.ca and learn how you can contribute. Every donation, no matter how large or small, makes a difference.