It has taken an almost-herculean effort, but Dalhousie's first- and second-year medical students (Med 1 and Med 2) have barely missed a beat in their training, even as stay-at-home orders in response to the COVID crisis have taken them out of their lecture halls and simulation classrooms since the middle of March.
Med 1 and Med 2 are focused on gaining theoretical knowledge and practical skills through lectures, case-based group learning facilitated by tutors, and skills training with simulated patients. Med 3 and Med 4 are the clerkship years, during which students complete clinical experience rotations through a wide range of disciplines, followed by a final period of integration in Med 4, as they prepare to embark on their residencies.
"By Friday March 13, we knew medical students would not be coming back to the classroom after March break," says Ian Taylor, director of MedIT Technology Services in Dal's Faculty of Medicine. "We worked over that entire weekend to be ready to deliver live academic events remotely to the fourth-year students, who were not going to be away over March break. By Monday, March 16, our Med 4 students were able to begin attending their final lectures and tutorials online."
Next came the even-bigger effort of moving Med 1 and Med 2 lectures and tutorials online, using Microsoft Teams, an online collaboration platform that allows students to interact with each other and their tutors with ease.
"We are trying to take the technology stress out of the equation," Taylor explains. "People are already feeling the pressure, whether they are medical students now working from home with roommates or family around, or faculty members on the frontlines of care. Our job is to make the technology easy. For example, we are reaching out to every presenter before they do their first online lecture, to ensure they have mastered the technology and completed a successful dry run."
Students adapting to "learn at home" protocols

In spite of the stressful circumstances, medical students are adapting to the new mode of curriculum delivery, says Med 2 class president, Prathana Nathan.
"It's going very smoothly, our lectures and tutorials are rolling out on a schedule, and we can see our classmates, ask questions, have discussions from our laptops at home," Nathan says. "It's clear that MedIT and the faculty are working as hard as they can to keep it as normal as possible and the students are very grateful."
Even so, a recent survey by Nathan and other student leaders revealed that medical students are finding the new conditions to be challenging.
"The pandemic comes with all kinds of changes and new stressors that did not exist before, including going on grocery runs that feel like a mission, worrying about family members and watching the constant inpouring of news," Nathan says. "We are helping students adjust to this new normal with peer-to-peer support and professional support from Dal Med's amazing Student Affairs team. Caring for one another during these unprecedented times goes a long way!"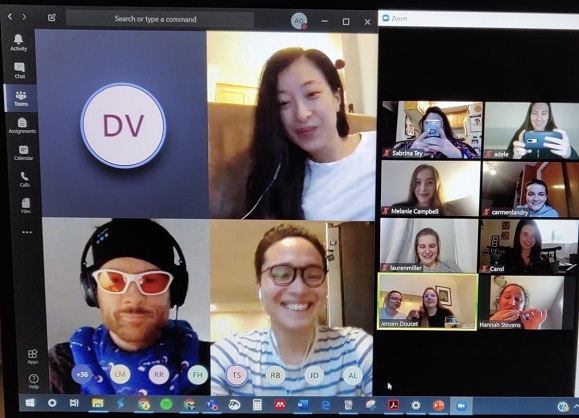 The hands-on learning so vital to medical training presents another challenge, but faculty members and MedIT are finding creative ways to work around the fact that students cannot interact with simulated patients and their teachers and peers face to face. This includes producing a series of learning modules for the Skilled Clinician program, using the talents of simulated patients. These are trained staff members with the creativity and expertise to write scripts and/or play the part of the patient in simulated clinical encounters, so students gain the necessary history-taking and physical-examination skills.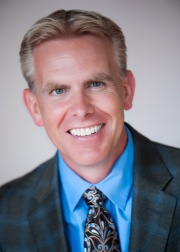 "Many of our simulated patient educators are trained actors, and others are experienced health professionals," says Dr. Stephen Miller, an emergency physician and the assistant dean who oversees Dal Med's Skilled Clinician and Interprofessional Education programs. "They are doing a fantastic job, we have already produced modules of various clinical scenarios, from taking a sexual history to performing a musculoskeletal exam, and are planning more."
As Dr. Miller explains, the modules include learning materials such as videos, evidence-based guidelines and self-assessment tools that guide students through the correct processes and cue them to evaluate their own performance. "Depending on the topic, they may need to complete quizzes and small written assignments to demonstrate their grasp of the material and the procedures and techniques they should consider," he says, adding that faculty members are working hard to provide input and feedback on the modules as they're produced.
Some aspects of hands-on learning that are typically completed in Med 2 will have to be creatively folded into Med 3 for these students, says Dr. Miller, noting that the Department of Pediatrics, for example, will be developing a Pediatrics Boot Camp hands-on training that students will have to complete prior to beginning their pediatric clerkship rotations.
"It won't be perfect, but we will make sure the students receive the necessary preparation for each stage of their training as they go," Dr. Miller says. "Unit heads and component heads are stepping up to help, everyone is pitching in, and MedIT is working tirelessly to produce an amazing platform to showcase this content in record time."
A new kind of hands-on learning experience

While Med 4 students are finishing up the last of their integration work before heading off on their residencies, Med 3 students, who are not able to complete their clinical clerkships this term due to COVID-19, are performing another vital service for health care systems in the Maritimes.
"We are running two phone lines: Nova Scotia Health Authority's phone line for health care staff to call to see if they should be tested for COVID, as well as a similar line for independent physicians, nurse practitioners, and staff of the IWK and long term care facilities," says Michael Mackley, co-president of the Med 3 class. "These are like the 811 line for the public to call, but are reserved for health care workers to streamline the testing process for them."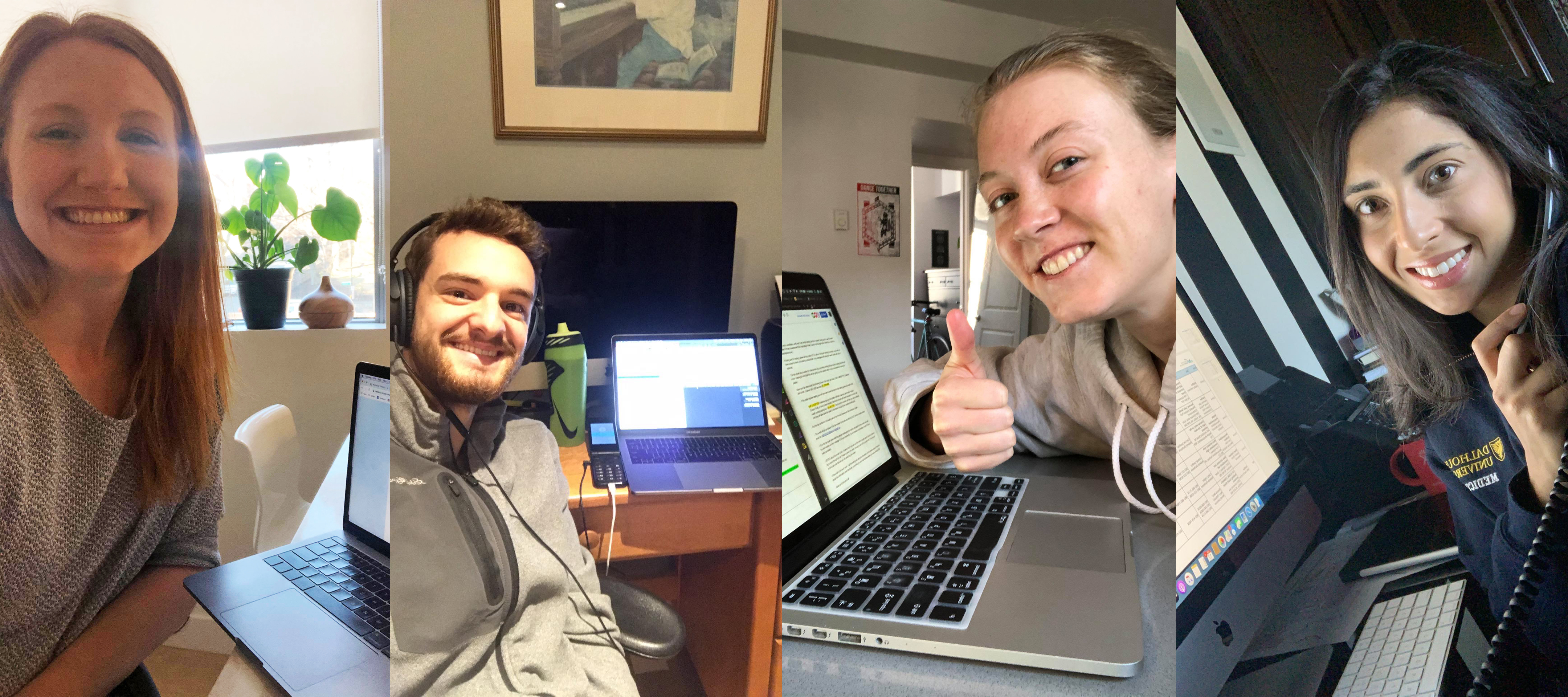 The Nova Scotian students are working from a "virtual call centre," each in their own home, while Med 3's in Saint John are planning a similar effort in New Brunswick.
"In addition to helping people determine their need for testing, we are delivering negative test results to people, advising them about returning to work, and following up with people who did test positive to monitor them daily through their illness at home," Mackley says, adding that nursing students will soon be joining the medical students to help run the various phone lines and provide much-needed support to the public health efforts.
"Learners are turning out to be an unexpected yet incredibly valuable workforce and we've been able to mobilize very quickly," Mackley remarks. "It's very rewarding to be able to provide such crucial assistance in a crisis of this magnitude."
Support for the front lines

Students in Med 1 and Med 2 have also pitched in to help. Within a week of social distancing measures going into effect in Nova Scotia, a cadre of medical students had already volunteered to provide day-to-day assistance to frontline health care workers. Each student was matched with a person or family to help, solely and consistently, throughout the crisis, with such pressing tasks as child care, dog walking and grocery runs.
"The students are taking a lot of pressure off our health care professionals, who are already facing so much pressure and stress," says Prathana Nathan, who is involved in coordinating medical student volunteer initiatives. "We are hearing a lot of appreciation."

The medical students have also taken it upon themselves to flush out any un-utilized supplies of PPE that may be lying around in shuttered paint stores, salons, health clinics, dentists' offices and other places that may have supplies of gloves, masks and gowns on hand.
"Students are cold calling and making arrangements to pick up the protective equipment and deliver it to NSHA," notes Nathan. "It's just one more thing we can actually do to help out, at a time when we don't have much control over our lives."
Silver linings

Although it has taken a gargantuan effort to compress years of online curriculum development into a matter of weeks, Ian Taylor says it's been well worth it.
"It's a direction we've been headed in slowly for quite some time, the coronavirus crisis just dramatically accelerated our progress," he says. "We've learned so much so quickly and had such enthusiastic participation and support from the faculty, students and staff, it's been quite an incredible experience."
Paradoxically, working from home has brought the MedIT team closer together. "We were all working in smaller teams in our separate areas before, in the office," Taylor says. "Now we're one large, cohesive group, working very smoothly together from our homes. And now that we have these online collaboration tools that everyone is comfortable using, I think we will be able to maintain this deeper level of human connection even when we're back to whatever the new normal will be. I think we will find we have assisted quite a significant culture change in the medical school."