Dalhousie English alum Peter Chiykowski (BA '11, MA '11) didn't plan to go viral when he woke up on April 5. Thanks to Queen Elizabeth, that's exactly what happened.

The writer, illustrator and cartoonist based in Scotland came across a tweet promoting the live BBC broadcast of the Queen's speech about the COVID-19 pandemic and decided to tune in to be part of history. "It was very, very spur of the moment."

He was moved by the speech, but the "doodling" part of his brain — the one always looking for a clever joke — also noticed Her Majesty was wearing a green dress, one of a similar hue of "green screens" used to replace backgrounds with visual effects.

"I couldn't help but start thinking 'Well, what could we do with this?'" he recalls. "So I started playing around with ideas. I had a scotch and Skype date with a friend of mine, maybe a half hour after I had the idea. So I just I literally just dashed together a quick Photoshop template."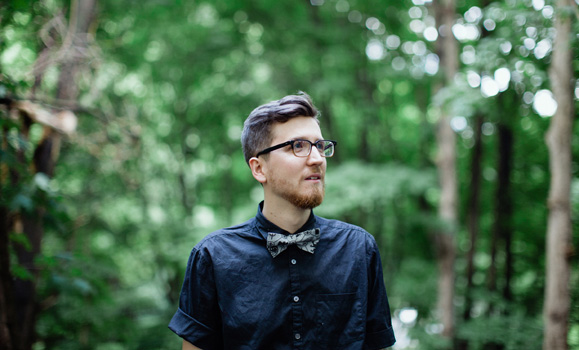 What Peter Chiykowski (pictured) had done is replace the Queen's dress with completely different images: a cat in space, a dog wearing a wig, the Ministry of Silly Walks logo from Monty Python. "I put together maybe two or three images and dropped them online thinking, 'People will enjoy that. Maybe it will give them some relief from the general sense of doom in the world.'"

When Chiykowski logged in after his chat with his friend, there were over a thousand mentions in his Twitter notifications — and more arriving so quickly he couldn't keep up with them. Some of them were people making requests.

"Somebody asked me to put their cat on the Queen," he says. "There were other requests that came in at that point, but it really started snowballing. People started adding their own Photoshop creations. There were some really excellent ones. I was particularly fond of her in the Star Trek uniform, because the cut of her top very, very much looked like that kind of Starfleet uniform."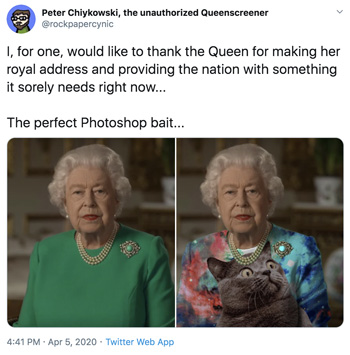 His first creation — the queen wearing a sweater of a spaced-out cat (pictured) — was retweeted nearly 28,000 times. Even once the initial buzz wore down, it continued on the late night talk show circuit, with Last Week Tonight host John Oliver doing a segment about it and Oliver later bringing up the green-screen images again on a guest appearance on Late Night with Seth Meyers.

 "It's seeing something that you had a hand in appearing in places and surprising you places that you go to for media content anyway," Chiykowski says. "It's been surprising and strange."

The arts as escapism

During these unprecedented times, many people are turning to arts and entertainment for distraction from their daily routine and worries. Chiykowski, a writer and illustrator and author of Rock, Paper, Cynic, understands the importance of art and even memes to people right now.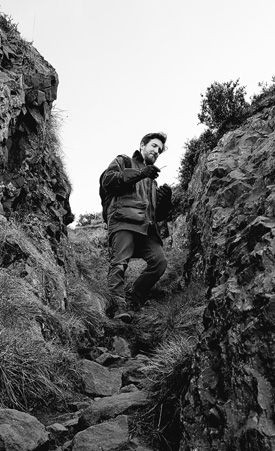 "People need to be not just entertained, but stimulated, engaged," he says. "They need to be offered alternate narratives to the ones that they're dealing with both for relief from the sense of anxiety in the world and also to imagine other worlds and better worlds and ways to solve problems. It can give them emotional tools for processing what's happening to them."

He considers memes and online comics to be one of the more democratic forms of humour. "They're something that everyone can share, and they spread quickly. They're a powerful tool for sharing ideas and information.

"A lot of my career is in trying to figure out how to hack the shape of a meme - that shape of something shareable online - and figure out ways to use it to deliver short stories that disguise themselves as memes, or comics that are funny, but also say something. Sometimes it's just a British monarch with a laser space cat. And that's a valid form of cultural commentary."

This cultural commentary has led to discourse online about what the Queen means to people in her role, both in Canada and across the world. Some people responded to Chiykowski on Twitter and said what he did was disrespectful. Another reply photoshopped Kent Monkman's The Scream onto the Queen's dress, "which is a really interesting piece of cultural commentary on its own," says Chiykowski. "Put on top of a monarch who represents generational trauma for Indigenous people in Canada, it's a really interesting bit of cross-cultural commentary that I was not expecting and I was really grateful for… it's a reminder that symbols mean a lot of different things to a lot of different people and carry different legacies to that meaning."

Giving back: "The Story Engine"

While Chiykowski is happy to provide some comic relief during the pandemic, he has been helping out in more ways than one. After completing a weekly "micro-fiction" project, he was inspired to develop a storytelling tool that came straight out of lessons learned in the English department at Dal. It comes from one of the favourite sentences he heard in his five years on campus: that "a story consists of someone wanting something and having trouble getting it."

"Those words blew my mind," he explains. "That is the minimum nutritional content for a story - that is the shape of a story. It's the filling of a story. It's such a concise and helpful definition because it's not a definition. It doesn't push things out of being a story. It gives you a better way of understanding the parts of a story and what makes them work together.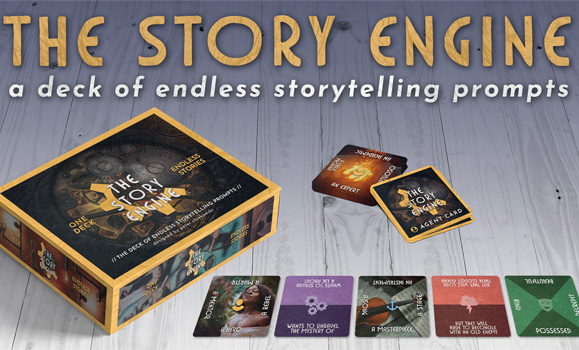 That lesson inspired The Story Engine, a collection of short stories and a card set of storytelling prompts that allows a writer to assemble and remix them to create custom story prompts with characters, their motivations and their conflicts. Chiykowski launched The Story Engine with a Kickstarter crowdfunding campaign, committing that if he generated enough donations that copies would be donated to support libraries and community groups. He raised enough funds to pay for 120 donations and had just sent them to the printers when the pandemic took hold.

 "I realized this would be a really helpful tool for parents were looking for like a homeschooling activity or ways to keep kids engaged during a lot of schools shutting," he explained. "I thought about it for a bit and then decided to make the digital version of the deck the print-at-home version free for anyone who wants it as an activity. And since launching that, there have been over 1000 decks distributed to families."
Additional photography from Inna Yasinska and Jasmine Minoza.